Here's part one if you're looking for it: Guide to a PROPER Filipino cuisine experience
This time I'll be talking about the desserts. I'm not really a sweet tooth but I still wanna cover this anyways because there are still some of the desserts I love. It's just hard to describe them generally but the common thing they all have is coconut cream/milk and condensed milk which i'm fond of. So let's begin!
Ube
You get ube ice cream, ube shake, ube cake, ube donuts, ube pie, ube bars or etc deserts. It's the purple flavor. Also known as purple yams. If you're wondering what purple and creamy would taste like, it's ube. Maybe grapes and blueberry would come to your mind but it's not creamy like ube. It tastes woody, nutty and sweet and for me, I can replace chocolate with that.
Suman/Budbud
A coconuty sweet sticky rice or sometimes casava desert steamed in a banana leaf which gives it a distinct aroma. Sometimes dipped with coconut syrup but it's already good on it's own. I'm not sure about the difference of the 2 but both are versions of each other.
Halo-Halo
Translated as "Mix-Mix". This is a really refreshing desert on a hot day. Simple and complex at the same time. It's just ice cream, evaporated milk, sugar and ice with other sweet things in there like Leche Flan, Jelly, Sweet Corn and Beans. The complex part would be mixing it all completely if you wanna enjoy it fully. It's gonna be served like that and you mix everything.
Sorbetes
That's just our own version of ice cream. They're made of coconut milk sold by street vendors and they can have different other flavors. It's also called "dirty ice cream" it's just to scare the kids because they keep asking their parents money to buy those but it's not necessarily dirty. I honestly felt stupid believing that as a kid. There are branded version of sorbetes as well but I still think the street vendors version taste way better.
Champorado
Not only it's hot in here but it also rains a lot. So Champorado is a chocolate rice porridge which is a sweet comfort desert to warm us up. People usually eat this with dried fish and i never knew it's a restaurant standard so it must be that good to pair champorado with that. I never tried it personally and it got me curious but you can always just have that alone and add more condensed milk/powdered milk to it to your heart's desire.
Sapin Sapin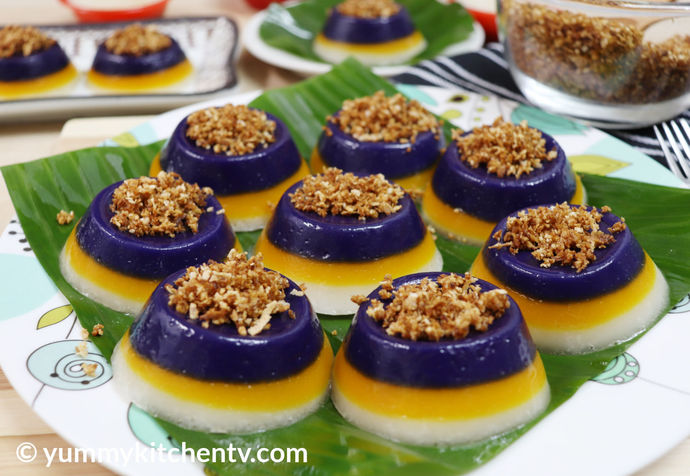 Just like Suman/Budbud, it's not wrapped in banana leaf and this is made of rice flour. A powdered rice used to make Suman/Budbud. Sweet and sticky also flavored with ube and mango as you could see it's yellow and purple color.
Sans Rival
It looks like a cake but different. It's layered with butter cream and baked meringue with flour and sprinkled with cashew nuts. Really sweet, buttery, creamy and light and has to be eaten cold or it will melt.
Mango Float
The most simple dessert here but what I consider the best of them all. Really It's just cream, condensed milk, Graham crackers and really ripped mangoes arranged into that then freeze. Party in your mouth. Just like Sans Rival, it has to be eaten cold or it will melt.
That's all I have to say. There are actually more but it's just exhausting to list everything. Thank you.