In a minute he's going to starve because I'm tired of cooking for him and he says he doesn't like this or that. Cook yourself then. And it's always something different it's driving me crazy because I cook a lot.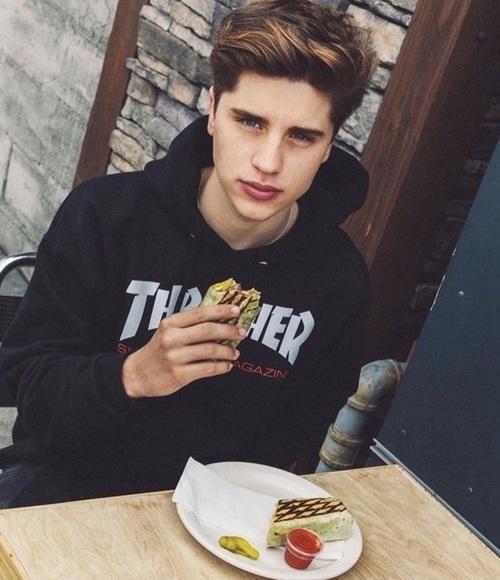 Updates:
I'm going to need some of you to stop saying I don't know how to cook. His own mom struggled with feeding him what he wanted. And he looks up the menu when we go to new restaurants so it's not a struggle.
**He slightly complained about what I cooked tonight and I told him to order out then he just picked at it soooo maybe he'll get the hint soon. I'm full though ☺️
---
Most Helpful Guys
Dump him and run to me. I'm not picky and I know how to cook. We'd have fun in the kitchen...

Seriously though, make him cook for himself then. You're not gonna be slaving in the kitchen only for him to go "I'm not a fan of that". Or, even better, make him the same damn thing every night. You make what you want, then make him something he likes, but do it every night until he's sick of it. And you keep doing this. When he's tired of the chicken nuggets, start making the hamburgers. When he's tired of that, make the mac and cheese out of the box. When he's had too much of that, make hot dogs. When he's had enough of that, make him the pasta. Once you're out of options, you start the cycle over. Get him one of those plates with the animal plates on them and make a big thing of Kool-aid and when you serve him, go "here you go, honey" with a slightly higher pitch voice. Not enough that he'll know what's up. Just enough so that he goes "something about that voice is off, I just don't know what".
Big baby.
Buy a bunch of microwaveable pizzas. Don't even make them for him. He knows where to find them.
Make him go shopping himself.
Make a gourmet version of mac and cheese, then make the box mac and cheese, give him the box stuff and keep the good stuff to yourself. If he goes after your stuff, just go "oh, you won't like it. I actually had to put effort into making that". Do the same thing with chicken strips. Make real chicken strips and buffalo sauce, serve him microwaveable chicken nuggets with ketchup.
Make a batch of cookies, go out and by a package of Chips Ahoy, and keep the cookies you made to yourself.
Yeah, I'm being a bit mean and most of these suggestions aren't meant to be taken very seriously, but picky eaters bug me. It bugs me so much, I dated a picky eater who put ketchup on EVERYTHING and now I cannot stand the smell or taste of ketchup.
That can be a challenge. I had an ex that was a very picky eater also and unfortunately a couple of the relatively few things she liked are among the relatively few things I don't like.

We came up with a set of core things that we both liked and ate those fairly often, but sometimes we'd cook two separate things. We often had two different vegetables because there were very few vegetables she'd eat and I wanted a lot more variety.

It's manageable but it can be challenging for the person that likes more variety in food.
Most Helpful Girls
Geez! How old is he? He shouldn't expect you to feed him. You aren't his mother. He's old enough to know what he likes and doesn't like. He isn't a child.
You need to be firm with him and refuse to cook for him if he's going to behave like a child.
If he's hungry, he can get up and make it himself. You couldn't feed him like a child forever.

Now... before other people rip my head off. I will say I could understand if he has allergies to certain foods but, by the sounds of it, he's fine to eat all food without any issues.
Haha my ex was like that. Dating a picky eater wasn't something I expected to be a problem, until it was.