If you're lucky, you might come across those LARRRRGE 200000000 word paragraphs that I posted on an asker's question. Actually, I'm feeling nice today. Here is the link:
How can I learn to attract girls?
It's impossible to miss because nobody in the history of GaG opinions has written as much as I have for that question. Nuf said. For starters, I suggest that if you get offended easily, you really might wanna reconsider reading this unless you are strapped down to a chair and taken many of the so called "chill pills". And yes, this is targeted on the people who thinks science can explain everything in life. Which, it obviously can't. As of now, science can't even explain the physical world; evolution, how life came to be, etc. let alone the emotional and mental side of things and relationships between people. And no, I'm not religious, I like science but still I realize it has limitations.
Anyways, These were his arguments:
"Blah blah blah, science and psychology explain attraction and the reason I can't attract girls is because of my genetics."
-Body language means more than words
-Girls like hot douche bags rather than smart guys that treat them well
-I don't have a great body, I'm not going to work out though to fix it
-I don't talk to people (introverted/ anti-social) yet I am still good at talking to people
-I'd rather talk to girls about evolution than talking about our lives
-If I don't like a girl physically I won't be with her
Then...He underestimated me as a 16 year old, for not being able to help a 19 YEAR OLD! (Me: Virtually spitting/coughing up the coffee I was not drinking). Wtf, I'm 17 in a month, and according to time, we were in diapers around the same times bro!!!!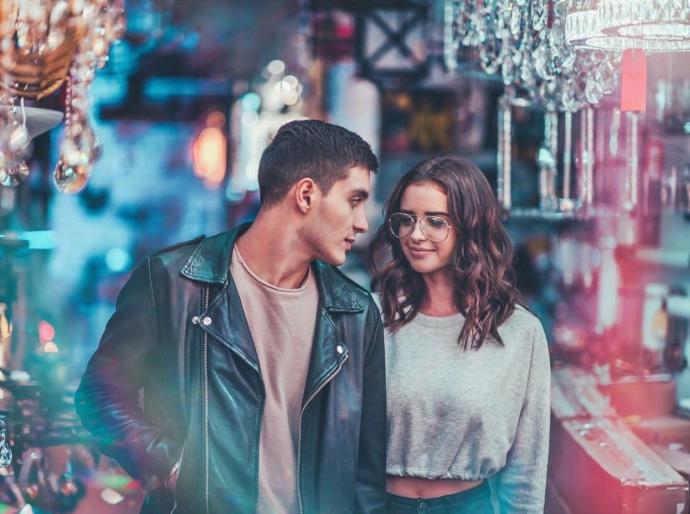 I might've presented that a little too sarcastically, but believe me, those statements are the craziest thing I've heard since like....(Insert random statement b/c I'm too confused to think of one). Just because an opinion isn't yours, doesn't mean it's wrong or that it isn't true. But still, I hope you see that this is a little outrageous. I mean, yeah I think that people have psychological responses to people they are attracted to, and it goes back to evolution or whatever, but really, when your talking about attraction, you aren't talking about just sexual attraction. Unless of course you're looking for a fuckbuddy. You're talking about how that person makes you feel, and you know? LOVE!
I can obviously tell if a guy looks like a potato. But over time, if that potato treats me better than the hot asshole, then we're gonna have potatohumans. It becomes attraction based on a connection mentally instead of physically. If you're speaking to a girl and all you can focus on is her body language instead of what she's actually saying, then you are missing out on a lot. If you only use science to communicate with people, not everyone will make a connection with you.
Many people say they want an attractive partner. Well, what's wrong with the girl/ guy you like to have standards of what they want in a partner? Should other people be mad they can't meet your standard? No. So why are you upset you can't meet other people's standards when you have standards too?
In the early stages of attraction, flirting is like one of the major things. It shouldn't be a little nugget or a little sprinkle here and there.
People say they have no self confidence, see this is another issue that needs to be resolved. Why are you letting your physical traits determine your confidence? You are making the assertion that all people care about is looks. This is the kind of things that f-boy douches say. Don't close doors to "ugly" people. You might fall for them. I don't understand how someone can be super anti social and still be good at talking to people. It's a paradox. You may have the perception that you are good at talking to people when you may not be as good as you really think.
Many girls are aware that looks matter but will choose to ignore them and actually get to know someone. And that has to do with the fact that you only give good looking girls a chance as well! But a general pattern is that people who are truly socializers and good at talking to people will have plenty of people to talk to unless they are resisting communication. If you're asking for a highly attractive girl to like you regardless of what you are like, and that's a little unrealistic especially those are the kinds of girls that usually has many options.
I know lots of unattractive guys (in my opinion) who have many attractive girls to talk to. They can literally talk to anyone. So are they blaming genetics? I don't think so. They are taking the responsibility of putting themselves out there even if the odds are against them. Sure, blame genetics, but that doesn't mean you aren't responsible for how you talk to others. Nobody in this world is entitled. Your problems are not unique in this world, and we all know this is a reality. Stop sitting there trying to convince people to feel bad for you.
If you spend your whole life blaming genetics and other people for your problems, your problems are self induced. Science is made up of generalizations and not formatted for every human in the world. Many people claim that we are aware of things that regular animals are not. If this is true, it means we are more complex, thus meaning that not all of their behaviour can be compared to ours. If you wanna be physically unattractive and sit here like a potato asking people why you're single when clearly there's something wrong with your understanding of attraction, then go right ahead.
You can change your physical attractiveness unless you start going to the gym and actually working for the body that you think girls want, or if you decide to surgically change yourself. But if you are going to sit here complaining about no girls liking you physically, and not doing anything about yourself to make things better, there's really nothing else to say.
If you want change you have to start doing something differently.someone will never change and become better in life if they can't accept that fact that other people have good ideas and possible better ones than their own. And if you did fully understand attraction, you wouldn't have had to write this question. nor would you ask why you can't attract girls. If you wanna wait till people can change your genetics then wait all you want. You can take back all the time you used waiting for that day.
-Sherry :)
---