This take is mostly aimed at the ladies. TIPS along with some recommended exercises will be written at the end. If you have read this take all the way through, i'd like to thank you in advance 😊
I'd say that MOST girls/women want to look like this *see pics below*. Whether that be the ones that just started their fitness journey or those wanting to lose weight or whatever have you. In many cases they try to aim for that IG model body type, or simply just the body image they have in their head.
But usually, if not at all, many don't want to look like this *see pics below*…which is also the first misconception. If they lift heavier and or do more reps and whatnot, that they will look like this or end up like this. Girls are under the impression that by lifting "like a man", they will look like one.
#1 So they end up doing the wrong workouts or too much of the same workouts/routines. (primarily cardio, with that being the treadmill, of all things. I can't tell you how many girls and or women i see come to the gym just to go on the treadmill for maybe only 20-30 min, and then leave, that's about it for them 🤨. Yes i get it, if you're someone that doesn't necessarily have some body goal you want to reach, you're just there to stay in (✌shape and condition✌), especially if you're someone of age 40+, then that's fair, reasonable and understandable. However, If you want to reach and achieve a certain body image, then yes, stay away from the treadmill. It isn't going to do jack shit for you.....use WEIGHTS. Even if it are just the machines and not necessarily dumbbells and such. E.g if you can't squat, do leg exercises, or any other workout with dumbbells or bars, then resort to using the machines. Smith machine, leg press, leg curl, bicep curl machine etc etc. P.S. do not bicep curl with the SMITH MACHINE, people will give you the look🤨 this rule goes for both men and women. if you don't know what a smith machine, leg press, leg curl, bicep curl machine etc etc is, google it, youtube it so you can see what they look like. So that when you walk in a gym, you don't come off as someone that has no idea what the fuck she'd doing, must do, or is looking for. Which is another thing i always see almost at any gym i go. They look around like they are lost without having a damn clue what to do next or what to use.
#2 Low weight/high reps. As mentioned above. Due to the fear that they might become bulky, beefy, too jacked or ripped, they then end up lifting tiny, light weights, or no weights at all...they only do cardio. Now, if you just started working out, you are completely new to the gym life, then yes, obviously start light and slow, to then build it up. The moment you realize you can go a bit heavier, do so. CARDIO ALONE WON'T GIVE YOU THAT FIGURE YOU SO DESPERATELY WANT, MOST DEFINITELY NOT THAT IG MODEL BODY IF THAT IS WHAT YOU AIM FOR. Also also, LADIES, DON'T JUST ONLY FOCUS ON WORKING OUT YOUR ASS, WORKOUT EVERY PART OF YOUR BODY 😅. I'll say something about those so called hot IG Models as well in the next section.
I should also mention that many of the beefy, bulky, ripped jacked women you see, use some type of steroid. In most cases it's simply GENETICS, but many other cases believe it or not, it's due to steroid use. Sometimes even SURGERY. (P.S. many of them IG models) So don't be fooled or be misled by many of the images or hot bodies that you see. It's even the same with men. P.S. THE ROCK used steroids to get that physique he has now, in case you didn't know. He did not come that way just by natural lifting and eating. He used steroid to give him that boost, that head start so to speak. As well as John Cena, and many other Celebs or Fitness gurus you see or might have heard of. Hell, even Arnold used it at some point in time, and he admitted it too.
An example of Genetics play: put two men or two women together. Let them do the same workouts, same routines, same diet, and you may find that either one of them will reach their body goal faster and perhaps even better. You might ask yourself but how come he or she got muscles faster, when we both do the exact same workout, routine, and diet? Well, its quite simple: GENETICS.
Also keep in mind that EVERYBODY'S BODY IS DIFFERENT. What might work for him or her, might not work the same way for you.
Which brings me to #3: doing a bunch of weird exercises. Of course this also applies to the men. Go on Youtube and just see the many gym fail videos that exist. You'll just shake your head and ask yourself WHY THE FUCK WOULD YOU DO THAT 🤨🤨🤔🤔😂😂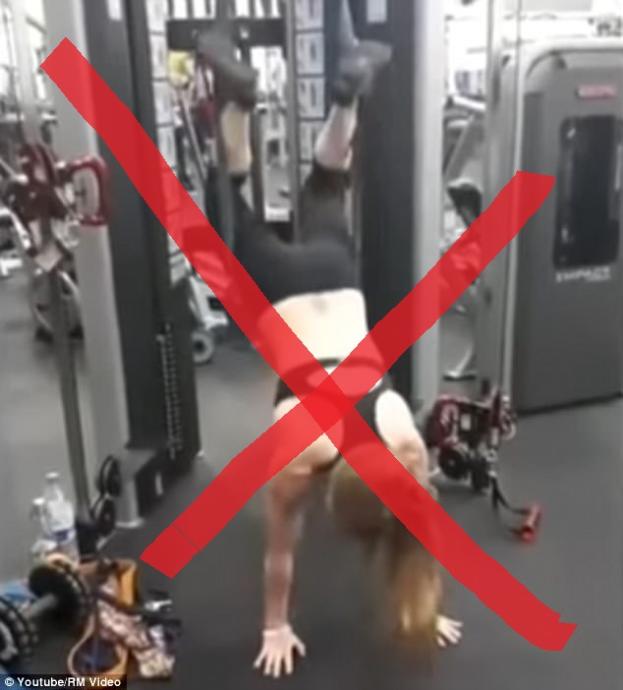 And because of that. Many either see barely any results, slow results, or no results at all. They stay the same, or get results differently than expected,.as in, not in a good way or the way they wanted.
Women their bodies are different. Most of the time, a man doesn't really need much to get a God Like figure, whereas a woman actually does. What i mean by that is that women basically must train more and harder compared to men.
So i rest my MyTake with this, often times, to reach that HOT BODILY FIGURE, you might wanna start to"workout like a man, so you can punch like a man" LOL
TIPS
- If you are more of a Cardio bunny, then i suggest you do HIIT cardio instead. Kindly google/youtube it to know what it is and what is being done and how to do so.
- Use the rep ranges of 4(sets)-12(reps) or 5–12, and don't be afraid to go heavy, if you can, especially with legs. if you don't know what reps and sets are, google it, youtube it, to see what it is, and how they are being done.
- As already mentioned, train similarly to men, in that you use DUMBBELLS, BARBELLS, FREE WEIGHTS, BODY WEIGHTS. if you don't know what these are then google them, google image them, or youtube them to see what they are, look like, and or how to properly use them.
- Don't neglect body parts. As already mentioned, and this is so common with the ladies, don't only workout your booty and your legs cos you want that firm butt or thigh gap. Workout your entire body. You have arms, yes? you have shoulders, yes? you have an abdominal, yes? well work it out if you wan that flat stomach by doing exercises that target the core/mid section such as PLANK, SEATED LEG LIFTS, SIT UPS, STANDING BICYCLE CRUNCHES etc etc if you don't know these exercises then google them, google image them, or youtube them to see what they are, look like, and or how they are properly done.
- Protein - at a minimum, you want 0.8g per pound of body weight in protein.
- Dietary fat - has a bad stigma with some people. Fat doesn't make you fat. Healthy fats are actually really good for building a physique and body composition. You need fat for your hormones too. I can't tell ho much your intake must be, that is something you'll have to look up or figure out yourself but, you'll want a minimum of 25–30% of your calories to come from fat.
- Drink plenty of water.
- Sleep well.
- Don't get stressed out easily. Stress negatively affects results.
- Focus primarily on compound exercises, such as squats (front/back), deadlifts((Romanian/stiff/normal/sumo), pull ups or lateral pull downs, dips, shoulder press (db/barbell), pushups/chest press. Again, google it or youtube it if you don't know what they are or look like and how the exercises are being done.
I will say it is hard to prescribe anything too particular because I don't know your measurements, what you look like, and what exactly your body goals are. Hopefully this is general information that can help you out.