In New Zealand, Christmas comes in the middle of the summer holidays. Lots of people spend time of the beach, camping or at their Baches (holiday homes) for Christmas.
Many towns have a Santa parade with decorated floats, bands and marching teams. This can be any time from mid November onwards and is really a commercial event but everyone enjoys them. Since it's warm, Santa is sometimes seen wearing jandals. These are flip-flops/sandals - the name 'jandals' comes from combining the two words 'Japanese Sandals'. They've been popular in New Zealand since the late 1950s.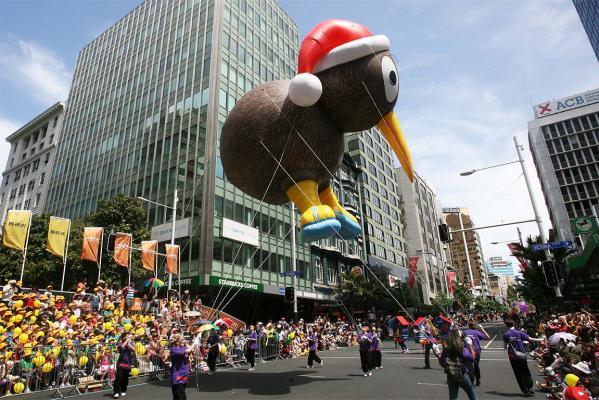 Children in New Zealand leave out carrots for Santa's reindeer and Santa might be left a beer and some pineapple lumps!
In the main cities like Auckland, Wellington, Christchurch, Hamilton and Dunedin, there are big Christmas light shows and displays. There are big carol services throughout the country, even in small town, villages and rural areas. New Zealand has some special carols of its own. These include 'Te Haranui', Christmas in New Zealand and A Kiwiana Christmas! These are sung at most carol services around the country.
Many people have a Christmas Tree in their homes and decorate it like people in the USA or UK. Kiwis also have their own special 'Christmas Tree', the Pōhutukawa. It can grow to be a very large tree and has bright red flowers which are popular decorations and also feature on Christmas cards. It's been associated with Christmas since the mid 1800s. The Pōhutukawa is also important in Maori culture. The Pōhutukawa only grows on the North Island. It flowers from mid December until around the 2nd week of January. The earlier it flowers, the hotter the summer is meant to be; and the longer it flowers, the longer summer will be!
Many New Zealanders have a barbecue for Christmas lunch and this is becoming more popular. The food cooked on the barbecue is often steak, sausages or chicken. Shrimps and other fish are also barbecued. White bait fritters are also popular. It's common to have Christmas Crackers on the Christmas dinner table. Sometimes we have roast chicken and vegetables or ham too.
Desserts are also very popular! Many still have a hot fruit pudding with custard and ice cream but cold desserts are popular. These include pavlova and whipped cream, meringues, cold fruit salad, jelly and ice cream. Drinks will include a range of soft drinks.
People usually open their presents on Christmas Day once the whole family is all together. This is usually after the Christmas lunch.
In the Maori language Happy/Merry Christmas is 'Meri Kirihimete'. Happy/Merry Christmas in lots more languages.
---