Wedding Planning Made Easy
Congratulations on your engagement! Whether you've been engaged for a year, or you just got engaged last night, there is no denying that this is the most exciting time in your life. While there's nothing more awesome than being proposed to and having everything be all about you and your hubby-to-be, with an engagement comes one of the biggest tasks ever: planning a wedding.
After I got engaged, I was over the moon with excitement. But then… the seriousness of it all set in. I had a little over a year to plan out every little detail of the most intricate day of my life, and it wasn't as easy as the "just do whatever you want!" advice my friends kept giving me. Planning a wedding is a challenge – and quite frankly, one that shouldn't be taken lightly.
Top 5 Wedding Blogs for Brides-to-Be
Throughout my wedding planning process, I did what every bride-to-be does: I bookmarked tons of websites and created an embarrassingly huge Pinterest board, but there were a few places that I always turned for advice and inspiration. They never let me down, so I'd like to share them with you – the top five wedding blogs every bride-to-be must follow.
I'll just come out and say it, I'm a little quirky. My wedding had all kinds of random details, but that's just me. The collection of blogs below has something for every type of bride and every type of style. Enjoy!
1) Style Me Pretty
Perfect for the Visual Bride
For those of you who are seeking a little photo inspiration, this blog has everything you could ever dream of. Each entry has a theme, and includes a ton of stunning photographs to complement it. A recent theme is based on a single color palate, "Merlot, Blush & Gold Wedding Inspiration" and, yes, it is to die for.
Another really great thing about Style Me Pretty is the nifty style guide at the end of every post. The style guide outlines the overall "style" of the photo gallery, and also notes the setting, season, and color pallets.
I've always been very visual, so when I was planning my wedding, nothing changed. I bookmarked this blog and checked it out just about every day. Other bloggers only post a couple times a week, so I would lose interest quickly, but Style Me Pretty posts multiple photo galleries every single day (meaning, I was instantly hooked).
Another awesome thing about Style Me Pretty, and honestly, this is my favorite thing, is that the photo galleries are designed to include REAL wedding scenarios. The brides don't look fake and photo shopped, the centerpieces aren't totally unrealistic, and the dresses are easy to find. The galleries are made for real brides who want a real wedding – perfection.
Follow Style Me Pretty
Facebook | Twitter | Pinterest
2) The Offbeat Bride
Perfect for the Crafty & Independent Bride
If there is one thing every bride wants on her wedding day it is to be unique. I don't know about you guys, but I've never heard a bride say, "I really want my wedding day to look like everyone else's." Brides crave character, and spend a majority of the planning process looking for ways to make their wedding different.
Well, The Offbeat Bride is incredible. It offers up a ton of information for the crafty, independent, and unconventional bride, and nothing is looked at as "strange." From real wedding photo galleries and tutorials for DIY projects, to partner links from mywedding.com and vendor lists – this blog has it all, and it welcomes your quirky way of thinking with open arms!
My absolutle favorite thing about The Offbeat Bride is the forum, well, technically it is called "The Offbeat Bride Tribe." My fiance and I actually joined The Tribe together, and we got so many amazing ideas from other couples all over the world. I can't say enough great things about The Tribe - it took my wedding to a whole new level, and I loved sharing my thoughts and ideas with other brides.
Lots of people think unconventional brides are against tradition, and have crazy visions for their weddings, but that's just not the case – and The Offbeat Bride knows that. With every post, photo, and tutorial, they showcase the beauty that lies within being a little different. Don't be afraid to show your true self on your wedding day; let The Offbeat Bride show you how.
Follow The Offbeat Bride
Facebook | Twitter | Pinterest
3) The Broke-Ass Bride
Perfect for the Bride on a Budget
I'm just going to say it – weddings are ridiculously expensive. Have you ever really sat down and thought about the amount of money people pour into ONE day? It's enough to make me feel sick, but hey… that's what weddings are all about, right? Wrong.
The Broke-Ass Bride shows brides how to throw a fabulously chic wedding for a fraction of the price. The average wedding costs around $25,000, but for many people, spending that kind of money on a party is laughable.
Their motto, "Creativity is our currency" is present throughout every post on the site. I swear, the ladies running this site (the BAB Team) think of everything, and have a cost-effective solution for all of your over-the-top ideas. Warning: After spending a few hours on the site (which is REALLY easy to do), you'll be asking yourself, "Why didn't I think of that?!"
Click here for the full tutorial.
Real life brides share their tips, tricks, and inspiration, and The Broke-Ass Bride shares their own features from all over the net. They talk about everything from rented bridesmaid dresses and paper flower bouquets, to handmade centerpieces and upcycled ceremony décor. Oh, and as if the blog wasn't filled with enough aweseomness, they also have a book, The Broke-Ass Bride's Wedding Guide. Of course, I bought it, read it from cover to cover in one weekend, and gave it to my cousin to read right after she got engaged. It is a must-have.
Here's the deal, ladies: If you have big dreams of a show stopper, "pinteresty" wedding, but can barely afford your rent, you need The Broke-Ass Bride in your life.
Follow The Broke Ass Bride
Facebook | Twitter | Pinterest
4) The Knot Blog
Perfect for the Practical Bride
If you're engaged, thinking about getting married, or are in the thick of wedding planning, I am betting you've heard of (and probably even bookmarked) a page from The Knot. Their site is incredible – it's seriously like the mecca of wedding planning information. But, did you know that they also have a blog for brides-to-be? Yeah, it's true! It's called The Knot Blog.
If I had to use one word to describe The Knot Blog it would be: everything. Seriously, the blog is EVERYTHING. It has everything you need to plan an unbelievably unique and perfect day. It has everything you need to avoid awkward wedding day blunders (i.e. your future mother-in-law is being crazy… again). And, it has everything you need for after the wedding too!
That's the great thing about The Knot Blog – it doesn't just stop at wedding day tips and information. It has all kinds of goodies for the honeymoon, first anniversaries, and even ettiquite for sending thank you cards.
When life moves past the newlywed phase, and you and your new hubby purchase your first home or get pregnant with your first little bundle of joy, The Knot has resources for that as well! Bottom line: If you use The Knot Blog to assist with wedding planning (and you're crazy if you don't), you'll have the site in your life forever.
Follow The Knot
Facebook | Twitter | Pinterest
5) The Wedding Chicks
Perfect for the Newly Engaged Bride
Just got engaged? Congratulations! Time to hit the ground running! Do yourself a huge favor: start with The Wedding Chicks. If you're one of those brides who thought you had your big day all planned out, then you got engaged and your vision changed completely (happens all the time), you need to be following The Wedding Chicks.
Filled to the brim with inspiration in the form of photo shoots, product reviews, and hair tutorials, The Wedding Chicks makes the planning process simple and fun. Once you get engaged, there are a few main things that run through a bride-to-be's mind (in this order):
The Dress

The Date

The Location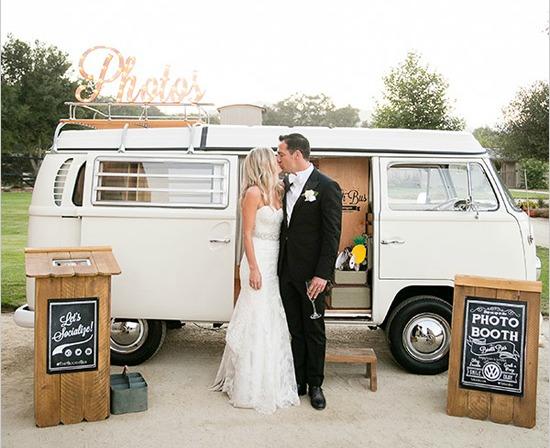 With the help of The Wedding Chicks, you'll have everything you need to choose the best dress for your style and theme, the best date for the "kind" of wedding you're envisioning, and the best location to complement the personality of you and your sweetie.
Personally, I used The Wedding Chicks to help me find inspiration in every form. I knew I wanted to have a gorgeous wedding, and I knew I wanted it to be unique and classy (pretty much what every bride wants). But, I had no idea where to start. Thanks to their awesome color inspiration, floral arrangement, dress, and venue posts, I was able to hammer out all of my main wedding details in about a week. And, if I do say so myself, my wedding turned out pretty awesome!
Follow The Wedding Chicks
Facebook | Twitter | Pinterest
The Best Wedding Advice Ever
Of course, following all of the blogs above is a great way to reduce the amount of stress associated with wedding planning, but please, don't let the wedding planning become so big that you forget about the most important part: the marriage. I'm guilty of doing this a few times while planning for my wedding, and I wish I could take it back.
At my wedding a friend of the family (someone I wasn't even that close with, honestly) came up to me and said:
"I've never been to a wedding where I felt so much love. I cried during your vows, and it wasn't because I know you and your husband so well, it was just because I could feel the meaning behind the words you spoke to each other."
That floored me. Firstly, I was so flattered that I clearly was able to pull off my ultra-romantic wedding theme, but I was so humbled that she felt the love my husband and I were expressing for each other. To this day (almost 18-months later), I still think about her comment.
Remember Brides: The wedding is only one day, the marriage is what really counts. It's easy to get hung up on the major details, but don't waste time on things that aren't truly important to you. Focus on incorporating little details of your unique love into the day, and you'll always look back on your wedding with a happiness so heavy, it actually hurts a little.
---