This article is meant to give the ladies a little advice about planning your wedding.
I am presently in the process of planning my wedding and have learned a couple of things along the way that I wanted to share.
Your wedding is your day and you need to do everything you can to enjoy it and make sure it is all you've dreamt of. To get the wedding of your dreams, here are the five top tips I can give you:
5.
Set a Budget
If you're like me and my fiance, you don't want to put the financial burden of paying for a wedding in the hands of your parents. Even if you do, be nice by setting some limits.
Set a budget and try not to exceed that budget.
Nine times out of ten you will go over that budget, but not by much.
Setting a budget for wedding and reception also gives you leverage when talking to potential vendors. Trust me, the first few things they will ask you are how many people and what is your budget. You need to have something to tell them or else they will set on for you.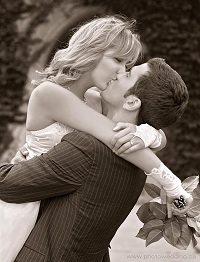 4.
Hire a Coordinator
You need a coordinator, at least a day-of coordinator, more than you know. Despite your fiance's hesitations and misunderstandings of what a coordinator is for, tell him to watch and learn and proceed with selecting your coordinator. My exact words to my fiance were, would you rather me be happy that day or stressed out? The reason you might not think you need a coordinator is because you really aren't sure what they can do for you. You know that relative, on the day of your wedding that ends up doing everything for you, the one that doesn't enjoy anything? Well this doesn't have to be the case.
A day of coordinator is like your own personal assistant for the day.
They will bring you food, coordinate your transportation, decorate for your reception, coordinate schedules, make sure the groom and his groomsmen are where they are supposed to be, clean up at the end of the night and much more.
You can go for the whole shebang and have someone coordinate everything about your wedding, but if you're like me and enjoy doing things yourself, I only recommend one for the day of.
3.
Beware of the hidden costs
If I have learned anything from this process it is that nothing comes without an extra charge. The service charge, more specifically for a reception, can be anywhere from 15 25% depending on where you live. Make sure you factor this charge into your cost per person. Just because they say $50 per person, does not mean it is really $50 per person.
In addition, don't forget about sales tax. Where I live the sales tax is about 9% and I am sure it is much more elsewhere. So when a place gives you a price per person, I have learned to automatically add 30% to that cost for service charge and tax.
Pay close attention to any other charges you might get, i.e. bartender fees, linen rental fees, etc.
The best advice I can offer here is to make yourself aware of what you are being charged and why.
2.
Negotiate Prices
To be honest, even I was shocked by my revelations in this category. The one thing to remember is that no matter where you go the prices/packages they give you are merely a suggestion.
All prices are negotiable and you SHOULD negotiate.
When a venue approaches you with a price listing that is beyond your budget, my best suggestion is to email them back what your budget is and see what they come back at you with. I would say 90% of the time they will work within or near your budget and are happy to do so. All you need to do is ask. The place I have selected started WAY beyond my price range and just by sending her my budget for a reception, she was able to work it out for about 40% less than the original price and now I get to have my dream reception.
Wedding Tips
Set a strict budget immediately
Get a coordinator for the big day
Bargain for a price within your budget
Ask questions to avoid surprising charges
Don't rush things
1.
Give Yourself Time
One thing I am certainly glad I have done for my wedding was to give myself plenty of time. I have given myself nearly two years to plan my wedding and could not be happier about it. I have time to secure the venues, the band and the cake I wanted.
You should keep this in mind if you are looking to have your wedding in the most popular months of June and October. With short notice you could find yourself scrambling to find alternative locations that are not as great as you originally hoped. In addition,
giving yourself plenty of time also gives you more time to relish in being engaged and enjoying the planning process.
Plus you can go to plenty of bridal shows where people suck up and worship you!
Now ladies, by no means am I the master of planning, although one day I plan to be.
These are just some tips I have learned along my way and wanted to share the wealth. Anything is possible for the right price, but don't break yourself for one day!
HAPPY PLANNING!
---