I believe I've mentioned it on here a few times already, but I'm going to San Francisco CA next month on Thanksgiving day. I'm totally excited! Going to CA has been one of my dreams for a long time and I'm happy to see it come true. I'm also a little nervous since I'm not a frequent traveler, but I'm going with my older cousin who is quite an experienced traveler (she even packed through Europe by herself once), so I know I have a good guide.
We'll have two half days there and two full days, which is good but it's also not a whole a lot of time to experience everything San Fran has to offer. Me and my cousin have a pretty good idea of what we are going to see and I made a list of my top ten things I want to see when I'm there. Now, I'm going to share with you the top ten things I look forward to seeing in San Francisco :)
1. Golden Gate Bridge
I must be honest, I'm not a big fan of heights or water. However, this bridge is just absolutely beautiful and fears or no, I'm so looking forward to seeing it in person. I would never pass that opportunity up.
2. Golden Gate Park
When you hear the word "park" you just assume it's your typical ordinary park but this park is anything but ordinary and definitely not your typical park. Which is why I'm looking forward to going there and seeing what it's all about.
3. Ghirardelli Square
Since Ghirardelli is one of the best chocolates in the world! There's no way I'd miss checking out what this square is all about.
4. Ghirardelli Chocolate Factory
If I'm going to Ghirardelli Square, there's no way I'd miss checking out their chocolate factory. That's just WAY too cool to pass up. Plus, anything involving chocolate and I'll be there with bells on lol.
5. Alcatraz
To some people it might seem kind of scary, but I think it will be kind of cool to see an old prison (one I've read Al Capone was in). So, they'll be lots of history and that's really neat. Plus, it being out in the middle of the water all by it's self is also kind of cool.
6. Lombard Street
This was recommended to me by another cousin of mine (from my mom's said of the family). Since my cousin gave it such a rave review I thought it's worth checking out. Looks pretty cool from the pictures I've seen.
7. Victorian Homes
I love Victorian homes, so I'm super excited me and my cousin will be taking a walking tour of a bunch of different Victorian homes. That's going to be awesome!
8. Pier 39
Despite the fact I've lived in IL all my life, I've never been to Navy Pier before. So, it's going to be cool to go to a pier for the first time. Especially this one, since I hear they have sea lions. How cute is that going to be to see? I can't wait!
9. Asian Art Museum
I've always been fascinated by Asian culture and then when I met my best friend from South East Asia and he told me even more about the culture, it made me even more interested in it. So, there's no way I wouldn't make a stop at the Asian Art Museum. That's going to be SO cool!
10. Transamerica Pyramid
I'm a big fan of the TV show Charmed and they always showed a view of this building. So, it will be cool to see what it's all about in person.
11. Sunset at Twin Peaks
I think sunsets are beautiful, so to see one from a view (that I've read is quite awesome) is going to be a dream in itself. Hopefully there's good sun that day.
12. Shops & San Francisco at Night
I think it will be cool to check out shops in another state and see what they are all about. It will also be cool to see San Francisco at night. I think cities at night are like a beautiful artistic scene. I just love looking at pictures of all the city lights at night, so I'm stoked to see it for myself.
13. The Ritz-Carlton (the Hotel we are staying at)
I've never stayed at a hotel before. Both times I went to FL we stayed in a condo, so I'm excited to stay in hotel for the first time and one such as this (only time I'll ever get to stay in something this fancy lol).
Now, if time allows there's two other places I'd like to see (hopefully)
1. Chinatown
This just seems like a very interesting place to visit and definitely a look into another culture (which I think would be cool).
2. Union Square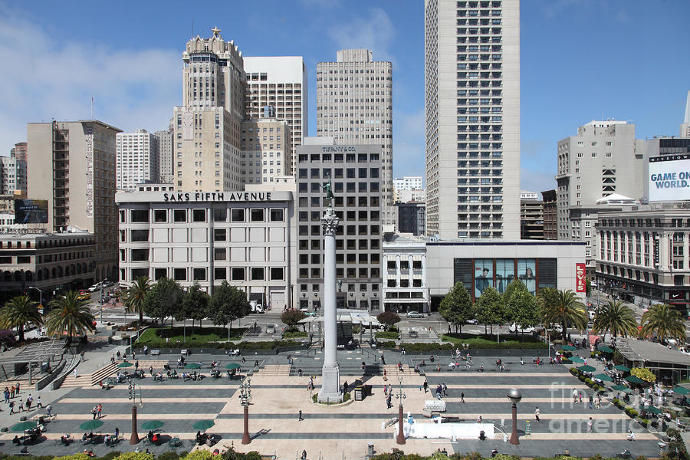 Simply put, it just seems like something worth checking out. Looks like a cool thing to see.
This concludes my take and if you have any (helpful) recommendations for my trip, feel free to share.
Have a good weekend :)
---