Something that may be fine for you may be quite annoying for someone else. I don't like pets and that one that's more of a pain the ass are my pet peeves. The list aren't in the right order on which on that's the worst one. The order is just random. Some of them are weird!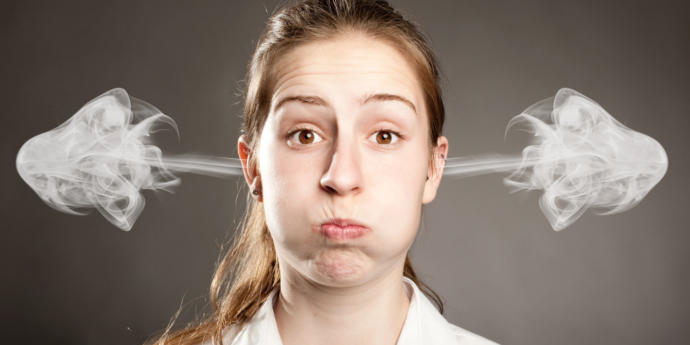 1) Not respecting peoples' personal space

I'm fine with a handshake, but if strangers and other people that I don't know very well either tries to hug me or touch other places than my hands, I would feel uncomfortable. It's only a couple of people in my family I think is okay to hug. It's especially annoying when people keeps invading my personal space after I've told them politely to stop doing that. I doubt it has something to do with me being on the autism spectrum. It's rather a Norwegian thing I guess. You knows what I'm talking about if you've been on a bus in Norway.
2) Bad smells
Bad smells can ruin my appetite and my mood. Sometimes it can also make me nauseous. It may be rooms, things or people that stinks. In some cases people can't help it. It may be old age or diseases that cause it. Other times it's just people with really poor hygiene. If people don't put effort in making themselves smell better, it gets especially annoying.
3) Historical Inaccurate TV-shows/movies

When people makes TV-shows or movies with historical people and events, they should do some research and get it right. If they wants to make things up, they could make it all fictional instead. A historical inaccurate show can make misconceptions and disrespect historical people. If it's a comedy, it would be very obviously it may not be accurate. But many inaccurate shows aren't meant for humorous purposes.
Both Reign and Salem are good examples on that. Reign portrayed Mary - Queen of Scots as a Latina/Hispanic looking woman with black hair and brown skin, but in real life she was a pale redhead. In addition the historical characters had relationships that wasn't there in real life. Salem has it's silly things too. In real life there were no witches in Salem and in school American children learns how believing in something that don't exist can be dangerous. In the TV-show witches are real and many things are the opposite of what happen in the real life. People in the show had a reason to be afraid of the witches and the devil. In addition they're portraying Tituba as a mean villain, but in real life she was a victim of the witch hunt. The way they portrayed her was distasteful.
4) When people don't understand
People have difficulty to respect or do something if they don't understand it. Not only may it be a pain in the ass, but also makes unnecessary conflicts. The worst ones are people who don't understand what they did hurt someone and people that shows no considerations because they simply didn't get it.
I've dog phobia and when I asks the owners to pull the dog away from me if it approach me, some of them tells me how nice it's and that it won't hurt me instead of stopping the dog. Some also comes with insults, laugh or ignores me. Most dog owners are respectful, but sadly there's some that aren't.
5) When Norwegians aren't speaking Norwegian in Norway
Some Norwegians are insisting to speak English with other Norwegians in Norway. It's a popular trend among teenagers and I've never understood it. I've always wondered why they're refusing to speak their mother tongue with each other. Some Norwegians also speaks English to me and I do always reply in Norwegian. It's however more understandable when immigrants speaks English.
6) Racial biased TV-series and movies
The movies and series don't necessary have to be racist, but still show some racial stereotypes like example portraying the bad guys with dark features and the good guys with light features. Often it's Hispanic/Latino, Spaniards, Mediterranean and other kinds of people with dark features that plays the villains, while the heroes are often fair skinned and haired played by Nordic looking people.
Witch roles are also often portrayed of dark people. Most witches I've seen in movies have black hair and brown eyes. Only a few ones are played by white people and are redheads. Blonde blue eyed witches aren't that common. If there's one in the movie, they're usually the hero. In the TV-show Salem there are good and bad guys from both sides (witches and none-witches), but most of the witches are dark and mostly bad. Cliche! I'm fully aware of it do exist exceptions, but often it's like that.
7) Dogs without leash
Owners that doesn't care and let their dog walk around in the street, parks or wood without a dog leash. A dog should always have a leash when it's in a public space.
8 ) Smokers on the street
When a bunch of smokers smokes on the street and I pass by, I often gets smoke in my face. I'm not into breathing in it!
9) People who implies that I'm not belonging to my own country

Not everyone who asks where I'm from are trying to imply it, but some are. Some aren't even asking and just assumes things. I've been told by strangers; both other Norwegians and immigrants that they wants me to teach them Mandarin or Thai. Some talks foreign languages to me and some said directly to me that I can't be a Norwegian since I'm not white. They said only white people can be real Norwegians.
10) People that doesn't groom themselves properly
Off course it's up to people what they wants to do with their bodies, but sometimes I've opinions about what I would do if I was them. If someone are too lazy to shave properly and are mostly clean shaven, but has some patches with stubble remaining or are balding, but keep a horseshoe on their head, I may think "Why didn't you just shave it off?". I think the same thing about neck beards and hair on the neck outside the hairline. Another thing is when someone have dry skin and don't moisturize it. Mismatching socks or clothing that doesn't fit together also makes the perfectionist inside me to rage.