Scarlet Tanagers
Scarlet Tanagers are fairly common in oak forests in summer, but they often remain out of sight as they forage in the leafy upper branches. Sometimes in spring, when the Scarlet Tanagers have just arrived from their winter home in South America, a late freeze will force them out in the open as they search for insects on roadsides or in gardens.
American Woodcock
This rotund, short-legged bird hides in forest thickets by day, where it uses its long bill to probe in damp soil for earthworms. Its eyes are set far back on its head, allowing it to watch for danger even with its bill buried in the dirtand are related to the sandpipers. Males perform a remarkable "sky dance" on spring and summer nights, in a high, twisting flight, with chippering, twittering, bubbling sounds.
Elegant Trogon
Since the 1890s, the possibility of seeing a trogon has lured birdwatchers to southern Arizona. With its brilliant metallic colors and odd croaking call, the Elegant Trogon brings an exotic touch to the wooded canyons and streamside sycamores where it lives. The observer who finds one may get to watch it at leisure: rather sluggish, the trogon may sit upright on one perch for several minutes.
Zone-tailed Hawk
The Zone-tail may be overlooked even by birders who are searching for it. This close resemblance may fool other creatures as well: Small animals in the west learn to ignore the abundant and harmless Turkey Vultures, and they may fail to notice an approaching Zone-tailed Hawk until it is too late.
Puffin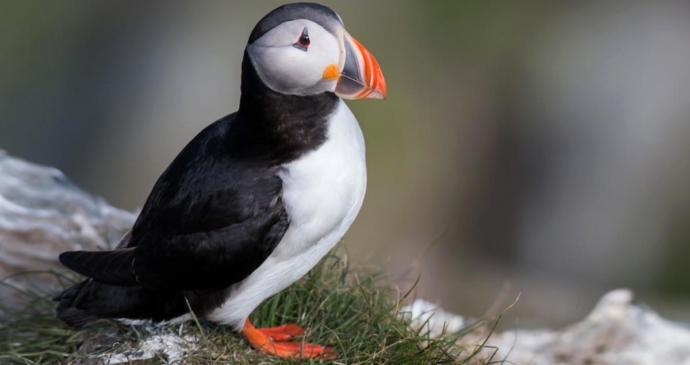 Nesting around the edges of the North Atlantic, this puffin is sought after by birdwatchers who visit Maine or eastern Canada in summer. At its colonies, the bird may fly back to its nest carrying a dozen small fish lined up in its bill, making us wonder how the puffin holds onto ten slippery fish while grabbing two more. Gregarious at its nesting sites, the Atlantic Puffin is often solitary in winter, far from land on the open ocean.
Anna's Hummingbird
This hardy little bird is a permanent resident along our Pacific Coast, staying through the winter in many areas where no other hummingbirds are present. More vocal than most hummingbirds, males have a buzzy song, often given while perched. In recent decades the species has expanded its range, probably helped along by flowers and feeders in suburban gardens; it now nests north to British Columbia and east to Arizona.
Belted Kingfisher
The Belted Kingfisher is often first noticed by its wild rattling call as it flies over rivers or lakes. It may be seen perched on a high snag, or hovering on rapidly beating wings, then plunging headfirst into the water to grab a fish. Found almost throughout North America at one season or another, it is the only member of its family to be seen in most areas north of Mexico.
---