What's your vampire name?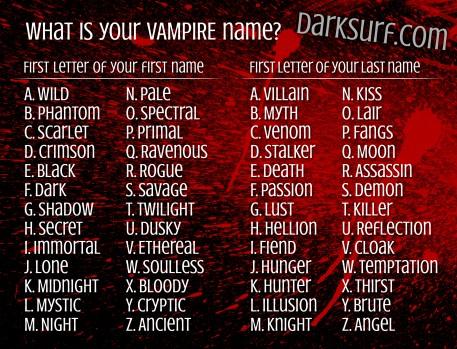 I'm Crimson Death
Updates:
---
I'm Rogue Demon.
Lol all these sound like they could be cliche heavy metal band names.

Instead of Crimson Death, you should be called Pale Brute.

Ancient Myth, haha, really cool :P

Primal Fangs. That is the lamest name ever

Primal Angel, wow, so mysterious :)

Wtf lone temptation 😂 How does that even

Vlad the empaler, of course.

Scarlet Demon... sounds like a kinky night lol

Secret myth... where are my vampire teeth 8)
Meat in blood sauce, soooo yummy!

Rogue Demon. Very enigmatic ;)

Scarlet Venom... cmon... that's a chick vampire name.

Shadow myth... lol it does now make all that much sence but that it. :-)

Rogue Myth. Sounds odd...

Lone hellion. I sound like a loser lol
Savage Angel. Mmmmm quite contradictory :p

lol "Primal kiss" @MissNowhere xx

Secret Killer. Lol
That sounds so cliche xD

Lol I'm Savage Demon but that is super creepy

Mystic Fangs

I don't know why, but it sounds like a creepy dating site

Hmmm.. Savage Myth.. Am not too sure what to make of this!

Phantom Illusion! I like it!
Click "Show More" for your mentions