I am posting this right after I got back from vacation and actually wrote it via texts to myself on the phone, tee hee….
Based on the response from this post
"I won't be back until Friday night and I'm going to attempt a my take then fingers crossed"
@Angelina25 "I'll be waiting for it!"
So here it goes...
Ok, I'll be honest, I've never been in a relationship but I feel like I've learned a few things from people and about people that I'd almost consider myself kind of like hitch.
You are welcome to challenge me but I feel pretty good about my relationship recommendations
1. You need to take the good with the bad
Everybody has bad parts but good parts too. I'm going to use a theme of a brother and sister relationship in this mytake. In relation to this idea, You know your brother and sisters faults but you get past them it works the same way in relationships. In fact, roast them on their faults as they roast you on yours and embrace the good things. Let the good outweigh the bad and use the good to bring out the best in them. It's all about knowing the balance of enjoying the good and learning to have patience with the bad.
2. Take time to enjoy each other
Some of these points kind of blend into each other. Learn to enjoy being in each other's company past mere appearances. Enjoy them the same way you would a brother or sister or a friend. It's a simple almost non-sense point but I think it's worth noting. It's not about making sure you spend the right amount of time or making sure the time is spent wisely. Those are important points but I would argue that spending time together should feel and be more natural than trying to get it down to a science. Just keep it sweet and keep it simple.
3. Take it in stride
Don't take your relationship too seriously. If you start to turn it into rocket science, you will run the risk of burnout. It should not be about a race or striving to have the perfect relationship or be the perfect couple, it should be about only the two of you and the two of you just living your lives together. The focus should be less on vacations full of non-stop agendas and more of sipping lemonade with each other on the back porch and talking about the sounds of the birds and what you think the clouds look like
4. Learn to love each other for who the person is
Don't try to change each other or at least not too much. You are special for who you are and so is your partner. I have heard so many songs about guys trying to change their girls to fit their mold. And I know my brother's family recently was trying to make him fit theirs. The way you dress, what you like to do, the way you brush your teeth all make you special and the same for your partner. Learn to love their particularities and enjoy them as part of your relationship with each other. As Bruno Mars says "you're amazing just the way you are"
5. Find common interests
A relationship can be made more meaningful if you can find common interests. Common interests can include movies, music, TV shows, books, video games, hobbies, sports etc but if you got something you can both share it is something that can strengthen the relationship. However, another thing that you can do is share interests. Try out something you have not tried before for the sake of your partner. If you have never watched or played Pokemon try it, if you have never bowled give it a go, if you have not read poetry try reading some and if you have never experienced manga try it for the first time. The more you try, the more likely you are to find another match that both you and your partner will enjoy.
6. Support each other and love each other
This is a next level thing that goes back to the brother and sister relationship. Be there to give support to your partner. If there's a job interview encourage them and help them get ready, if there is a death in the family be their open arms, if they are in the hospital be there to hold their hand. Next to support is love. Show your partner that they are cared for and are valued. Be with them through drug addiction, if they get in trouble with the law, or if they have cancer. It takes a special kind of person stay with someone through all their hardships. But this shows your investment in each other and makes your relationship stronger.
7. Give each other space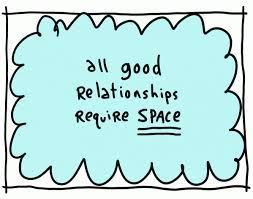 This one is one of the hardest but an important part of a mature relationship. Your partner may really like to spend time with you and love you but they need still need private time and space. Your partner needs time with their friends and sometimes if they are introverted they just need time alone to recharge. In fact, a friend of mine thinks that every person should have a time of meditation. Your partner might need a night or they might be gone for a month. Either way you need to be prepared to let go and give them the space they need.
Another part to this is trust. It is much harder now a days to have this but trust is so important in a relationship.
I can't tell you how fast jealousy can kill a relationship. It is hard especially with media teasing you about cheating. But for a relationship to survive some form of trust needs to be established.
8. Try and enjoy the other family
I've heard so much bad press about the in-laws but why do they always have to be bad? Why can't you aim to have fun with your partners family? Go on a road trip, organize a Barbecue with games, or do a movie night. At least try to have fun with them and you might be surprised to find that you have gained an extension of family. As a bonus you will have someone extra to lean on for help and your partner will be all the more happier for it.
9. Don't lose the romance but don't lose the moments of being yourself around each other
This is an important balance. You want to keep the flame going to show that you still love, care and value each other. Plan one night a month or do something once a week for fun. But do something to keep things fun between each other and make each other feel special.
On the other end, know how to rock out the baggy shirt and sweatpants. Just enjoy relaxing with each other. It can be such a precious moment when your partner falls asleep on you out of exhaustion. It can also be fun to just enjoy a random sports game with each other. Make it a Netflix night. But whatever you do make it low stress and just let go with each other. Let your hair down and yes, I'll say it, pass gas. Passing gas is something that you only do with the closest people you trust. It's terrible manners but it shows your guard is down but feel free to call safety. I suppose it's not for everyone but I'm sure there is other personal stuff that can also be used. Overall, just enjoy being yourself and if you do that, odds are, your partner will too.
10. Don't give up
I've heard of so many marriages that end in divorce. But I heard something recently from Billy Graham's late wife. They asked her if she believed in divorce, she said no, but I do believe in murder. That to me says values while providing a laugh in the process. Relationships are not just kisses and roses, they are a fight. And fighting you will do. Anybody in any relationship will have fights. I'd even argue that a fight can be helpful if channeled and used in the right way. Relationships are not given, they are earned. Long lasting relationships are not based on how great the couple is or how great of a match they are. It is based on how they dealt with each other and how they survived each fight with each other. I'd like to call out those in relationships and those who get into future ones. It's not about if you are compatible or not. Do you get to trade in your brother or sister? Yet, you are still connected to them and for the most part most learn to love them for who they are. And relationships are the same way. I'd challenge you to fight for the relationship you are in. Of course not every relationship is worth saving but it is worth not giving up on that person. Be strong and believe in a love that can last for decades.
Well I hope you enjoyed my list and I look forward to hearing your comments and I would also like to hear what you think are good ideas for relationships. Thanks for taking the time to read my take and have a good weekend.
---