Nowadays it feels like everywhere on the news there's either a terrorist attack, a cop killed by another Black guy or Black Lives Matter spreading lies about unarmed Black men being shot by police.
So I decided that it is time for a Public Service Announcement.
Now before you shout "YOU'RE WHITE, YOU'RE WHITE, YOU DON'T KNOW WHAT X GROUP HAD TO GO THROUGH BECAUSE YOU'RE NOT ONE OF THEM!!!"
Well I can't speak for group X but I can speak for the Jews. The Jews who were historically the MOST persecuted group on the planet, who happen to be White and are currently the most successful group of people.
Every disadvantaged group on the planet has smart people within it. These smart people realize one very important fact, if you're trying to succeed then you need to work harder than everyone else to prove your worth.
Now unlike in the video above very few people are lucky enough to have a teacher invest time and energy into their students being successful. Usually successful people must put in the extra effort themselves to get somewhere in life. It isn't easy but with hard work, education and a little luck anyone could be successful.
It doesn't help when the schools don't prepare people for the future anymore but as Mark Twain once said: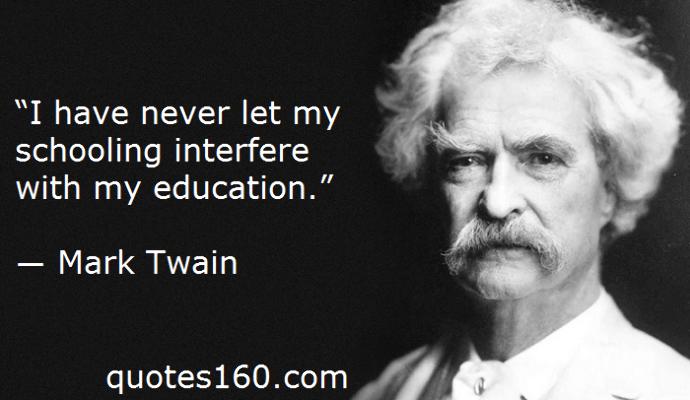 I believe it is important for every group of people to know the history of their people.
A while back there was a question on GAG asked by a Pink Anon (which I can't seem to find probably because it was deleted) about whether Black people have ever accomplished anything.
This really goes to show how bad the education system is since it completely ignores the accomplishments of an important demographic.
The current education system is racist towards Blacks because it paints them as simply victims of slavery, apartheid, and segregation while never focusing on the positive contributions made by Black people. This is the very idea behind Black History Month.
A bad education system leads to a stupider public but information isn't something that you can only get in a book at a school. The Internet is a massive resource of information of almost limitless potential.
It's easy to play the blame game to point your finger at someone that did you wrong and crawl up in a ball at any moment things don't go your way but you must understand that life is like a card game.
It all boils down to PERSONAL RESPONSIBILITY.
I know RESPONSIBILITY is a scary word but that's the way life is regardless of what your socialist professor or the mainstream media may tell you; most things in your life are under your control.
There is no evil boogeyman that wants to bring you down because you're Black or gay or Hispanic or a member of any other group.
How you play your cards is up to you.