Back in the day I created a take on "White" privilege.
Understanding "White" Privilege: What is so Hard to Understand?
Of course, I came to GaG to talk about relationships and share some knowledge about my experiences. But there were so many weird disgusting threads on race. And even weirder ones on politics, so I thought I would try to create a few threads. To date, out of all the "takes" I have done, this is the one that has the most responses. I guess race really does bother a lot of folks. Too many folks don't get it. They don't want to get it, but they want to tell others people how to feel about it.
I understand. Most of the GaG crowd doesn't want to acknowledge racism or "White" privilege. You have that luxury. Rejoice in that. But other folks who are not "White" have to be aware of it. Because we don't possess it. And whatever your specific non-"White" group is, you have to be aware of it. Be it "Black". . .and being associated with crime. You can be Latino and be associated with being an illegal immigrant. Or Asian and be associated with spreading Covid-19. Or Arab/Muslim, (you can never tell with racists) and being associated with terrorism. It is just how it works.
As most of you guys know, I just call 99% of the racists at GaG, nutso insano fruitcake racists. But that isn't something that is just random and arbitrary. There is a reason for that.
It is because in these discussions, racists are not just racist. They are insane, unbalanced, illogical and. . .flat out weird. Here are the common weird nonsensical responses.
1. Why don't "Blacks" take responsibility?
Answer: Responsibility for what? I am responsible for me, my personal actions, my family, my life, my career, my behaviors and my beliefs. What you actually mean is, why don't I take responsibility for other "Black" people who commit crime or have nonsensical beliefs. You want me to decrease my self-worth and self-esteem because of something some other person did. . who may share my skin color. Then on top of that, somehow I am supposed to have less pride in my accomplishments because other "Black" people didn't make it. And the weirdest thing is, I don't think most "White" racists who argue this are even self-aware enough to understand that's what they mean. It is like they are pre-programmed Borg drone. . .unable to deviate from their core programming.
2. Y'all got bad genetics.
Answer: What is bad genetics? What are the genetic markets for "Blackness". Oh. . .it is what you see? Which of course is the phenotype. . . got it. . .so you are an idiot. I don't spend much time with those types. Because if you are that insane that you believe that genetic commonality is defined in phenotype, then you are beyond all hope and need to seek out a psychiatrist.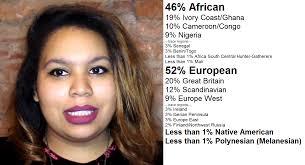 3. "White" privilege does not exist.
Answer: But you want to be able to racially profile "Blacks", Latinos, Indians, or whatever non-"White" group for whatever stereotypical behavior you wish to believe in. Also, you want to get mad whenever a movie, television series, sporting event, etc. has too many people from groups that are not representative of your "race". So what you really mean, you just like the way things are now. And if they change, then you will claim other types of privilege exist.
4. I don't want to talk about this race stuff! I love everybody. I don't even see race. I don't know what race is. I never heard of race and never heard of someone who heard of it.
Answer: That is your luxury. If you are not "White", you had better learn what race/racism is and you had better prepare your children. The "White" folks who have "Black" kids know this intimately.
https://creatingafamily.org/adoption-category/transracial-adoption-white-mom-raising-black-boys/
Did you tell your kids not to fight back because they will seen as aggressive if they stand up for themselves? Have you had to honestly discuss with your husband whether you should take your children to the police station to introduce them to the officers so they would know your children are legitimate members of your community? Have you had to talk to your children about EXACTLY what to say and not to say to an officer? Have you had to tell your children that the objective of any encounter with police, or security in any form, is to stay alive? It never occurred to me to have these conversations with my white children. In fact, it never occurred to me for myself either.
5. There may be "White" privilege, but I simply do not care. Deal with it and shut up.
Answer: We do deal with it. Every single day. But we ain't going to shut up. Shutting up gets us killed. If you can't deal with it, cover your ears. Move to a different country. I don't really care what you do. But we have to be loud about this. The discussions have to be loud, like this one;
"Black" folks need to consider taking their sons down to the police station and introducing them, if they are moving into a different community with a majority "White" population.
My mother did this for my nephew because he was being constantly harassed by the police. We get that you don't care. Why you guys think we shouldn't care about ourselves is beyond insane however.