(DISCLAIMER: I know this article is about the touchy subject of the North Miami shooting, but it is only meant to deal with one aspect of it: the way it was reported to 911. I am purposefully disregarding dozens of factors that may have lead to what occurred for the sake of simplicity, which are not limited to: officer training, racial profiling, misunderstanding of mental illness, gun culture, etc. I do not know or claim to know if any of these factors were or were not involved, nor to what degree. It is not meant to justify or invalidate anything that occurred, only address this single factor and my views on it. So please read the entire article before commenting!)
It seems like every day, we wake up to another police shooting being reported on the news. As I'm sure most you are aware of by now, there was a shooting this morning in North Miami involving a therapist, Charles Kinsey, trying to help his autistic patient who had roamed from his assisted living facility. He was sitting in the road and blocking traffic, playing with a toy truck. Somehow, it was reported as a man threatening suicide with a gun, and police responded with assault weapons drawn. It led to Kinsey being shot, thankfully not fatally, with the officer saying he didn't know why he fired. Luckily, no one was killed in this tragedy, but it will still leave a mark on everyone involved for the rest of their lives.
When compared to the other shootings that have occurred, one thing stood out to me: the way the 911 caller reported it. Why did they report it as a man threatening suicide with a gun, when no gun was recovered from the scene and neither Kinsey nor the patient? Were they really certain the man was holding a gun, or was it an assumption based on what they saw from a distance? Had they only reported it as a man on the street, a more accurate assessment, would the police have responded with so much force? It led me to think of just how dangerous making assumptions can be, especially when it comes to potentially dangerous situations.
Human Observation Has Been Proven Inaccurate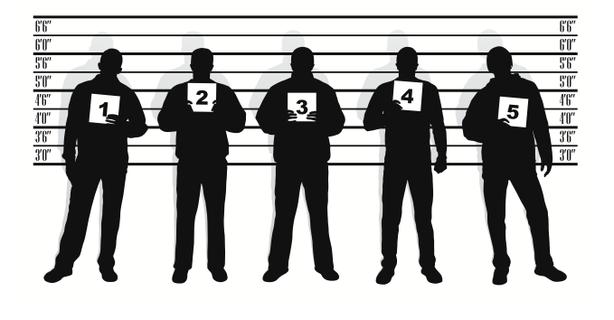 Science has proven time and time again that eyewitness testimony is one of the least reliable forms of criminal evidence. Our human memories are far from perfect, being easily forgotten, clouded by poor senses of observation, and filtered through our biases. A report from the Innocence Project shows that 73 of 239 convictions overturned on DNA evidence were primarily based on eyewitness testimony, some of those having multiple witnesses. Yet, they were wrong, and it caused many innocent people to spend years in prison, or even cost them their lives.
If people are this inaccurate when recalling situations in court, what about when they are making an emergency call? Many of these factors can certainly taint someone's assumptions about what is happening in an immediate situation, especially if they do not know exactly what is going on. Multiple physical factors can distort what we observe: deteriorated senses, objects obstructing view, too much or too little lighting, and the list goes on. Despite my very good vision (15/20), many times I have seen a pair of house lights in the distance on an unlit road at night and assumed they were headlights, causing me to become momentarily disoriented about what is around me. Our powers of observation of incredibly fallible and can be very unreliable, especially in the moment.
Biases can also cloud what we assume about situations we observe and partake in. What we believe or fear about people or places can lead us to make assumptions about a situation despite it not being supported by evidence. An example: A cousin of mine works night maintenance and often has to wait between jobs until the location closes. One night, he was in a dim parking lot filling out some paperwork with a pen in his truck when an office came up to him and said someone had called and reported that he was snorting cocaine in his car. Apparently, they had thought the pen looked like a crack pipe, and assumed he must be up to no good because he was in a parking lot at night. The officer ended up searching his vehicle for drugs, and of course found nothing. It was inconvenient, but had no other consequences.
False Assumptions Can Have Deadly Results
Let's change it up though - what if this caller had assumed his pen was a knife or a gun? The officer would have certainly gone in armed under the assumption that he was in imminent danger, and it could have been deadly had one of them responded rashly. This is exactly what happened in the North Miami shooting. The caller falsely assumed that the therapist's patient had a gun, and officers responded with their own weapons, ultimately resulting in shots being fired.
If this caller could not actually see what the patient was holding (which clearly he could not), why did they report it as such? Why would they jump to such an extreme assumption based only on seeing a man in the street, holding an object and yelling? If they had reported what they saw - a man yelling on the street holding something - there is a chance officers would not have responded with weapons drawn. It was unlikely a malicious assumption, but one out of fear or ignorance. Regardless, it potentially elevated the police response and was very likely a factor the led to Kinsey getting shot.
A Moment Of Clarity Could Save Lives
These kinds of situations could be prevented if people reported only what they physically observed with certainty. Only what you can see, hear, and otherwise observe clearly. In the North Miami case, reporting it as "I see a man on the street yelling, holding something. I can't see what it is" would have likely led to a less violent end than saying, "I see a man with a gun threatening suicide". For my cousin, the caller should have said "I see a vehicle that's sitting in this dark parking lot with something in his hand, it looks long and narrow", versus "There's a guy here smoking crack, I see the pipe in his hand." would have been more accurate. By not immediately assuming the worst possible outcome, dispatchers and officers can make more measured judgments about what type of response that particular situation demands and it can potentially lead to less violence.
In a climate of elevated tension between police and the public and rampant mass shootings, the idea of someone having a weapon and behaving erratically is more terrifying than ever. People are more fearful than before of random acts of violence taking place, and authorities respond to them with greater caution because of this uncertainty. For this reason, it's more important than ever to make sure a dangerous assumption is a correct one before reporting it. Crying wolf and jumping to the most extreme conclusion without evidence leads to consequences for everyone involved, sometimes to the point of injury and death. Humans are fallible creatures, and if we only took a moment to catch ourselves before making these dangerous assumptions, the world could be a safer, better place.