Questions To Ask Girls
What are some unique questions to ask a girl in a bar?
Jer2256 (Age:30 to 35)
I'm newly single again after 8 years of marriage and wanted to know some unique questions to ask a girl when having the first initial conversation. I've asked the typical questions like, where are you from, what do you do for a living and what do you do for fun. It seems that girls get bored with... more

Questions to ask a guy
xx-Jen-xx (Age:18 to 24)
I recently started talking to this guy. He is 20 and I'm 17. He is always asking me good sex questions and I don't really have any good ones to ask him. I really need some good ones. So guys, I need some help lemme know what y'all would like to be asked by a girl.. please and thanx

What is it about the "mysterious guy" that makes him attractive?
Not yet rated!
The-Nash (Age:18 to 24)
Okay let's start with an example, Leonardo Dicaprio in catch me if you can; you know the mysterious guy, well, what exactly is it about these types of guys (or girls - I'm not biased) that makes them the object of affection? Is it suspense of wanting to get to know them? Intrigue, from not knowing... more

How do I get him to ask me out?
Not yet rated!
grahamcracker (Age:25 to 29)
Okay, I know I am a little too old to be asking this question, but humor me. I have a friend that has recently broken up with his girlfriend. We have always been interested in each other, but nothing has ever progressed from just friendship. He knows that if he asked me out I would accept, but the... more

I Need Questions to ask my Boyfriend
(Age:Under 18)
My boyfriend and I like to ask each other random questions, but I can never come up with any good ones. Can anyone come up with any good random questions to ask him?
Questions to Ask Girls
---
It's very unfortunate that to talk to girls, you have to,well, talk to them. That can be a very scary thing, and when you finally do find the courage to go up and say something it always seems like there is nothing to say. We all want to be able to talk to girls,but many of us are just unsure of how to do that.

While there isn't a cure to stomach butterflies, and other people can't do your talking for you (either they are scared,or they will take your girl for themselves), there is help as too how to approach an opposite sex conversation. So here are some good ways to get started, and even some great questions to ask girls in case you find that your tongue is getting tied.

Using Confidence to Talk to a Girl & Why You Need Questions

When you talk to a girl, you are going to have to ask her questions,otherwise you would never be able to get to know her. Even though this may seem like a difficult prospect, asking a girl questions is really the easiest part of the conversation. When you ask her a question, she starts to talk, and she gives you information that you can build on,information that you can respond to.Because she is going to start to interact with you after your very first question, all that you have to do is; relax (easier said than done, I know), listen to what she says, and then respond.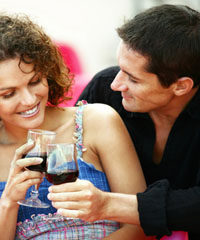 Don't worry so much about where the conversation is going to go, but instead focus on where you are at. If you do, you will find that you won't get so nervous (since you will be listening to her rather than thinking of the next thing that you are going to say), and you will be able to converse much easier.

Listening Is the Key to Talking

Yes, this may seem like a contradiction, but in fact listening is the most important part of the conversation, and unfortunately, it is also the most overlooked (or under heard). Despite having an entire arsenal of questions, if you don't listen to what she says, you might as well not even have started talking to her.

Listening is so important because if all you are doing is firing off questions and not listening to what she is saying, then you are not really having a conversation at all (you are either talking at her, or talking to yourself, neither of which will get you very far). Another reason is that it's so crucial that you listen is that she will tell you what to talk to her about. In addition, you can't learn about her unless you listen to what she is telling you.
10 Questions to Ask a Girl

No matter where you are at, you are going to run into women (which is a good thing). Just as with any other conversation, you need to be yourself (just don't talk about your Star Wars collection till at least date number five, or even till after you two get married), and you need to listen. Yet, it also never hurts to have a tarting point, and a few 'conversation savers' in the back of your mind.

While each of these questions should work in just about any situation,you do want to make sure that when you ask her something (or even speak in general), that it makes sense to your current situation. You don't want to ask her what she does for fun while you are sitting through a eulogy (that is the speech that is given at a funeral for those of you who were wondering). Also, just because you have a list of questions in your head, doesn't mean that you should start interrogating every girl you see (so don't,that's weird).
Don't believe
it's actually this simple?
Keep reading!
"Hi, I'm--insert your name here--. What's your name?"

"Are you having a good day today?"

"Are you from around here?"

"Where are you from?"

"So what kind of things do you do for fun?"

"Have you ever --insert an activity that you enjoy doing--?"

"Have you seen --insert a movie that you like-- ?"

"What places have you visited?"

"How do you know --insert name of a common friend--?"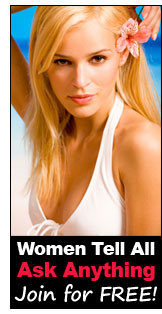 Wondering how to put these questions to use, let's consider you're at a movie store.

"Hi, I'm the Geico Gecko. What's your name? "- She answers.
"Lovely, have you seen Wild Hogs?"- She says no.
"Well you should, it's a great movie. What were you looking for?"- She answers.
"Oh, I haven't seen that either, perhaps you can let me know if it was good?"- Get number.
Simple. Talk, listen, and respond. But for those of you who are thinking "but of course she would talk to him, he's a celebrity", you have issues that this article can't help with.

You might look at these questions and think that it can't be this easy, that there has to be more to it. Well, no, there really isn't. After all, a conversation with a girl is just like a conversation with anyone else, the only difference is that you are more nervous. Unfortunately the only way to get over those jitters is to take the plunge and actually start talking to her.


Next Article: Good Questions To Ask A Girl
What Questions Can I Ask a Girl At…
No doubt your day takes you to many different places, and into many different situations. As such it is an absolute certainty that you are going to run into women, and depending on where you are, you will need to approach them differently. Just make sure to maintain your confidence, because without that, you're not even going to be able to get your first question out.

It's not so much about using a can of questions,

but instead about coming up with your own for each situation.

Questions to ask a girl at school or work to get to know her

Just about eight hours of everyday we are either at work or school, and just like we are, so are women. The great thing about these women in our lives is that since we see them every day we can take our time to get to know them. Although there is also the fear that we will make a fool of ourselves and be stuck seeing them every day, that is easily overcome. So, here are some great ways to get a conversation going and some great questions to ask a girl that you like at school or work.

What questions to ask a girl at the beach or a park

Like stars in the sky women seem to be absolutely everywhere in these places, and just like stars in the sky they can seem impossible to grab(please don't go and literally grab them, a charge like that is hard to get off your record, so I've heard). Believe it or not though, there are actually some great ways to approach these women and to strike up some great conversations. Uncalled for grabbing and ensuing restraining orders are completely optional.

Good questions to ask a girl at the bookstore or the grocery store

If you don't pay attention at many of your everyday places then you are going to miss an incredible amount of opportunities to meet people. It's amazing how many great people that you can meet at either a bookstore or the grocery store (or really just about any other type of store). If the bar and club scene are really not your thing, then this could be a great place to interact with Venetians (women are from Venus, men from Mars joke).

If you are at a coffee shop, ask her for a good drink suggestion.

Use your situation and surroundings to come up with ways to talk to her.

Random questions to ask a girl at a bar or club

I would like to make it very clear that I find a difference between having a game plan by being prepared with questions, and using pick up lines. "You must be tired because you have been running through my mind all night," is not a quality question to ask a girl or to fall back on. So, you're not going to get cheesy pick up lines here, but you should be able to get a few great conversation starters.

Interesting questions to ask a girl on a date

Obviously you have done something right (or something so horrendously wrong that she is hanging around you simply to see how worse things can get, either way who cares, you're on a date). At this point you don't need a list of questions to start a conversation,you have already done that. But, all too many times, especially on a first date, you can find yourself at an uncomfortable silence. You shouldn't interrogate your date with these questions, but they can be handy to get yourself out of a pickle.

Be Who You Are When Talking to Girls

Overall you just need to be yourself and not worry so much about where the conversation is going to go. Just remember to speak (yes, you actually have to say something), listen, and respond to her. If you are able to do that, then you might just find yourself having to come and read my article on date questions.

Remember too, asking a girl questions is important, but what is infinitely more important is being confident enough to ask. In addition, make sure that you ask appropriate questions. If for any reason you read this though and you think that it's actually harder than it sounds, then look inside yourself, because you are over complicating something that isn't that complicated (it's just a little scary).

Good Questions to Ask A Girl