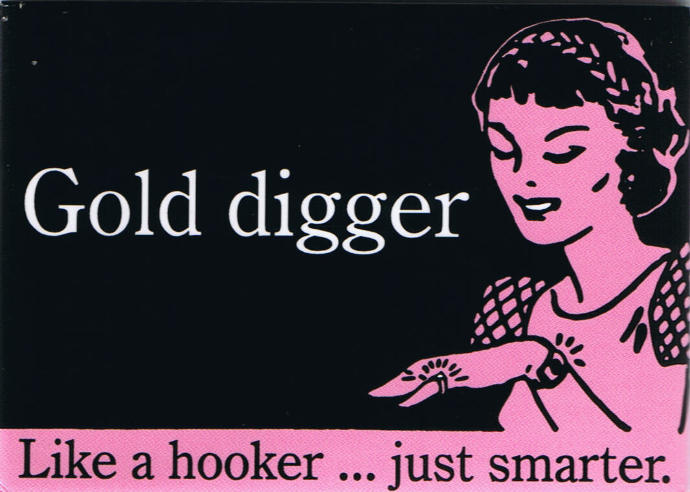 So you're a 20 something, supermodel looking, broke as hell college student looking around at her one room studio apartment which you're about to get kicked out of due to failure to pay your rent and you've decided that getting a honest job at the sandwich mart or prostitution is not really your thing, so you take a look in the mirror and realize, you're too pretty to be living like this. I mean, really, look at you. So you rent a fancy dress with what little coins you have left, do your make-up and hair up, and follow your friend to a party that is well known to be the coveted spot for 50-60 year old rich men looking to date models and make their ex-wives jealous. And thus, a gold digger is born!
A gold digger is a person who cultivates a personal relationship in order to attain wealth. I think most people think of this as absolutely deplorable that someone would take advantage of someone like that, but really, I ask, who is at fault here? Granted if the...let's just call it what it is...target, is someone so old and senile that they don't know up from down, then absolutely that gold digger should be stopped by any means necessary, but if we're talking about some business guy in his 50's, 60's or 70's+ with his right mind, I don't really think we can or should put all the blame on the 20 something because the who is using whom factor goes both ways.
Some old rich dude who probably has had the kids, done the married thing, or is just feeling past his prime wants to feel like his old, younger self again. He might not have had the level of wealth he has now when he was a young guy, and so now he wants the life he feels he should have had back then when people thought of him as perhaps, a nobody. Cue the hot girl giving him googly eyes across the room, saying all the things he wants to hear, who has the body he's only seen in his dreams, and he's in. If this old guy can sit there and make intelligent business decisions all day long, it stands to reason that he would be able to see some girl taking advantage of him for his money.
I'm sorry, I find it incredibly hard to believe that someone in their 60's and 70's would think an 18 year old was so incredibly in love with them or super attracted to the wrinkly skin, the balding hair, the beer gut, and the arthritis in the knees. They know these girls are there for their money, and they are giving it away freely in exchange for the arm candy, to make old exs jealous, to feel young again, to have sex with them (oh God, I just threw up in my mouth)....(sorry, it's still coming up). It really is a disgusting symbiotic relationship of simultaneously taking advantage of each other for their own gain. It's an escort service without the illegality of it.
And kudos, if you can even give that to them, to these girls because I just couldn't imagine taking up some guys old leather wrinkly skin and (redacted) for a paycheck. I...ugh...that's part of some kind of hellish nightmare kill myself dream. Also as far as the guys are concerned, it's their money. If they want to foolishly waste it on some girl, then it's their life and their money, let 'em. These things aren't secrets. They've happened to plenty of men, and plenty of men allow it and they know what they are doing when they agree to these types of relationships. For them, other than staying with someone who has been there with them from the beginning like a similarly aged wife or mother of his children, what's the alternative, they spend it on hookers and blow? Too many risks, so they do the gold digger thing so they can at least be seen in public with their hookers.
Oh, and because I know you're probably humming it already, here ya go...