I know that you have heard many stories of cheating, and betrayal- frankly it is becoming a popular trend in this modern dating world. How sad it has become that if a man/woman treat each other like crap, the first we say is "at least he didn't cheat on you".
I don't know all the details of what happened or even how it started/happened. Therefore, I will share how things happened, in hopes that you will be careful and perhaps learn something on the signs to save yourself the heartache that I had from losing a boyfriend and a best friend at the same time.
So here it is, my best friend of 8 years- Alana always had my back. We went to high school and university together. She has been there through my best and worst times. We went out together, baked cookies together, she held me when I cried about my ex… and I never saw it coming.
I met Jared in my University economy class. He was super sweet and smart. We hit it off and it wasn't long before, we celebrated our 1 year anniversary. He got me beautiful flowers, and wrote me romantic notes, and I felt like I was in heaven. Our sex life was good, and I couldn't really complain about a thing.
I recall that I was over at Alana's house as she was cooking pasta and invited me over. As I was waiting for the food, Alana was being silly and grabbed a wet noodle and whipped it around, it ended up sticking to the wall and we both laughed. She went to the bathroom to wash her hands, while I chuckled and told her "I gotta get a photo of this". My phone was in my purse at the front entrance, so I grabbed Alana's phone from the table beside me and clicked on the camera icon. I snapped the photo, and went to click on "share" to send it to my phone. My finger swiped onto the next photo accidentally, and guess what I saw? At first, nothing seemed abnormal. It was a zoomed in photo of an overloaded pizza, with a poor attempt at using ranch sauce as a tool to write "Alana" with a heart around it. But then, I saw the table, and a man's foot in a sock at the corner of the photo. I knew very well whose table that is, and exactly at what guy wore "puma" sock religiously.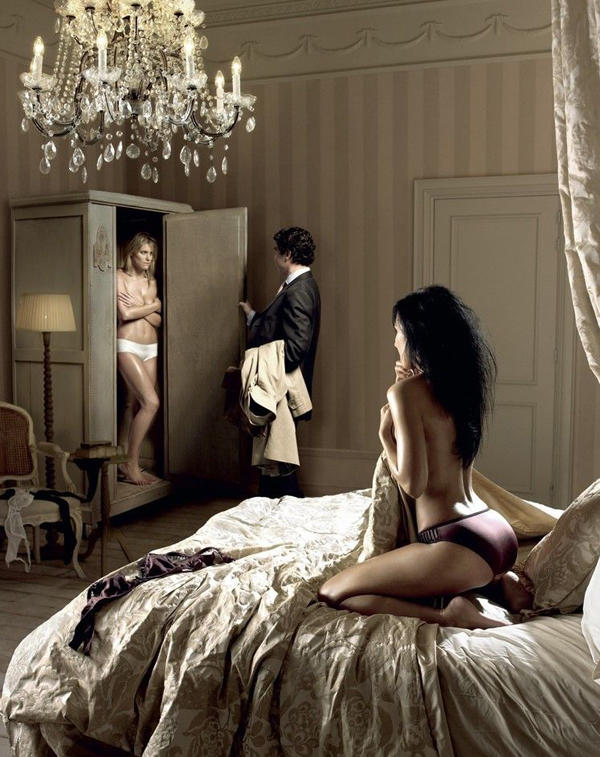 Alana walked back in, and saw the look on my face. "Whats wrong?" she asked. I walked over to her, as I was so angry I was holding myself back. "I am only going to ask you this once, and if I find out that you lied to me I will never speak to you again. Confess and I may forgive you". My voice started to crack. Alana played stupid and said "what are you talking about?" I went right for it… "are you an Jared sleeping together?" She hesitated, and I could tell that she was scared. "We have been hanging out, but I don't know". At this point I couldn't take it, I turned around to grab my purse and walk out. Alana stood there frozen.
As I slammed the door on my way out, I paused as I waited for the elevator in her condo. I heard Alana saying something, so I quietly walked back to her door. I could barely hear, but I am pretty certain I made out "yeah well wtf that's not my problem, she found out so…" The elevator opened up and I got in. I knew that Alana was probably on the phone with Jared, so I sent him a final text "hope it was worth it, this is a written warning to cease and desist any communication to me or else I will report you to the police". Jared called me a few times that evening, and even blocked his number to try to get a hold of me.
I cried and cried for a few months. The sad part about this whole thing is that Alana didn't even try to apologize. She messaged me a few times, saying that she misses me, but I couldn't bring myself to respond.
It has been 2 years since the incident, both Jared and Alana are out of my life. This whole experience has made me stronger, and I realized that good people are hard to come by. I don't care about the justification or rationalization behind what they did behind my back. I got my closure when my silence and self-healing made me whole again.