Having had little success in meeting people, I turned to the much ill-advised internet dating. After about a year of doing it, I can say that there are definitely things you should and shouldn't do, and if I knew them sooner, I'd have definitely had more success.
Must be mentioned that if you're after limitless amounts of one night stands, Internet Dating might not be for you - people aren't that stupid. However, should wanting to meet people of the opposite sex and go out on dates when you've got some free time, then do read on.
Approximate statistics:
1 year of internet dating
Two (free) sites used
150-200 messages sent
5 off-site communication details traded
Three dates
Started in July, got a first date/number in December time. Bear in mind there's a learning curve
The problem -
People, men in particular, haven't a clue how to socialize like this. The usual setting to meet new people is often a club with low lighting, lots of alcohol and grinding on unsuspecting individuals. It doesn't register that people are (often) sober, looking at you with a high level of scrutiny and able to tell you appear like a bit of a scumbag (no offense to those who aren't but I've seen a few male profiles - they were like prison mugshots).
So, that's the first lesson. Remember that this isn't like typical dating and there are parameters to consider:
1. Be Engaging
Obvious but you'd be surprised how many people write 'hi how r u', or a variation of, as a first message. No matter how hot you are/think you are if you come across with the IQ of a vegetable then expect no reply. Communicate you've read their profile and show a bit of humor - this is the highest indicator of social intelligence because you've taken note of an observation and made it fun.
"

Communicate you've read their profile & show a bit of humor - this shows social intelligence.

"
2. Be Genuine
If you aren't a doctor who does boxing in his spare time whilst flying out every year to explode bad guys with his mind then don't put that. The end game is to meet people and being dishonest WILL catch up to you. Doubly so in person. For example, I'm a scientist and therefore put that I am. People can make their assumptions whether or not I'm boring or clever or both. It doesn't matter, it's the job which pays the bills and therefore can't be helped.
Obviously don't put things which are too intimate such as 'fetish for feet. Them toes - hubba hubba'. Don't be interested in stuff that you don't find interesting either; loving what they love isn't essential but getting people to talk about their interests is.
3. Type Properly
Self explanatory. Don't be lazy, you're not getting charged per character and have a full keyboard. This means writing in full sentences and not just listing stuff aimlessly.
4. Avoid Angry Stuff
There's a lot of 'NO BOYS MEN ONLY', 'ONLY [type] PEOPLE' which not only sounds like you're after a sugar daddy but doubles up in making you sound pretty stupid. If you have a preference, then state it but avoid capitals, reasons for heartbreak and 'no players' (I always imagine when women put that, they'll think guys will go 'Oh darn! If only I didn't put how much of a player I am in my profile!' and give up).
5. Use Decent Pictures
True, some people will look better in real life however being drunk and disorderly isn't, and will never be, an endearing quality. Smile, don't have group photos and have at least one face and one full body for good measure.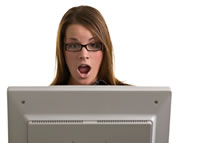 6. Show Some Of Your Good Qualities
Mentioning everything in one go will make a boring first date. Whilst Internet dating cuts out a lot of the crap about knowing each other leaving something to expand on is not just encourage but practically compulsory/mandatory to being good company. Everything fizzling out on the first date means that's the end of everything. Drag the fun out a bit.
Things you should be aware of:
Yes, there a lot of 'unconventional' types on there. Don't be surprised if you get messaged by weirdos.
Avoid going on if you're dying for an ego boost. It simply isn't healthy to do so
In the event you don't get a lot of attention/replies it isn't the end of the world. You simply need to re-think your approach.
When meeting people consider your own safety. Meet in public and the rest of it.
If there are any questions, message me!
-I.