Relationships
It seems amazing that humans have been on this Earth for more than 200,000 years and we have yet to figure out the opposite sex. There are thousands of books, courses and specialists that tell us what the other person might be thinking, or why they're doing what they do. But even with all of that most relationships fail or end badly. I'm not saying that I am the all-knowing relationship Guru, but I do have some knowledge that I'd like to share. Up ahead 5 relationship advices everyone needs to know.

1. Pick Your Battles
A relationship is mainly built on loyalty, compromise, trust and communication. In order for your relationship to work you need to be able to compromise. Part of that compromise is learning to pick your battles. If you and your partner are fighting over every little thing that bothers one another being with each other will be hell. If there's something that bothers you then that's where communication comes in, but there's no need to argue over everything. Also, remember that it isn't you against your partner. It's you two vs. the problem. Most of the time it's not what you're saying, it's how you're saying it. If emotions are involved you're not going to be able to have a calm discussion. You should take some time to clear your head and once you are centered talk about the topic and try to reach an agreement with your partner. If it's a small thing that bothered you, just try to have a conversation with them about it and let the problem die.

2. Admit When You're Wrong
No one likes to admit when they're wrong. In fact, everyone wants to be right. So much so that we defend our point even if we know we're wrong. But you know when you have fucked up. Once you realize that you have done your partner wrong you have to admit it and apologize. It's not easy but it's something that you must do in order for your relationship to flourish without any resentment going forward. Apologizing when it's due will save you from many petty arguments in the future and passed mistakes being brought up in new arguements.

3. Work On Your Relationship
If you have a garden, and you forget to water the plants they are going to dry out. Playing on that metaphor, the same thing will happen to your relationship. Just because you're with a person it doesn't mean that you have them secured. You should always work on making each other happy, and loving each other over all the downs that you may go through. There's a point in the relationship where things aren't going to be as they were in the beginning but you should never let the sparks die. You should strive to make your relationship fun, lively and interesting. That way you will both be invested. Always be romantic even if you're with the same person for over 50 years. Care for them as if it were the first date. Never forget what you saw in each other.
4. Manage Jealousy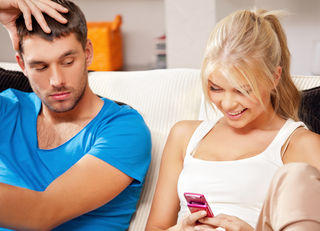 Everyone gets even the slightest bit jealous. Some communicate it verbally and others show it with their actions. There's a normal amount of jealousy that you can't help but have if you care deeply about a person. But there is also the irrational amount. If there's a legitimate reason for you to be jealous then you should talk to your partner, but if it's all in your head you need to check yourself. Gather your thoughts and think about your situation clearly. Most irrational jealousy stems from insecurity. Your partner chose you because they want you and no one else. They could validate you all they can but as I always say self-love is very important in a relationship. You cannot give what you don't have. If you don't have love you can't give love. Work on your insecurities before thinking that the problem lays in your partner.
5. Know Your Worth
You should never be with someone that treats you less than right. Period. So know your damn worth and know that you deserve to be with someone that loves you with their whole heart. Not someone that gives you crumbs and expect you to give them your whole world. Demand to be treated how you should. You don't have to beg to be loved, because if that's the case then that's not the person for you. You can try as much as you'd like to make it work, but if for one reason or another things just don't, then let it go and move on. Don't stay hung up on one person when you could be having the time of your life with someone else. Take it as a learning experience for the future and level up. Better yourself because what's to come will be a thousand times better. Find someone that will value you as they should. You don't deserve to be miserable, because someone that makes you miserable isn't the person for you. Lastly remember to have self love before anything else. You're the main thing, a partner is just an addition. A compliment to the main platter. You don't need your partner, you want your partner.
Thanks for reading this take
-The End xo
P.S. This was not meant to offend anyone, it's my humble advise and opinion. As always thanks for reading.
---