Some people are natural flirts. They have a natural charm and charisma with the opposite sex that makes them appealing and approachable. Some of us lack this approachability. When told to "put ourselves out there" if we want to meet someone, we show up at a bar and park our fannies on a bar stool. But something is wrong…There are no flocks of people approaching me wanting to chat me up. I'm here. What else do you want from me?
Forget the fact that our faces probably have looks of terror or hostility painted on them. Forget the fact that we may actually avoid eye contact with the opposite sex because it makes us feel vulnerable. No, no. That can't be it. I've seen the movies. People should be approaching me and be undeterred by my ambivalence! They should be persisting! What is wrong here?!
Call it shyness. Call it introversion. Call it insecurity. Call it a unicorn for all I care. What you call it or why it happens isn't really important. What is important is that this has to change. It never works. Trust me, I know.
Even knowing, logically, that this made absolutely no sense whatsoever, I still felt this way throughout pretty much all of high school. My friends would get boyfriend after boyfriend, and I'd look at myself in the mirror and wonder what it was about me that guys didn't like.
Then after high school, I met a guy who was super into me. FINALLY, I'd found somebody willing to pursue me until I was comfortable enough to give in. And that took several months. It was such a relief. And that whole relationship thing? It felt really good. So good, that after 5 years of dating, I married that guy. And then 5 years later, I got a divorce.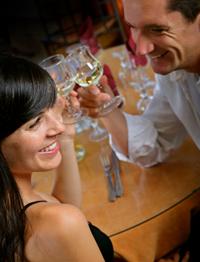 Look, people get divorced all the time, and for lots of reasons. I'm not claiming every couple that gets divorced is like me. But looking back now? I had no business dating that guy in the first place. It was a rocky relationship filled with drama from the very start. We had completely different backgrounds, completely different values, completely different goals, completely different personalities… I won't say I didn't love him. But all that proves is that humans are capable of loving people who are totally wrong for them. That probably isn't a huge newsflash for anybody.
Moral of the story: If you wait until you meet someone who is willing to pursue you relentlessly, you might actually meet someone like that. But it doesn't mean that person is someone you'd actually want to be with. If you have standards in what you want in a significant other, you absolutely have to put yourself out there and not wait from someone to chase you relentlessly.
Question of the day: How the #@$% do I learn how to do that? It's fricken scary!!
Finding myself divorced in my late 20s with absolutely no real flirting or dating experience under my belt left me terrified. I had no idea how to date! I figured it would be awhile before I was actually ready to start seriously dating somebody again, but I needed to figure out how to be approachable before then. I'm sure there are multiple ways, but here is what I did:
1. Create a profile on a free dating website. Often times, you get what you pay for with the free dating websites. So why one of those instead of something more reputable? Because we're here to practice. THAT is our main goal.
2. Say things to people you wouldn't have the courage to say normally. We're gauging their reactions. Stay true to yourself, though. Don't try to be someone completely different than who you usually are. But you know that person you are when you're with your closest friends? Tap into that aspect of your personality – whether you're a total nerd, kind of a pervert, a hopeless romantic, or a lazy bum. You shouldn't be trying to think of things to say, you should be saying the things you're thinking already anyway.
"

Say things to people you wouldn't have the courage to say normally!

"
3. Tell yourself "this is just an experiment". Because, truly, that's all it is. If you're thinking about saying something potentially controversial or ballsy, take a deep breath, say to yourself "oh well, this is just an experiment", and say it. If it gets a positive reaction, cool. If it doesn't, oh well. On to the next one. (And a different tactic! Don't keep trying the same one that keeps NOT working!) Have you heard the Thomas Edison quote "I have not failed. I've just found 10,000 ways that won't work"? That's a much easier mindset to work with than " I've been rejected 10,000 times." They aren't rejecting you, because you aren't acting the way you normally would. They are just the mice in your maze.
4. Don't let yourself get hopeful about someone. If you get hopeful about someone, you'll revert back to your reserved ways out of fear of being rejected if you say something outlandish. What's funny is these safe, reserved conversations are, in all actuality, boring and dry as can be and unlikely to really spark anyone's interest.
5. Start experimenting with strangers. After a while, move your game to real life. This could be people you meet from the website or people you meet in person. The safest bet: Complete strangers you have almost no chance of running into again in the future. Why? Because you can run away and retreat if it doesn't go well. That's not so easy to do with someone from work or school who you see all the time. Start small, like by holding eye contact with someone as you walk by them. Are they going to come chasing after you and pursue you? No. (And that's not what we're hoping for anymore anyway, remember?)
6. Progress to striking up conversations with strangers. Once you can figure out how to start a conversation with a complete stranger, you'll be able to start one with just about anybody without it seeming forced. So how is this accomplished? Have you seen the movies where someone makes eye contact with a member of the opposite sex and then moves straight in for an introduction? Yeah, don't do that. Put yourself in proximity to someone and just make a comment to them. Make it seem like you would have said it to anybody who happened to be standing there. The scene in Knocked Up when Ben starts talking to Alison at the bar is a perfect example. At this point, if there's a connection you keep it going. If there isn't, you go back about your business. You don't seem like you were coming on to anyone. You just seem like a friendly person who was making small talk.
7. Start striking up conversations with people at work/school/wherever. You do the exact same thing. Only, since you have common ground, it should be even easier.
Congratulations, you are now "out there" and far more approachable than you were when you were cowering in the corner. Next you'll get to dive straight into a whole new set of insecurities that come with trying to figure out if someone LIKES you likes you and all that other awesome stuff. But that's a completely different article…
---