Hello, Gents, today I'd like to shed some light of jealousy of one man to another, otherwise known as Menvy.
"How much does it cost to be that guy?"


Although possibly less rampant than what we'd find with our female counterparts, menvy is, nonetheless, a major issue that's affecting your confidence not only in attracting women, but in also not maintaining current relationships, and generally being on your mission in life. It seems innocuous enough-- little thoughts that another man is better looking than you are, more popular, smarter, better at sports etc. and that if you could be like that guy, your life would be more the way you would like it to be instead of the way it is. Hell, there was a point in my life where I was even jealous of gay guys because they seemed to put beautiful girls at such an ease that they would follow these homosexual men around like they were deities. Generally, it was more the outgoing guys that caused me to think "if I was more like them, then all the girls would be into me and this part of my life would be so easy."
This is wrong thinking. The reasons for which are several. First, wanting to go out and be noticed because you are good looking or rich or whatever it is, is a feminine pursuit. As a man, it disconnects you from your power and masculine polarity. You want to be seen as this "exceptional flower" that's prettier than all the others and you want women to choose you, want you over "the other flowers." It puts you in a passive state. A state where your power is determined by the judgment of others and this, as a man, is not a good place to be.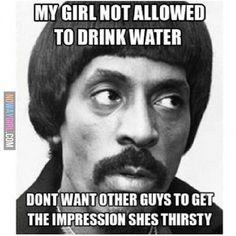 The second reason is that on some level during the moment you carry this menvious thought you do not want to be yourself. If you realized how great, unique, and exceptional you are you would never want to give that up for anything. Sacrificing yourself, eliminating yourself, so that you can be someone else is too high of a cost even if they have access to resources that you don't. You are your greatest gift to yourself. You are the person you idolize the most.
There can be no one that you would give your own identity up for even a rakish bad boy who has more sex than John Mayer.


To wrap up, let me add a little more detail to this idea of masculine polarity. Unfortunately, it is hard to connect to your masculinity when you refuse to understand that, if you choose to identify as a man, there are certain things which draw you closer to or away from your inner-masculinity and draw you closer or away from your inner-femininity, and the former is very important if you are a man. Using these terms is not intended to insult women or femininity or those who wish to play with these two ideas regardless of what "acceptable."


So there it is, remember boys that your masculinity depends on not wanting to be the prettiest flower to pick and remember that you are your greatest gift to yourself, you are above and beyond value to yourself, and you cannot afford to give your own identity for anyone even men who have more than you do.
---