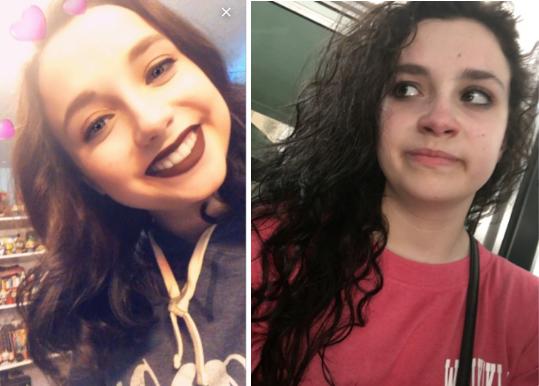 Think about it. Plain looking girls become hot. That means there's more attractive women than attractive men. Thus, the average woman's standards get higher.
Select age and gender to cast your vote:
Updates:
---
Most Helpful Girls
To an extent, yes. It's easy to pull a "natural" makeup look that appears flawless and minor, yet really involves a TON of makeup. I've done it myself, and the difference is astounding.

Also, for the women claiming that only idiots think women with dark lips and eyes and all the makeup look natural, I'm pretty sure that's not how most men think. It's reasonable to be shocked when you get used to a person wearing makeup, and then they take it off to show something completely different. And again, yes, makeup can really have transformative abilities depending on how you wear it (some girls I know don't change a lot, others look like different people entirely). It all depends on the person, though frankly, part of why I don't wear makeup is because I want to love and accept (and thus be loved and accepted) for what I really look like, my natural beauty, as opposed to coloring on myself with chemicals and wasting a ridiculous amount of time on something I'm going to wash off in a few hours.
A little but I don't think that most women transform into something that different. I'm not a big fan of makeup but I wear it because I feel like I look tired/unprofessional without it. Weekends are usually makeup free.
Most Helpful Guys
Yeah. It's obviously an advantage. I'm not sure why so many people are pretending it isn't. You can literally make your face look more appealing. The contrast is like a guy could pretend to have a college education, or pretend to have a house. It's something that increases value with minimal effort with instant effect. I'm totally for makeup. I prefer women do wear makeup. But it's obviously an advantage. I don't care that it's an advantage. But it is clearly one.

Guys technically "can" wear makeup. It's true it's not against the law. But it is against social law. And, it is not a "masculine" thing to do. So even were a guy to wear makeup to enhance his features, the fact that he feels he needs to resort to that would make others look down on him, male or female. It is simply not feasible for males to wear makeup. I'm surprised we need to point that out.

But if we want to say social pressure means nothing, then okay, then social pressure means nothing for women who feel like they "have" to wear makeup. No. Clearly you do not, if we use that same reasoning. It is not against the law for you to not wear makeup. I'm sure those same women will use social pressure as an excuse later for why it's unfair that women are expected to wear makeup. You can't have both ways, lol.

Anyway, end of the day, it doesn't matter what advantages others have. The only thing that really matters is to improve yourself in what ways you can and grow as a person. There's a lot of things that simply "are". And the only thing you can do with those is accept them and find a way to adapt.


Not at all.
If anything, the advantage goes toward men: Men don't have to spend hours (and money) putting on makeup to go out to spend time with women and men don't have to deal with society judging men on whether or not they wear make-up.

Even if say a woman spends just 10 minutes a day putting on makeup.
In one week, that's 70 minutes. That's more than 1 hour a week. If we're generous and round it up to 1 hour a week, that means women spend 4 hours a month just on applying makeup. If we extrapolate that to one year - women spend 48 hours a year putting on makeup. That's 2 days in a year women spend putting on makeup. In a decade, women spend 20 days putting on makeup. In half a century, women would spend 100 days putting on makeup, that's nearly a third of a year.

I'd gladly take the "disadvantage" of being able to show up barefaced to work, on a date, or anywhere without people questioning why I didn't put in any effort into my appearance.