Roza Shanina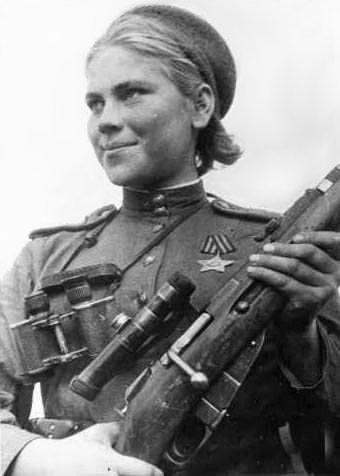 At the age of 20 she was a sniper for the Soviets Red Army. Roza served for less than a year yet she had 59 confirmed kills, all fascists along with many others while she served on the front lines, always under heavy artillery fire from the Germans. She was one of the last surviving members of her battalion when she was found severely wounded with her chest torn open by a shell fragment when she was shielding her commanding officer, who was also severely wounded. She died the bext day.
Hedy Lamarr
She charmed her way into Hollywood and became a big star of her day along with inventing a wireless torpedo control system and in an essence she also invented what we call Bluetooth. She was also the major inspiration for the character, Selina Kyle from Batman. She passed along secrets of Nazi technology to the Pentagon as well as in the 1950s, her patent for the wireless torpedo control system was revived and used as a reference guide for a sonar-equipped buoy. Much later one of her many early ideas, frequency hopping was used to create wi-if and Bluetooth.
Nellie Bly
Journalist, well known feminist, and champion for women and the working class. One famous assignment of hers includes when she posed as mentally ill in order to expose the horrors of how the mentally ill are treated. She also received world wide fame when she took a trip around the world, inspired by Jules Cerna book, Around the World in 80 Days. Which she completed in 72 days.
Here's an excerpt of what she wrote, exposing how the mentally ill are treated-
We were taken into a cold, wet bathroom, and I was ordered to undress. Did I protest? Well, I never grew so earnest in my life as when I tried to beg off. They said if I did not they would use force and that it would not be very gentle. At this I noticed one of the craziest women in the ward standing by the filled bathtub with a large, discolored rag in her hands. She was chattering away to herself and chuckling in a manner which seemed to me fiendish. I knew now what was to be done with me. I shivered. They began to undress me, and one by one they pulled off my clothes. At last everything was gone excepting one garment. "I will not remove it," I said vehemently, but they took it off. I gave one glance at the group of patients gathered at the door watching the scene, and I jumped into the bathtub with more energy than grace.
Nancy Wake
Possibly the most badass woman of World War 2, she was considered the most wanted by the Gestapo. The first line of her obituary says that she hated killing but she killed a lot of fascists, sometimes with her bare hands. She was known as the "White Mouse" by her German pursuers, she spent most of the war as an Allied operative in France, helping escaped POWs, and others wanted by the Germans and of course, strangling the life out of various Nazis. She also survived four days of torture by the Nazis, saved over 200 down allied pilots, She passed away in 2011 at the ripe age of 98, her family says she is strangling nazis in the afterlife.
Ada Lovelace
A gifted mathematician, she is considered to have written instructions to the first computer program in the mid-1800s. At the age of 17, she theorized a method for an engine to repeat a series of instructions, a process known as looping, that computer programs use today. She also invisioned that what we call a computer, can go beyond calculating and number crunching. She died of uterine cancer at 36.
Elizabeth Blackwell, M.D.
British born physician, she was the first woman to receive a medical degree in the US. Her sister was the third woman to receive a medical degree in the US. She was a pioneer in encouraging women to get medical degrees. Rejected by many schools for her gender, she was accepted to the Geneva Medical College in New York, and even then the admittance directors said yes as a joke. In college, she was regularly asked if she wanted to leave the class when anything sexual was discussed to protect her "delicate sensibilities" even though she majored in gynecology and obstetrics.
Lyudmila Pavlichenko
(On the left)
Another Russian sniper, Lyudmila was nicknamed lady death and rightfully so. She is credited with 309 confirmed kills, as well as killing 36 German snipers (one of those snipers had over 500 confirmed kills) and 100 German officers. Right around her 309th confirmed kill, she had become quite the celebrity and The Soviet Army withdrew her. She became a sniping teacher, went on tour, and met Franklin and Eleanor Roosevelt. She has made speeches in New York is even quoted saying, "Gentlemen, I am 25 years old and I have killed 309 fascist occupants by now. Don't you think, gentlemen, that you have been hiding behind my back for too long?" Her words settled on the crowd, then caused a surging roar of support.
Natalie Portman
While she is a beautiful actress, Natalie has been featured in many scientific journals. She has a bachelors in psychology from Harvard which she received while filming Star Wars. When she was in high school, she and two other scientists came up with a simpler way to demonstrate the enzymatic production of hydrogen from sugar. In 2002, she contributed to a study on memory. She has been quoted saying, "I would rather be smart than a movie star."
Captain Niloofar Rahmani
First female pilot in the afghan military since the fall of the Taliban and is the first fixed-wing Air Force aviator in Afghanistans history. Also the recipient of the 2015 US States Department International Women of Courage Award since she persevered on despite death threats. Defied orders multiple times to transport injured soldiers, she reported her actions to her superiors but nothing was ever done.