Similar themed MyTakes:
(In alphabetical order, by their last name/nickname)
1) Barry Adamson (Magazine)
And also a member of the studio project, Visage. Famous in UK and in Europe, for their song Fade To Grey. His solo works, were different sound-wise than Magazine and Visage, leaning towards the Acid Jazz genre.
2) Henry Badowski (Chelsea)
Nobody knows about his whereabouts, and what this man is doing now. The fact you cannot find recent photo of him is enough. Anyway, he was a member of the Punk Rock band Chelsea, and later in 1981 he released one, but a very good solo album called, Life Is A Grand.... After this album, he retired from the music business for reasons unknown, when he was only 23 years old.
3) Jean Beauvoir (The Plasmatics)
Apart from being a member of The Plasmatics, Jean Beauvoir has a good reputation as a songwriter and as a producer. Now as for his solo work, he is mostly famous for his song Feel The Heat, which was featured in the movie Cobra. But his entire album Drums Along The Mohawk, is excellent, but unfortunately forgotten.
4) JJ Burnel (The Stranglers)
Apart from a bassist, JJ Burnel is also known as a martial artist. His album Euroman Cometh is one of the most underrated late 70s New Wave albums. Although it made it in UK Top 40, it didn't make any huge impact. Too bad. His bass playing in late 70s version of The Stranglers, and in his first solo album as well are awesome!
5) John Cale (The Velvet Underground)
Apart from a bassist, he was also a viola player. Despite the fact he released many Solo albums, he didn't meet any commercial success as a solo artist. He followed a diversity of style, but his solo albums were mostly, what you would call Art Rock.
6) John Entwistle (The Who)

Although not as successful as his friends, Pete Townshead and Roger Daltrey, John Entwistle managed to score a Top 100 UK hit, particularly Too Late The Hero. Apart from this, he didn't have any other significant solo hit.
7) Roger Glover (Deep Purple)
And a bassist for Rainbow as well. He released a pretty good amount of solo stuff, that could be easily placed in the same league with Deep Purple's and Rainbow's works. The Butterfly Ball and the Grasshopper's Feast, Elements and Mask are perfect examples of his work.

8. Graham Gouldman (10cc)
He was also a founding member of the pop band Wax (anyone remember those awesome music-videos they had?), a collaboration with American singer Andrew Gold. He already had a solo album before 10cc started called, The Graham Gouldman Thing. But the best example of his solo works is Animalympics, a soundtrack album for the movie with the same name.
9) John Illsley (Dire Straits)
Well apart from being Dire Straits' bass player he isn't much memorable for his solo works. Maybe Never Told A Soul, is his most known solo effort.
10) David J (Bauhaus)
And a member of Love & Rockets as well, another very good British Post-Punk band, yet not so successful as Bauhaus. Among his solo works Etiquette Of Violence would be placed in the same league with Bauhaus and Love & Rockets works.
11) Mick Karn (Japan)
Bassist of the pioneering and influential New Romantic band Japan. His solo work wasn't commercially successful, but still he is considered a cult musician as his band. Titles would be the best among his solo works.
12) John Lodge (The Moody Blues)
John Lodge had a successful solo album, called Blue Jays. It was a collaboration with guitarist and singer of The Moody Blues, Justin Hayward. It reached #4 in the UK charts, featuring a Top 10 UK hit called Blue Guitar. His next album Natural Avenue was less successful, but still made it into the UK Top 40 of albums charts.
13) Paul McCartney (The Beatles)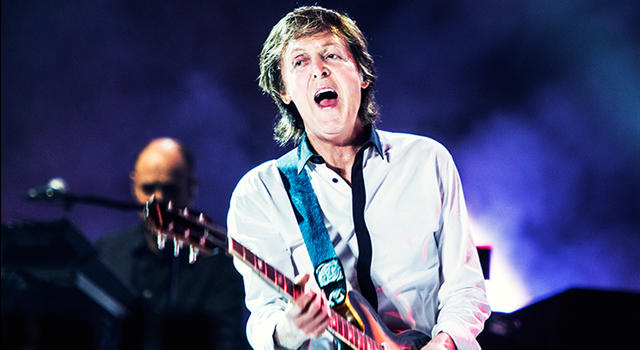 Perhaps the most famous bassist among all. He was originally a guitarist though with the band The Quarrymen, which was the band that was basically the predecessor of The Beatles. Later after The Beatles' break-up he was a founder of the band Wings. It's really hard to tell which was his biggest hit overall, because he had too many #1 hits, both in UK and US charts.
14) Randy Meisner (Eagles)
Before the Eagles started, he was a founding member of Poco. Whilst not successful as Glenn Frey and Don Henley when it comes to solo albums, he managed to have a Top 20 US hit, with his song Hearts On Fire, from his album One More Song.
15) Benjamin Orr (The Cars)
Besides being the bass player of The Cars, he was the secondary vocalist singing many among The Cars' songs, including their biggest hit Drive. His biggest solo hit was Stay The Night from his album The Lace. Although it nearly missed the US Top 20, still achieving a respectable position at #24 in US Hot 100.
16) Timothy B. Schmit (Poco)
Yeah I know I mentioned Randy Meisner above, who was a member of both Poco and Eagles, but Timothy B. Schmit had a solo career too, even if it wasn't a significant one unlike Glenn Frey's and Don Henley's. His biggest solo hit, was Boys Night Out reaching at #25 in the US Hot 100 charts.
17) Daryl Stuermer (Genesis)
And also a guitarist as well. Not a founding member of Genesis and not an official member either, still he played in many of their live shows for a long time, so he could be counted as one of them.
He also had a not-so commercially successful solo discography, but perhaps his only album that stands out is Steppin' Out.
18. Kasim Sulton (Utopia)
He was a bass player during Utopia's most successful period (1976-1982) and he had also played bass for many known artists as a tour member. He released only one solo album called Kasim, with zero commercial success. Still it deserves a listen.
19) John Taylor (Duran Duran)
And also a member of Duran Duran's side project, Power Station, featuring Robert Palmer on vocals. He released some solo stuff during the late 90s without any commercial success, but his biggest hit was I Do What I Do... from the movie 9½ Weeks. It reached #23 on the Billboard Hot 100 charts.
20) Roger Waters (Pink Floyd)
Although his solo albums had good amount of success in the US and UK markets, two of his albums, The Pros And The Cons Of Hitch Hiking, and Amused To Death reached at #1 in the Dutch charts. His best album would be The Pros And The Cons Of Hitch Hiking. A very interesting concept album which is like a storyline more or less. And what a nice cover as well!
---