Australia is the land of Kylie Minogue in the pop world, and AC/DC in the rock world. And INXS in the inbetween world as well. But what about the other bands and artists?
(In alphabetical order)
1) 1927
1927, were a rather unknown band to the rest of the world, with small commercial success during the late 80s, but their album ...ish, in Australia was really massive, reaching 5 times Platinum status. A really nice album, that people who are not Australians should give it a chance as well!
2) Tina Arena
Well, she's an exception on this list, because actually I don't like her music at all. But I like her for other reasons. She was sure one of the top babes of the 90s. She's half-Italian by the way (guess that's why the good looks!)
3) Australian Crawl
Seems like all Australian Rock bands were cursed in some way. You will realize it as you read this list. Whilst they were really big in Australia (and in New Zealand as well), they were almost (or totally) unknown to the rest of the world. Despite having a #1 hit in Australia, and other four Top 20 hits also, they never managed to make an impact anywhere else. All their four albums were good examples of Australian Rock, with Sirocco being my favorite. It contained the song Errol, which had one of the videos, that I would really really, would like to be part of it!
4) Birthday Party
This was Nick Cave's first professional band. They were also one of the few Australian bands that had commercial success in the UK, but no success in Australia at all. The reason is because of their style (Post-Punk/Gothic Rock) which was more a thing in the UK than in Australia. Albums like Prayers On Fire or Junkyard sound way more British indeed.
5) Nick Cave & The Bad Seeds
This was more or less the natural evolution of The Birthday Party. One of the bands that remained good in the 90s, without getting lost once the 80s were over, and without selling out themselves, as many did by then. Post-Punk and Gothic Rock aren't common genres in Australia, but Nick Cave & The Bad Seeds are one of those few. My personal favorite would be Tender Prey, featuring the Gothic Rock classic The Mercy Seat (screw Johnny Cash's cover, the original is way way superior!)
6) The Choirboys
A Hard Rock band popular in the late 80s during Australia mostly. Their 1983 self-titled debut, produced an almost Australian Top 20 hit called, Never Gonna Die, but it was their 1987 album Big Bad Noise that made them a big name in their country. They managed to make it in the US Hot 100 as well, with their song Run To Paradise, although it was just a minor hit, peaking at #80 only.
7) The Church
The Church would be the Australian U2, but without having not even a quarter of the latter's success, unfortunately. They remained as an one-hit wonder band, famous for their song Under The Milky Way, and also half-famous for Reptile and Metropolis. Apart from Starfish another great album of them was Heyday, featuring the live favorites Myrrh and Tantalized, which are their best songs in my opinion.
8. Divinyls
Divinyls became internationally famous in 1990 with the song I Touch Myself. Before this, they were known only in Australia. Their earlier works were superior, with the best work in my opinion being the newavish Desperate, featuring the Australian classics Boys In Town and Science Fiction. Perfect New Wave with female vocalist.
9) Dragon
Progressive Rock isn't a common thing in Australia and New Zealand as it seems. But Dragon is the best example of this genre, and one of the most underrated Progressive Rock bands from the 70s, releasing the interesting debut called Universal Radio,. Like many 70s Progressive Rock bands, they followed the tradition of becoming an AOR band in the 80s, notably in the album Body And The Beat which included their only song that managed to make it in the charts, out of the Australia/New Zealand area. Particularly, this song was Rain.
10) John Farnham
John Farnham started as a teen idol during the 60s and 70s, and then became a vocalist for Little River Band during the mid 80s, without any commercial success at the point. It was 1986 when he made it REALLY big, with his album Whispering Jack. The album that holds the most sales in Australia, featuring his -only- international hit You're The Voice. And also the minor hit (in the UK at least) Pressure Down. AOR genre was never a huge thing in Australia, but this album is definitely top class AOR.
11) Flash And The Pan
Flash And The Pan, were a studio project fronted by Harry Vanda, and George Young both members of The Easybeats. The latter is the older brother of Angus and Malcolm Young, from AC/DC. Their music is totally different than the music of AC/DC, being closer to Pop generally. They managed to score a UK Top 10 hit, with Waiting For A Train, but their best song in my opinion is Saviour Man. The saxophone part at the last two minutes of the song is amazing!
12) Icehouse
Icehouse were the best that you would get from Australian Synth-Pop (during their early period), and later an Arena Rock band, that could meet head on other Arena Rock giants of the time, like Simple Minds and U2. Their best works from each period are Primitive Man (Synth-Pop period) and Man Of Colours (Arena Rock period)
13) INXS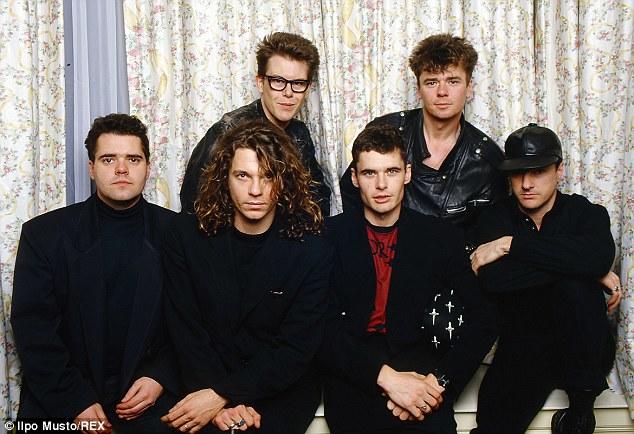 I know I already mentioned them in my prologue, but I still love them! INXS, were the most commercially successful band coming from these lands. They reached the peak of their career with the multi-platinum album Kick, released in 1987 (seems like 1987 was a big year for Australian music. See Starfish and Diesel and Dust as well). The bad thing with Kick is, that it overshadowed their previous (and better in my opinion) works.
14) The Johnnys
The Johnnys were perhaps the only Australian band, that would fall under the Cowpunk genre. In other words a mix of Punk and Southern Rock music. Highlights Of A Dangerous Life is an album that never met commercial success, and only managed to score an Australian Top 40 hit called Injun Joe. An unfairly overlooked album indeed.
15) Men At Work
Perhaps Men At Work, would be the biggest band around the world in 1982, and Business As Usual the biggest album of this year, featuring the two #1 hits, Who Can It Be Now? and Down Under. Apart from them the whole album is a masterpiece indeed, as the follow-up Cargo is, even though it didn't have the same amount of success Business As Usual had. What is most bizarre about this band, is the fact that the Aussie anthem Down Under, was sung by a Scott! Lead singer Colin Hay, is a Scott indeed.
16) Mi-Sex
Whilst they were really big in Australia/New Zealand area during the late 70s and early 80s, Mi-Sex never had any commercial success outside this area. Except from Computer Games, being a #2 hit in Canada, but generally nowhere else. Still even though for a short-lived band they released a series of very good records, with Space Race being their best. It would fall under the Darkwave genre, before this genre even existed.
17) Midnight Oil
Midnight Oil were already popular in Australia before Diesel And Dust, yet unknown to the Outside World (pun intended). It was Diesel And Dust, that made them international superstars indeed, but it wasn't their most representative album in my opinion. Their best album would be 10, 9, 8, 7, 6, 5, 4, 3, 2, 1. One of the best examples of Australian Rock. Frontman Peter Garret is also famous as a politician, as well.
18. Noiseworks
Another Australian band, that didn't have the luck to make it outside from the Australia/New Zealand area. Their style was somewhere between Hard Rock and AOR, but unfortunately they were completely overshadowed by Australian Hard Rock giants AC/DC. Their self-titled debut, is the best among their only three studio albums they released so far.
19) Sherbet
During the 70s, British and American Rock bands were dominating the world, including Australia and New Zealand area. Australia had its own band by the time, Sherbet. Big in Australia already, they never managed to make a big name out of the borders. The only song that is known in the rest of the world from them, is Howzat. So they fall under the One-hit wonder bands, in other countries.
20) Rick Springfield
Definitely the best Australian artist, but unfortunately branded as one-hit wonder frequently (and mistakenly). Indeed, Jessie's Girl was his biggest hit, but not the only. He had multiple hits especially during the 80s, reaching the US Top 10 (he was always more successful in the US than in his country), five times in total. His most successful album would obviously be Working Class Dog, yet his best work is Living In Oz, in my opinion. He definitely managed to create THE sound of 1983.
---