I love this show. In terms of medical shows, it's so much better than Greys Anatomy. It's also the most accurate medical tv show. Scrubs begins with new medical students on their first day working at the hospital. The main students are J.D, his best friend Turk, and Eliot. JD eventually grows to really, really like Eliot, they had a complicated relationship but eventually get married but it was a very long and winding road.
J.D is easily one of the most laid back people in the hospital. He day dreams a lot and might lose track of his surroundings. He deals with a lot of stress but a lot of times, he finds support in those around him.
Turk encourages a fun environment, much to the displeasure of his superiors. He and JD have a major bromance.
Eliot started out as neurotic, very competitive, and borderline OCD, she was also very awkward but grows to be a strong, confident doctor.
Their instructors are Dr. Cox and Dr. Kelso. Dr. Cox might come off as an asshole but he cares about the students and will bluntly say if someone isn't fit for the medical field. Meanwhile, Dr. Kelso is a legit asshole.
Of course there is the janitor but instead of cleaning the hospital, he is constantly plotting against the hospital staff, mainly JD.
Lastly, there is Carla. Carla isn't a student, she is a registered nurse already working at the hospital. Carla is bossy but brave enough time to stand up to Dr. Cox and Dr. Kelso. Mainly because they want to stay out of her way. Also her and Turk are very much in love with each other and eventually get married.
1.
2.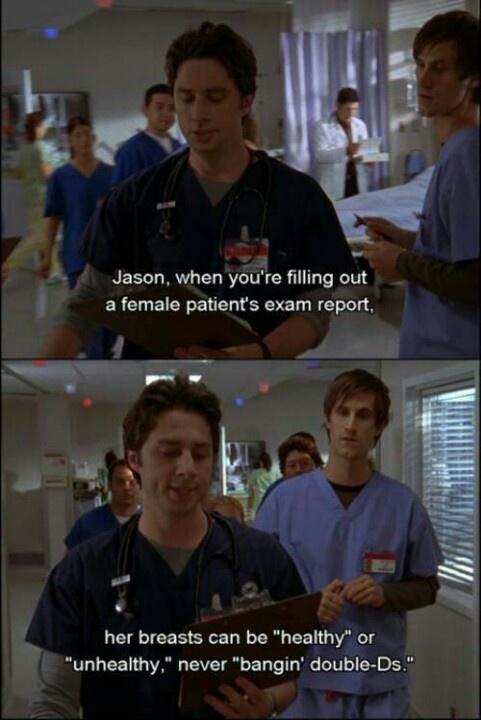 3.
4.
5.
6.
7.
8.
9.
10.
11.
12.
13.
14.
15.
---