1.) Ian Somerhalder
First time i knew about this guy was when i watched The Vampire Diaries and for some strange reason i thought he was weird looking and ugly as i got watching and saw a few more episodes i realized i was being crazy and he was absolutely gorgeous.. not to mention he loves animals which to me makes him even more attractive.
2.) Hugh Jackman.
I've always liked Hugh Jackman for as long as i can remember, what makes him so attractive to me apart from his looks is everytime i've seen him in interviews he always comes across as a really nice guy, he's also been with his wife now for 22 years (Deborra-lee Furness), Who he just seems to absolutely adore <3 and seems to have been one of the few actors in Hollywood to actually remain faithful.
3.) Mark Wahlbeg.
Not really so much into him now, But in his younger days he was so attractive.
Remember seeing him in the movie Fear, the first movie i realized i actually fancied him in. where his character ended up being a crazy stalker psychopath, but his character in that movie was soooo sexy up until that point.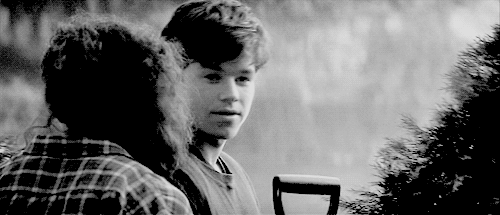 4.) Chris Hemsworth.
Apart from him being absolutely gorgeous i also seem to have a thing for Australian guys, I don't really know much about him but always thought he was a really attractive guy, his brother though Liam Hemsworth even though they look very similar i just don't find attractive.
5.) Channing Tatum.
A cliché one but i can't help thinking Mr Tatum is completely gorgeous and if i'm going to the cinema to watch some crappy rom com.. if i know he's going to be in it helps me find it just that little bit better, also another one who seems to be faithful to his wife (Jenna Dewan) who he met filming Step Up in 2006.
6.) Leonardo DiCaprio
Sooo i'm not really a fan of his from his personal life all i ever hear about him is he's dating Victoria Secret models half his age and he has some crazy obsession with the environment, but in the movie Titanic i literally fell in love with him! he was my first ever crush and its one of my favourite movies so i can't leave him off the list.
7.) Josh Brolin.
He maybe pushing 50 but i don't care i find this man literally so handsome and attractive.
I first found out about him when watching Old Boy a remake of a Korean movie which if you've not seen or heard of it well its pretty weird and fucked up to say the least... but after seeing it i looked into what other movies he had been in and just fell in awe of him even more.
8.) Tom Hardy.
I just really like his looks, not sure what more i can say on him.
9.) Shia Labeouf
I am kinda unsure with this one, some movies i watch with him in i don't find him attractive at all others and i think he is gorgeous i first started finding him attractive from the movie American Honey as i really like his character in the movie, He is a complete nutjob in real life and for some reason that just makes me if anything find him slightly more attractive.
10.) Heath ledger.
Last but not least my favorite by far, another Australian and i literally adore him.
First saw him in 10 things i hate about you, and was seriously like who is this guy thinking he couldn't be more gorgeous, in interviews he came across as a lovely guy.. he sadly died in 2008.
---