It's happening exactly as I and many others foresaw it. The only surprise here is that it's happening much sooner than we anticipated.
This is what happens when you place a group of feminists to manage one of the most succseful franchises in the world, if not THE best franchise, and infest it with marxist garbage and American politics. Things that have absolutely no place in this wonderful universe of modern myth.
Episode 7 "The Force Awakens" and "Rogue One" have their weaknesses but you can still enjoy them.
Episode 8 "The Last Jedi" was the last straw. This movie not only destroyed the lore, it also is terrible as a film in itself. Almost every aspect of filmmaking in "The Last jedi" is wrong. And instead of hanging Rian Johnson for high treason, they give him the red carpet and a whole new trilogy to work on.
This is INSULTING to the fans! It's also insulting to filmmakers who work hard and struggle to create something beautiful. As a filmmaker myself I feel insulted by this garbage!
Left Wing Politics in Star Wars
By the Force....
There are so many hints that it can take weeks for me to collect them all and type them here. I could actually make a whole article about them. I give the links below to keep this as short as possible. Notice that I provide completely different sources by people with completely different ideas. So please, no bullshit about "butthurt Right Wingers".
http://www.telegraph.co.uk/men/thinking-man/liberal-identity-politics-has-ruined-star-wars-fanboys/

https://squawker.org/culture-wars/lastjedi/

https://www.theguardian.com/commentisfree/2017/dec/19/last-jedi-left-wing-jeremy-corbyn-star-wars-champion-grassroots
http://offthewire.com/the-left-wing-propaganda-in-the-last-jedi-will-make-you-sick/
http://www.denofgeek.com/us/movies/star-wars/269657/toxic-masculinity-is-the-true-villain-of-star-wars-the-last-jedi


Still not convinced? Let's see what Joo Joo Abrams had to say when he was behind the helm....

Still not convinced? Let's see what Cuntleen Kennedy has to say...
Still not convinced? Let's see what Rian "I must go back to film schol" Johnson tweeted (besides his insults to fans like a five year old)...
Still not convinced?
"Six out of eight in my Story Group are women."
So much for your equality.
https://www.dangerous.com/39863/meet-women-ruined-star-wars/
Here we see Cuntleen Kennedy pretending to be annoyed by some random feminist complaining that Star Wars is still too male. She should get used to such question because these movies are marketed towards these people.

And here we see Cuntleen Kennedy saying she doesn't need to cater to male fans. Yet she uses a franchise that created and built by men. Typical man-hating feminist.
http://comicbook.com/starwars/2016/11/29/lucasfilm-president-kathleen-kennedy-says-she-doesnt-need-to-cat/
I could go on and on.
The Audience Response
This is my favourite part. It's actually entertaining. You go on youtube and there is barely a positive review to be found about "The Last Joke". All the angry reviews are much more entertaining than the film itself. Even Mark Hamill hates it.

The ratings on Rotten Tomatoes clearly show what the fans think of it. And no you can't tell me that 50% of the fans are fascist, nazis whowanttokillsixmillionjews.
And there are plenty of fans with Left leaning ideas who hate "The last Joke" as much as anyone else. Here is just one example.

And this is by far my favourite rant, if you want something to laugh.

Let's talk about money
"But The Last Jedi still made 1.3 billion$"
You're absolutely right Disney fanboy. Let's see what the Wall Street Journal has to say:
"Despite being one of the past year's most successful movies, "Star Wars: The Last Jedi" has fallen short of Wall Street's expectations due to a faster-than-expected falloff at the box office, declining toy sales and a poor showing in China....for a property as valued as "Star Wars," any sign audiences are losing faith is concerning and could prove costly down the road if the trend continues."
https://www.wsj.com/articles/the-last-jedi-loses-sales-momentum-raising-concern-for-disney-1517245312

Star Wars will continue to make less money with every movie. I don't think this will change. At least not while Kennedy is in charge of it.
Even Disney predicts that the new "Soyboy: A Star Wars Blasphemy".....sorry I meant "Solo: A Star Wars Story" will be a trainwreck.
"The Last Jedi" got pulled from Chinese cinema because it underperformed! We're talking here about the 2nd largest film market worldwide!
I repeat: THE FILM GOT PULLED FROM CHINESE CINEMA BECAUSE IT UNDERPERFORMED!
You can imagine what a disaster it was after the first week for small theaters that were forced to screen "The Last Joke" for four weeks minimum.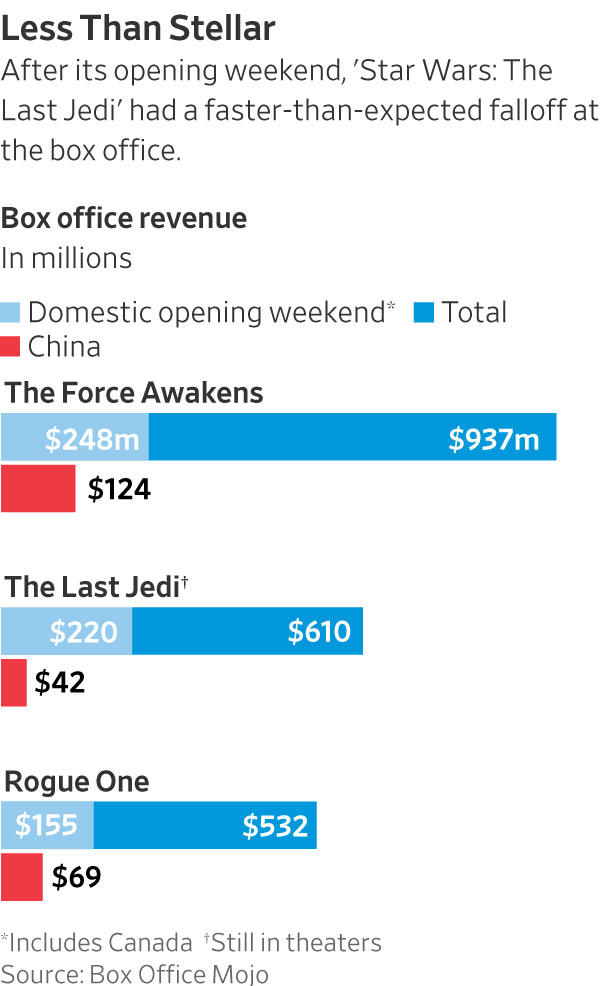 "That's because Star Wars was never a strong fandom in China."
Your cheap jedi mind trick doesn't work on me Disney fanboy. So Star Wars was never strong in China, so they kicked it out but they didn't kick out the dozens of other foreign films that are certainly less famous in China. Is that what you're telling me?
"Well, the Chinese are racists anyway. I don't think you should pay much attention to them."
Yes, I've heard that vague argument as well. The race card has been used once again. Debate over.
What is the solution?
That's very simple. LEAVE REAL LIFE POLITICS AND AGENDAS OUT OF STAR WARS!
It destroys a galaxy far far away that we all love so much to the point that it's not just another movie but a part of our lives.
Social justice bullshit has no place in Star Wars! If I want to see some marxist utopia in a sci-fi world I can watch Star trek which is exactly that.
And sadly I don't believe it will happen due to the present political situations and the people running the show. George Lucas was the man who didn't want to push an agenda and he was forced to leave the stage because of that. He actually admits it in his interview for Vanity Fair.
I'll leave for the end this review that sums it all up and explains how Disney's Star Wars is a directionless story.
---