So I know this review comes reeeeeeeally late, months after The Last Jedi opened in December 2017, but I post it now because the film is out on BluRay and not only have I wanted to for weeks and been caught up, but also because fan backlash against the movie has really heightened at this point even now.

I know not many Gaggers are Star Wars fans but there are still those of us here who are, so you might agree with me. In the beginning the media kept trying to make it like we fans are split on the movie but I'm pretty sure most of us really did not like it, which has to be true or else the movie's revenue wouldn't have declined as badly as it did over the weeks it was airing. It is to me the worst Star Wars movie ever now, even worse than Attack of the Clones which I never liked.

So if any SW fans here have NOT yet seen The Last Jedi - and I really can't see how you wouldn't have by now - then I will of course advise you not to read this Take until you do. For the rest of us, let's take a journey to the Dark Side.

Rian Johnson had no business directing this movie…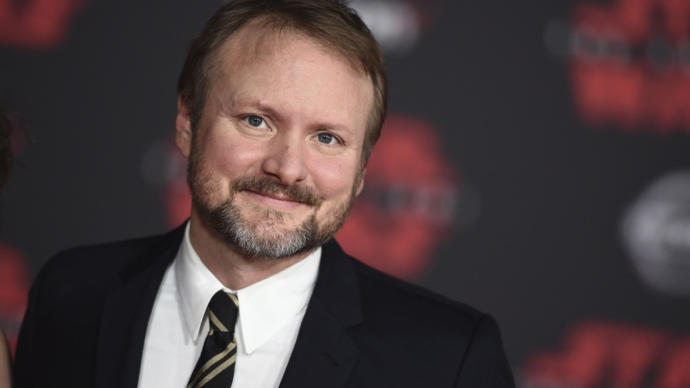 First and foremost, the biggest problem with this movie was director Rian Johnson. He should not at all have been allowed to make The Last Jedi. I found his vision of the story and continuation of JJ Abrams' The Force Awakens - which also wasn't a great movie but decent - to actually be quite disrespectful, and he purposelly disregards plots and character development that JJ set up in TFA.

Johnson called himself wanting to take things into a different turn that would surprise us. And he did just that. But not in a good way. He killed off 5 major characters which was not even necessary, and created a ridiculous ending with Luke coming face-to-face with Kylo Ren as really an illusion of "Force projection" before finally "passing on" into the Force. And let me not forget how sickeningly Disney-fied the very end was with the slave children on Canto Bight.
Finn, the only black character, is made a joke…
What many of us fans noticed in The Last Jedi - even many white people - was the bigoted undertones in how the character of Finn was a complete letdown. Ever since The Force Awakens came out, there have been many racist white male Star Wars fans - and even some females - who have strongly been trying to deny that Finn will be a Jedi despite the hints that JJ Abrams and even Disney was giving us, and despite the articles about Jon Boyega doing kendo sword training for the films.

Rian Johnson must've also wanted to stay true to those themes of denial because he completely downgraded Finn's character in The Last Jedi and made him a continued black joke to the film. Not only did we see him take more of a backseat, but nothing was further explored about Finn's own Force potential and background that made us all curious in The Force Awakens. Even Jon Boyega himself expressed that he was somewhat disappointed by Johnson not going into more detail about him as was speculated or even really planned.

Racial diversity? Or covert racism?...
Also the introduction of Rose Tico - Star Wars' first Asian character - was produced unfairly as well. Disney called themselves trying to introduce more non-white characters but still failed to do them justice. While many SW fans felt that Rose was unnecessary, I thought she was a good addition but should've been applied a lot better than Rian did in a half-assed way. To make it worse, Rian crafted Finn to first show up in The Last Jedi by comedically waking up from the coma he was in at the end of The Force Awakens and walks around in a leaking bacta suit. Then Rose is now the one who ends up in a coma at the end of the movie from trying to save Finn from sacrificing himself at the more-than-underwhelming Battle of Crait.

Rian also wants things to end where there is a possibility that Rose and Finn might have a relationship, a theme that moves away from Rey and Finn being together as was getting set up. This move really just ends up looking like a white male director who doesn't want a black man with his women, so he decides to isolate the black character with another non-white one, what some people might still say is progressive in portraying more interracial relationships - which is true, and there was even a group of Asian girls cheering in the theater when Rose kissed Finn the second time I went to see it - but when a romance between a black and white is hindered by a white male, that doesn't look particularly good.
Rian and Disney failed the people of color in this film. Basically throwing in some diversity to make the rest of us non-white people happy and feel included when in the end we really just felt like degraded after-thoughts.

Snoke's death was quite bothersome…
Another bit of nasty icing to the cake is the death of the much anticipated Supreme Leader Snoke. Many of us fans could not wait to see more of him in The Last Jedi and find out just exactly who or what he was, with a lot of us speculating that he really might turn out to be the mysterious and very powerful Darth Plagueis that Palpatine told Anakin about in Revenge of the Sith.
But once again, Rian decided to throw a wrench in the possibility of Snoke's background ever being revealed by calling himself shocking us and having Kylo kill him about 3/4 into the movie. Not at the end, and not even at the end of the next movie like we all would've expected. Snoke is killed considerably early for a supervillain, and if all this is not disappointing enough, I also couldn't help but find the nature of his death to be somewhat grim for a Star Wars movie, especially what is said to be for kids. Kylo uses the Force to put Luke's lightsaber through Snoke and then pulls it out of him through the air, with him falling in half in a dark, dismal moment, and there is even something bothersome about the way Rey takes the lightsaber and gets up with no reaction or regard for how Snoke just died.
(Ignore the Japanese subtitles, was the best clip I could find with his entire last lines)
I will say, however, that Snoke's lines leading up to that moment were actually the best, most dramatic, and most powerful script out of the entire movie.

A character killing spree…
As I noted earlier, Rian had 5 significant characters done away with in The Last Jedi: Luke - which I'm not even gonna bother getting into because I'm still flabbergasted, Snoke, Captain Phasma, Admiral Holdo, and the long time loved Admiral Ackbar, which was not even necessary to get rid of him. While I always thought Captain Phasma was pretty useless in this new trilogy, I was still expecting her to be more present in The Last Jedi and be a bigger character, but instead she only appears near the end for a quick few moments to battle with Finn in another short scene that has him as a 1-minute hero uh-gain.
I was really disappointed in Admiral Holdo being deleted as well. I loved the purple hair and her halo thing, and was expecting her to make it on through to Episode 9 and do more. But instead, Rian has her sacrifice herself by turning the Rebel - sorry, "Resistance" - mothership around and using it's last bit of hyperspace fuel to shoot it through Snoke's juggernaut.

What I also noticed was that most of the people we saw die in the movie were women and people of color: Rose's sister at the beginning, Tallie who was Po's co-pilot, the black pilot who gave Holdo a final salute near the end, and then of course Holdo and Phasma themselves. Kinda fishy.

Kathleen Kennedy is killing Star Wars...
Ultimately, it all comes down to Disney's Kathleen Kennedy who is now in charge of Lucasfilms. In my opinion I think it was an utter mistake for George Lucas to go and sell his years of work to the hands of Disney. If he really wanted to close a deal with somebody, it should not have been them. I know he had issues with 20th Century Fox in years past but even they would've been a better choice.

Kathleen Kennedy and Disney have let Star Wars slowly fall apart, and their choices for directors and plots for the new trilogy have not been good. Even Mark Hamill thinks it's a disaster and argued with Rian about plots in The Last Jedi. These people do not know what they're doing, arrogantly choosing to disregard fans, flip flopping plots, and trying to display gender and racial progress in the films yet contradicting it. However, the only best new Star Wars film to have been made was the stand-alone Rogue One, and that was not influenced by Kathleen Kennedy. Though I'm not particularly excited about Solo: A Star Wars Story.
As much as I love Star Wars I am glad that The Last Jedi has become increasingly criticized, as I also am even glad that movies like Black Panther and Infinity War have outdone it at the box office. Unfortunately however, Rian Johnson and Disney will continue to stand by their film as a great story, and with that being the case, it only creates worry for what's in store to come in Episode 9.
---