The Early Years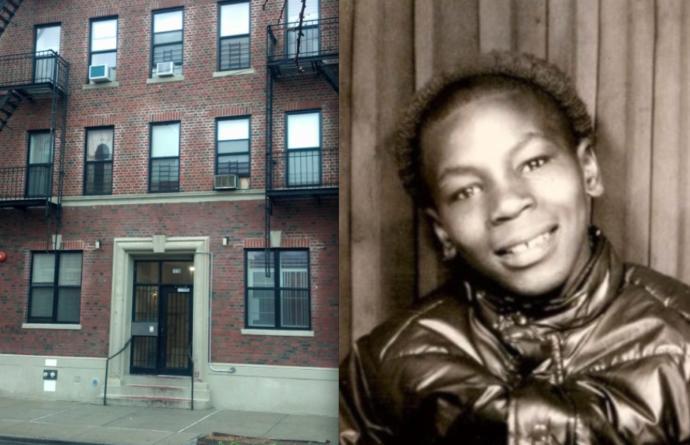 Tyson as a teenager
Before Mike Tyson became a household name in boxing he lived a troubled childhood. He was born in the high crime neighbourhood of Brooklyn, New York, on June 30, 1966.His father abandoned him when he was only 2-years-old .So his mother Lorna, struggled to make ends meet whilst trying to raise Tyson ,and his siblings the best she could as a single parent. At the age of 7, he was abducted from the street by a stranger, and sexually assaulted. Tyson never spoke about the molestation until more recent years. He felt shame at what happened to him, because he feared people would think it emasculated him. Later in life , he spoke candidly about the sexual assault,and stated "I learned that it doesn't make you any less of a man because it happened." As a youth ,Tyson was a violent street fighter, and lived a life of crime & drugs . He'd been arrested 38 times by the time he was 13-years-old. In 1978, at the age of 12, Tyson was arrested for stealing ,and was sent to a juvenile detention center -Tryon School for Boys.
It made me have to be tough for the world I lived - Mike Tyson
The Discovery Of A Champion
Mike Tyson and Cus D'Amato
In 1979, Tyson was discovered at the correction facility by juvenile detention center counsellor,Bobby Stewart - who was a former boxer and boxing instructor .He recognized Tyson's amazing fighting ability, so he introduced him to Cus D'Amato - boxing manager and trainer. D'Amato transformed Tyson from a street thug and catapulted him into boxing greatness. In essence, he saved his life .Tyson once stated "Without Cus, I might be living in some crummy apartment building back in Brownsville, or I might be dead". D'Amato was more than just Tyson's boxing trainer ,he was his mentor and a father figure to him. He taught Tyson discipline, and kept him on the straight and narrow in life. In 1984 , Tyson's mother died when he was only 16-years-old, so D'Amato adopted him and became his legal guardian
Tyson eating dinner with Cus and his wife , Camille
To see a man beaten not by a better opponent, but by himself is a tragedy.– Cus D'Amato
Amateur Career
Tyson won gold medals at the 1981 and 1982 Junior Olympic Games, but his professional break came on March 6, 1985 after he defeated Hector Mercedes in one round- (Tyson KO 1 ) - ( 1:47) .Sadly, Cus D'Amato didn't get to see Tyson become world champion. On November ,1985, D'Amato died of pneumonia ,at the age of 77. Tyson was devastated at his passing.
Mike Tyson winning the National Amateur Junior Title
Rise To Stardom - Professional Career
In 1986,Tyson knocked out Trevor Berbick and gained the WBC Heavyweight Title
After Cus D'Amato died, Kevin Rooney- former boxer and boxing trainer, trained Tyson from the start of his professional career. When Rooney was his trainer, Tyson had a record of 35 fights, 35 wins (31 wins by KO) In 1986, Mike Tyson became the youngest heavyweight boxing champion in history, at the age 20.
1985
March 6 - Hector Mercedes - TKO 1
April 10 - Trent Singleton - TKO 1
May 23 - Don Halpern - KO 4
June 20 - Rick Spain - KO 1
July 11 - John Alderson- TKO 2
July 19 - Larry Sims, Poughkeepsie- KO3
Aug. 15 - Lorenzo Canady -TKO 1
Sept. 5 - Michael Johnson-KO 1
Oct. 9 - Donnie Long-KO 1
Oct. 25 - Robert Colay-KO 1
Nov. 1 - Sterling Benjamin-TKO 1
Nov. 13 - Eddie Richardson- KO 1
Nov. 22 - Conroy Nelson-KO 2
Dec. 6 - Sammy Scaff- KO 1
Dec. 27 - Mark Young-KO 1
1986
Jan. 10 - Dave Jaco- TKO 1
Jan. 24 - Mike Jamison- TKO 5
Feb. 16 - Jesse Ferguson-TKO 6
Mar. 10 - Steve Zouski-KO 3
May 3 - James Tillis-W 10
May 20 - Mitch Green- W 10
June 13 - Reggie Gross-TKO 1
June 28 - William Hosea-KO 1
July 11 - Lorenzo Boyd- KO 2
July 26 - Marvis Frazier- KO 1
Aug. 17 - Jose Ribalta-TKO 10
Sept. 6 - Alfonzo Ratliff- KO 2
Nov. 22 - Trevor Berbick- TKO 2 - Tyson gains WBC Heavyweight title
1987
March 7 - James Smith-W 12 - Tyson gains WBA Heavyweight title
May 30 - Pinklon Thomas-TKO 6
Aug. 1 - Tony Tucker- W 12 - Tyson gains IBF Heavyweight title
Oct. 16 - Tyrell Biggs- TKO 7
1988
Jan. 22 –Larry Holmes - TKO 4
Mar. 21 - Tony Tubbs, Tokyo, TKO 2
June 27 –​ Michael Spinks-KO 1
1989
Feb. 25 - Frank Bruno- TKO 5
July 21 - Carl Williams - TKO 1
Tyson age 20 - the youngest heavyweight boxing champion in history
I'm the best ever. I'm the most brutal and vicious, the most ruthless champion there has ever been. No one can stop me. Lennox is a conqueror? No! He's no Alexander! I'm Alexander! I'm the best ever. I'm Sonny Liston. I'm Jack Dempsey. There's never been anyone like me. I'm from their cloth. There is no one who can match me. My style is impetuous, my defense is impregnable, and I'm the ferocious. Mike Tyson
The Downfall Of A Champion
1988 - was the start of Tyson's slow decline - in his personal life and boxing career. Boxing promoter, Don King, persuaded Tyson to fire his boxing coach and trainer ,Kevin Rooney .A decision he came to regret later in his life. King then had total control over Tyson's career .After firing Rooney ,Tyson's mobility skills in the boxing ring were noticeably declined . He suffered his first loss in a professional fight 18 months after Rooney was fired.
February 1988 - Tyson married actress Robin Givens .She went public about Tyson's manic-depressive disorder, and how she suffered beatings from him. In October ,1988, Givens filed for divorce,and the divorce was finalized in February 1989 .Tyson later claimed Givens was only using him for his money.And that Givens and her mother were both ruthless women. They both demanded $15 million from him ,reluctantly he gave them the money, against his accountants advice
August 1988 -Tyson broke a bone in his right hand after a street brawl with a professional fighter
September 1988 - Tyson was knocked unconscious after driving his BMW into a tree.It was alleged the accident was a suicide attempt
December 1988 - A woman named Lori Davis, sued Tyson for allegedly grabbing her butt while she was dancing.In the same year and month , Sandra Miller also sued Tyson for allegedly grabbing her, propositioning and insulting her in a nightclub. A civil jury later found Tyson guilty of battery. Miller was awarded $100 in damages
1989 - Tyson was accused of striking a parking attendant outside a nightclub .The charges were dropped due to lack of witness cooperation
1990 - Denise Tyson (Mike's sister) died from heart failure, at the age of 24 .
1990
Feb. 11 - James Douglas - KO by 10 - Tyson loses IBF, WBA, WBC Heavyweight Titles
June 16 - Henry Tillman - KO 1
Dec. 8 - Alex Stewart- KO 1
1991
Mar. 18 - Donovan Ruddock - TKO 7
June 28 - Donovan Ruddock - W 12
January 1990, was one of the biggest ever shocks and most historic events in boxing history. Iron Mike Tyson,the undefeated, undisputed heavyweight boxing champion lost his title after being knocked out by James "Buster" Douglas in the tenth round
1991 -Tyson met Desiree Washington, a Miss Black America contestant. They went to his hotel room in the early morning hours. Afterwards,she filed a complaint with police accusing Tyson of rape. However, he claimed the sex was consensual. He was indicted on rape and three other charges. He was released on $30,000 cash bond. After nine hours of deliberation at his trial,Tyson was found guilty on one count of rape and two counts of deviate sexual conduct. On March 26, 1992, Tyson was sentenced to 10 years in prison,with 4 suspended.

May 1992 -15 years were added to his sentence,for threatening a guard and disorderly conduct in prison.Tyson appealed his conviction,but a supreme court denied it
March 25, 1995 - Tyson was finally released from prison
March 1998 -Tyson Filed a $100 million lawsuit against Don King, accusing the promoter of cheating him out of tens of millions of dollars
September 1998 - Richard Hardick filed an assault charge against Tyson. Hardick claimed Tyson kicked him in the groin

September 3, 1998 - Abmielec Saucedo filed a criminal assault against Tyson claiming Tyson punched him in the face
February 1999 - Tyson was sentenced to two concurrent two-year sentences for assaulting two motorists after a traffic accident. But one year was suspended.When Tyson was in prison,he was put in solitary confinement after he threw a television set. After his release from prison,he was fined $5,000 and sentenced to two years' probation
When you are rising, friends come to know who you are. When you are failing,you come to know who your friends are - Mike Tyson
Tyson's Comeback- 1995
Tyson regains with the WBC belt in 1996
After his release from prison in 1995, Tyson made a comeback,and entered into a series of fights.
1995
Aug. 19 - Peter McNeeley - W DSQ 1
Dec. 16 - Buster Mathis - KO 3
1996
March 16 - Frank Bruno - TKO 3 - Regains WBC Heavyweight Title
Sept. 7 - Bruce Seldon - TKO 1 - Regains WBA Heavyweight Title
Nov. 9 - Evander Holyfield - TKO by 11 - Tyson,loses WBA/WBC Heavyweight titles
1997
June 28 - Evander Holyfield -L DQ 3
Tyson was disqualified and fined $3 million, and his boxing license was also revoked for one year after he bit off a chunk of Evander Holyfield's ear

1999
Jan. 16 - Francois Botha - KO 5
Oct. 23 - Orlin Norris - NC 1
2000
Jan. 29 - Julius Francis - TKO 2
June 24 -Lou Savarese- TKO 1
Oct. 20 - Andrew Golota - NC 3

2001
Oct. 13 - Brian Nielsen- TKO 7

2002
June 8 -- Lennox Lewis-KO by 8 - Tyson lost

2003
Feb. 22 - Clifford Etienne - KO 1

2004
July 30 - Danny Williams- TKO by 4 Tyson lost


2005
June 11 - Kevin McBride - TKO by 6
Tyson didn't come out for the seventh round, so it was ruled defeated by technical knockout.Tyson led on the judge's scorecards, but because Tyson quit , the win went to McBride
2006 Tyson retired from professional boxing
On May 26, 2009 - Tyson's 4-year-old daughter Exodus,tragically died after accidentally hanging herself on a cord dangling from a treadmill at her home
I'm not Mother Teresa, but I'm not Charles Manson, either.
Mike Tyson
Tyson eventually lost the "eye of tiger",his passion for boxing .But many factors contributed to Mike Tyson's downfall . A string of bad decisions , misadventures ,his mental health illness ,narcotic & alcohol dependency,and the death of loved ones .After Cus D'Amato passed away ,Tyson became engulfed in hangers on,people who used him for their own personal gain.Most people he put his trust in let him down and betrayed him. He missed boxing training sessions ,and admitted he wasn't in as good shape as he should have been.He spent several years in and out of rehabilitation treatment due to his marijuana , cocaine ,alcohol and anti-depressant addictions.Tyson's doctor stated he has a chemical imbalance in his brain, that makes him violent and irrational. Tyson even admitted to fighting in the ring while under the influence of drugs .Despite earning millions for fights ,Tyson declared bankruptcy in 2003.He lost millions through failing to keep track of his money.
Real freedom is having nothing. I was freer when I didn't have a cent- Mike Tyson
Since his retirement from boxing,Tyson has gone on to appear in several films, including a documentary and Broadway show on his life. He is a top selling author, and even has his own cartoon mini-series - "Mike Tyson Mysteries".These days , Tyson spends a lot of his time caring for his family. He has been married 3 times,and has had 8 children.This year, 2018 ,Tyson is on an international tour ,he will be talking on stage about his personal life and career.
Tyson with his family
The pain , suffering and failures that Tyson endured throughout his life, have left a permanent mark upon his personality and mental state

I ain't the same person I was when I bit that guy's ear off- Mike Tyson
---