One of the longest running Animated shows in history along with Scooby Doo, Tom and Jerry, The Simpsons, Family Guy, and other cartoon legends like Looney Tunes. SpongeBob Squarepants has surely made a mark on the history of television and animation. But there are a lot of things that people may or may not know about Spongebob or his undersea pals. In this mytake ode to Spongebob I will share some facts on this show that you may or may not have heard. So, Are ya ready kids? Ok then let's go!!!
SpongeBob's original name was supposed to be Spongeboy.
The working title for the pitch to Nickelodeon in the 90's was "Spongeboy Ahoy", However the reason the name was changed was because there was a product already using that name.
The first Spongebob movie is supposed to be the series ending.
Back in 2004 the idea was to end the series with the movie. However Nickelodeon ordered production to continue. So honestly everything that's currently happening even the second movie is supposed to be before the events in the first movie happen,.
Spongebob was originally going to be on MTV as an adult cartoon.
Yes you heard right. Spongebob was supposed to be adult. Patrick was also supposed to be a bar owner who was a bully due to being sensitive over his pink complexion.
Krabby Patties are more than likely Veggie Burgers
Krabby Patties are most likely vegetarian burgers since the main source of meat in the ocean is fish. If they aren't veggie burgers, the only other possibility is that the residents of Bikini Bottom are cannibals. Then again Plankton's chum is questionable as well.
It takes about nine months to create an eleven minute episode of Spongebob
Even though he's portrayed as one of the dumbest characters on the show, it has been confirmed that Patrick graduated from community college, whereas most of the other characters never even made it there to begin with.
The Celebrity guest list of voices is long.
The show has had voices like: Victoria Beckham, Johnny Depp, Dennis Quaid, Alec Baldwin, Tina Fey, Ray Liotta, Henry Winkler, Dee Snider, Pink, Will Ferrell, Amy Pohler, Robin Williams, Betty White, Charles Nelson Reily, Ernest Borgnine, Tim Conway, and Johnny Knoxville just to name many.
President Barack Obama has said that his favorite character of all time is SpongeBob
You may have heard the phrase "my leg" shouted out during one of the many scenes of chaos on the show. This voice has a character to go along with it; Fred the Fish. He has a wife, two sons, and a daughter, as well as two ex­wives.
So we may know why he has so much leg trouble.
Mr. Krabs ID shows his birthday is on November 30, 1942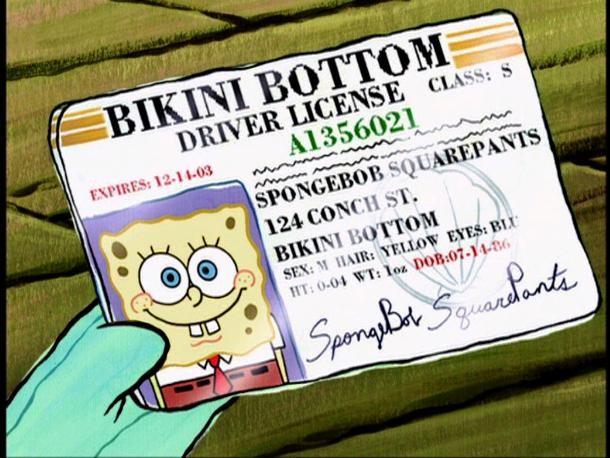 When Spongebob's ID is shown, it shows his date of birth as July 14, 1986
Bikini Atoll was the site of nuclear testing by the United States. This has led to a theory that Bikini Bottom as well as its citizens are the result of nuclear waste.
Nothing like a Cold War Nuke bomb test to create a kids show huh?
Stephen Hillenburg is a marine biologist in real life
Bikini Bottom might sound like a hidden dirty joke, but in reality it is located beneath the real life island; the Bikini Atoll in the Marshall Islands
There is a theory that each of the main characters are based on one of the seven deadly sins. The audio commentary on the episode, "Plankton" revealed that Mr. Krabs represents greed, Sandy represents pride, Gary represents gluttony, Squidward represents wrath, Plankton represents envy, Patrick represents sloth, and Spongebob himself represents lust.
There is a scene in the episode Just One Bite where Squidward was doused in Gasoline and set ablaze, however this segment was replaced in the US due to the 9/11 attacks.
There are 2 unaired episodes that were in production but never made.
One was about space aliens that invaded Bikini Bottom due to Krabby Patties. The Secomd was called Krabs' Army where Mr.krabs starts his own Boot Camp because Spongebob and Squidward were too lazy
In the original movie SpongeBob and Patrick were supposed to have done the live action shot in a city in Texas where they met Sandy.
Sandy was supposed to have been chased by government agents for an unknown reason and carried an acorn machine gun. However, Spongebob and Patrick would have hopped a bus back to the Gulf Of Mexico.
So, even though sometimes Spongebob may be annoying, there is a good history behind the show and the memes that it has spawned off. Whether you love the show or loathe it, you can't deny it's one of the top shows of all time.