Image manhwa names:
The Villainess Reverses the Hourglass, Surviving as a Maid, God Bless You, Kill the Villainess, Death is the Only Ending for this Villainess, Chitra, Who Made me a Princess, Beware of the Villainess.
Did you ever hear about manhwas?
Manhwa has become a big hit for those who are fans of manga in recent years. Manhwa originated in South Korea, although its popularity has spread to North Korea and overseas as well. While manga is in black-and-white, a variety of manhwa is in full color and attracts a lot of people.
If so, keep scrolling to discover some good pastime manhwas! 😉
Well, today I was just wondering about my favorite fantasy/romance manhwas and then decided to share my opinion in here.
Right below I'll mention 10 of my favorites manhwas:
1. Miss Not-So Sidekick
Summary:
Hyejung loved to read to escape her daily stress. But that's before she woke up inside the bizarre world of her favorite novel! Instead of the main heroine who courts three eligible men, she is now Latte Ectrie – a minor villain that everyone hates?! One way or another, it's a chance to live out her most beloved storyline, with popcorn in hand to watch all the drama! Taking charge of the narrative takes on a whole new meaning!
POV:
Actually in this one the female lead is transported into a novel where she is a random side character, but she knows all about whats going to happen with the lead heroine and her three beaus, and mostly she's just down to watch the scenes play out as a fangirl--with a bag of popcorn!
As the story progresses Latte actually has her own thing going on, and is seriously adorable. I had so much fun reading about her adventures, her friendships, her spastic dialogues, and fun references-- not to mention the arguments with the H's *ahem* the fishes!
Lol, didn't find an official trailer for this one. Sorry!
2. I Stole The Male Lead's First Night
Summary:
Ripley, just a college student and dipped into her favorite romance novel. She enjoys the lavishness of her character's life in the novel. But unpredictably, everything is changed when she once went to bed with the Duke – Zeronis, also known as the hero of that novel! He is a handsome and egotistic peer. Ripley tries to get away from Zeronis by messing all sorts of things up. But the Duke becomes enamored with that stunning and kind-hearted woman.
POV:
Ripley literally every chapter:
This is another web comic I've fallen in love with. While I didn't like how the protagonists meet (having a supposed one-night-stand when one is drunk), this story still quickly became a favorite (especially because of the gorgeous art style).
Ripley's hilarious and I love her adventures and attempts to make the duke not wanting to marry her. She's sincere, straight-forward and self-reflective, which I really adore and I wish her all the best.
Zeronis is a tsundere through and through and I'm an absolute sucker for tsundere, so it was no surprise he could easily win me over. Also, his gentle side really warms my heart.
The whole story is fun to read, but still deals with serious topics in a respectful way
3. My Butler, Not Lover
Summary:
Dealing with three jobs daily. A mountain of stress and a pigsty to call home are the only things waiting for twenty-five-year-old Jiun at the end of her work. Until one day, a stuffed doll finds her way into her arms– and with this, she's able spoil herself with the housekeeping of Nam Doyoon, South Korea's top actor…?!
POV:
Basically this twenty five year old women is working her convenience store job and somehow ends up with a doll that can be used to control a famous actor!
The art is so cute. This one is literally the definition of romcoms.

I like how normal the main girl is and how weird the plot is?? Like it would be a normal thing if a bear teddy didn't make the guy do stuff ?? It's so funny! Plus the way she got the bear is hilarious!
4. If You Touch My Brother, You're All Dead
Summary:
One day, she woke up from bed and opened her eyes to realise she has transmigrated into the BL novel <Asterion's Starry Blue Night>. The protagonist of a crazy story who killed himself on the verge of death. I've become that protagonist's older sister... Rosalite! The issue is that if and when my brother, Asterion, dies, the system will automatically revert me back to the sixteen-year-old Rosalite! That is why I must protect my brother from a plethora of other assholes in order to avert infinite regression! Whether it's from a son of wealthy household, a prince of the country, or even the imperial prince from across the sea, no matter whoever it is.
POV:
This story is very chaotic and funny! I can't stop laughing at the characters and their personality. The Duke and the duke's heir have soooo much work that the father and daughter would fight with their lives on line to accept an invitation for "irregular parties". The chemistry between the father and daughter is also hella funny! Our main character, Roselette, was resurrected for the 21st times. Just because her brother died every time, her life rewind back to her 16 yr old age. Beneath the comedy there seems to be a deeper plot n mystery.
5. My Fair Footman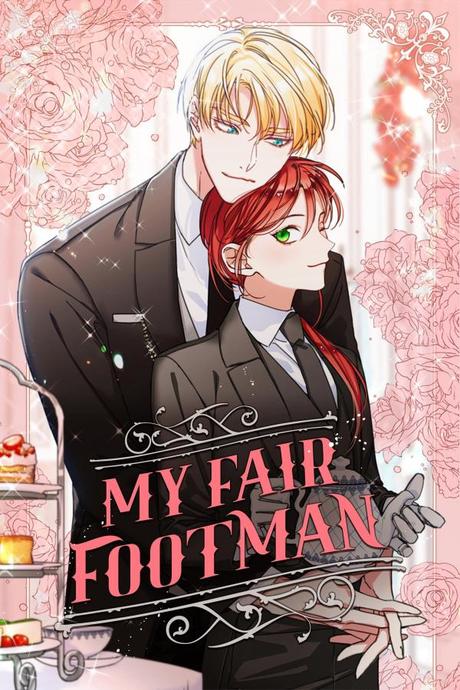 Summary:
As a child, Avery became a count's famous footman, a master of his work... But "his" work is secretly more like "her" work, as Avery is in fact a woman. So, every day, she wakes up at 6 AM, conceals her chest with bandages, and carries on her duty. And she will continue to do until "On my 18th birthday, I will quit my life as a footman and live as a woman!" Yet, a sudden proposal comes: "Avery, you should dress up for the ball and become my partner." A perfect dress, never-before-seen makeup... and the gentle Count Albert as her escort. How will destiny unfold for Avery?
POV:
A cute story about a girl that has to pretend to be a man as per contract between her mother and their employer for a couple of reasons until her 18th birthday. She's never liked pretending to be a man and has been eagerly looking forward to her birthday, because she can finally be who she was born to be.
Things get complicated because she's fallen in love with the Earl, her employer. Little does she know that he's also fallen in love with her and things get crazy when he takes her to the capital with him
6. Villainess Maker
Summary:
Yoon Haneul has always been a pushover, someone who would never say no. Then one day, she opens her eyes and realizes that she has become Aila Mertensia, the antagonist of a novel she had written ten years ago. Haneul is content to live the life of a rich couch potato and binge-read novels. But to her dismay, she soon finds herself stuck in a time loop where her day repeats endlessly, and the only way to escape the loop is to act like Aila Mertensia! Haneul doesn't know the first thing about acting like a villainess. Luckily for her, a mysterious warlock by the name of Killian offers to help her become a true villainess. Her only option is to make a deal with him, but can Haneul really trust this devilishly handsome man?
POV:
The only way for her to escape the loop is to act the part of the Aila Mertensia from her novel. Unfortunately she doesn't know the first thing about acting like a villainess, however a mysterious warlock named Killian offers to help her take up the role.
Killian is the most notorious warlock of the age. He is observant, highly intelligent, and extremely manipulative. Killian senses Aila's magic, and notices the time loop. He manages to install himself as a tutor and butler of Aila's family with a plan to kill her, but instead makes a deal with her to get revenge on a god. It is from this deal that Aila begins to receive etiquette training.
I have enjoyed the story so far. The characters are not truly either good or evil, but there is a whole lot of grey. This story is, as Shrek would say, like an onion, it has layers. Aila goes from being a pushover to becoming a manipulative powerhouse who works to get what she wants. The story so far has been well thought out and well written. The art is beautiful.
7. The Reason Why Raeliana Ended up at the Duke's Mansion
Summary:
Poisoned to death by her own betrothed?! Eunha didn't wake up in a novel's story just to get killed off again as an unfortunate extra! To change her story she needs a cover: 6 months pretending to be the fake fiancée of the novel's male protagonist, Duke Noah Wynknight. But will this cold-hearted, angel-faced demon of a man really help her avoid another ill-fated ending?! Based on the hit novel.
POV:
in The Reason Why Raeliana Ended up at the Duke's Mansion, an ambitious, smart, yet unfortunate girl named Park Eun-ha is randomly pushed off a building by some mysterious person. after being murdered, she wakes up to find herself in a novel where she is a side character named Raeliana. we soon learn that Eunha in the real world was destined to die young... and that her character inside the novel dies young, too! so the newfound Raeliana quickly devises a plan to alter her destiny and remain alive.
Raeliana is a wonderful main character. she is unproblematic, bright, assertive, and witty, not to mention astonishingly attractive both outside and inside. she stands up for herself and those she cares about and isn't afraid to challenge the wrong. she is resourceful and graceful, always poised and ladylike in times of adversity or conflict. moreover, her banter with the other characters, especially the love interest, is highly entertaining. many of these chapters made me laugh because of some of the ridiculous and amusing situations Raeliana finds herself in.
The side characters are great, too. Raeliana's love interest, the duke, is intriguing, as well as his servants and underlings. all of their relationships are simply adorable to read about.
8. Actually, I Was the Real One
Summary:
In order to receive love from her father, Keira tried her hardest to live the life of a perfect, submissive daughter. However one day, Cosette appears claiming to be his real daughter and Kiera is executed under the assumption that she is a fake. In the last moments of her life, Cosette whispers to Kiera "Truthfully, you were the real one". Kiera, recalling those words, returns to the past. Although revenge is important, what does it matter who is fake and who is real? Now that I have been given a life again, I will live it freely for myself! A cute female protagonist's coming of age romance who has never made friends. A coming age of romance of a cute female protagonist who has never made friends.
POV:
Storyline: In order to receive love from her cold and emotionally distant father, Keira tried her hardest to live the life of a perfect, submissive daughter.
However one day, Cosette appears claiming to be his real daughter- and after she somehow shows her manifested powers- that only Kiera is meant to have- is Kiera executed under the assumption that she was never her fathers daughter in the first place, and conspired to deceive everyone.
In the last moments of her life, Cosette whispers to Kiera "Truthfully, you were the real one". Kiera, after recalling those words, returns to the past.
Although revenge is important, what does it matter who is fake and who is real? Now that I have been given a life again, I will live it freely for myself! A cute female protagonist's coming of age romance who has never made friends before, and is on a mission to finally live her life for herself!
9. A Good Day to be a Dog
Summary:
Hana has made every effort to avoid an inevitable family curse... of turning into a dog after her first kiss. Worst of all, the only way for her to break the curse is to get a second kiss. How will that work when Hana's first kiss is with a guy who is deathly afraid of dogs?!
POV:
If you're looking for something fun and cute, with multiple side plots that feel relatively high-stakes until they're not, then this is for you! It's about a woman whose entire family is cursed so that they each turn into a dog from midnight to 6am after their first kiss. The only way to reverse the curse to have a second kiss with that same person while in dog form. Hana, our main protagonist, is a teacher who closely guards her heart (and lips) because she's seen what the curse can do to those she loves. All this gets thrown for a loop when she accidentally kisses a coworker who is afraid of dogs. The story first follows her attempts at breaking the curse.
10. The Golden Forest
Summary:
A slave girl blessed with a curse."Don't forget. You owe me a life, and you promised to be mine." Reniae was blessed with the ability to charm men by the goddess Inanna. But for her, it feels more like a curse. After being taken as a slave to the Golden Forest, she flees to the Northland where she finds Kun... and saves his life.
POV:
The Golden Forest follows Reniae, a slave girl blessed by a goddess. But the blessing is more of a curse and due to unknown circumstances, she ran away to mountains in the north, where she pretends to be a boy to avoid attention. That's where she stumbles upon Kun, a young man injured and near death. She revives him slowly and eventually, they part ways, but her life (and his, I assume) is forever changed.
I enjoy the amount of attention the web comic pays to lore, mythology, and general world-building. We get lots of finer details about the Golden Forest versus the White Mountains, and how they share a historical origin of sorts. I also like the agency Reniae has.
Note:

All the POVs were taken out of the site -> goodreads
Hope y'all enjoyed! 😊