Learn The Difference Between Passive, Assertive, Passive Aggressive, And Aggressive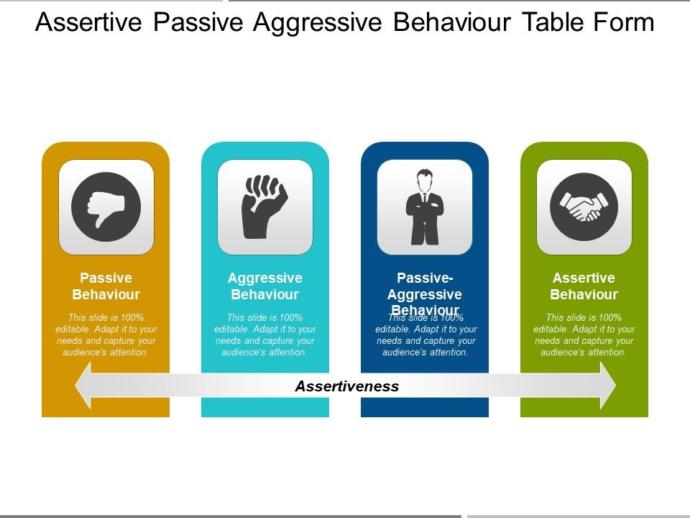 Hi guys and girls. This was a promised mytake covering assertiveness for some of my consistent readers. This is a little spin off from👇👇👇👇
How To Create Healthy Boundaries, Communicate Effectively, And Be Assertive
Objective: To Understand What Assertive Is, What It Is Not, In An Attempt To Communicate More Effectively With Family And Friends
This will be short and sweet for the readers.
Let's get started:
Passive Behavior:
What It Looks Like:
Quiet, Self Spoken, Poor Eye Contact, Lack Of Confidence, Looks Down A lot, Allows Self To Be victimized, Prioritizes Everyone's Needs But Their Own, Lacks Self Love And Compassion, Seeks Constant Validation, Constant Personalizations.
Assertive Behavior:
What It Looks Like:
Listens Without Interruption, Willing To Compromise, Stands Up For Self, Good Eye Contact, Confidence, Can Effectively Ask For Needs To Be Met, Advocate For Your Rights And What's Ethical
Passive Aggressive Behavior:
What It Looks Like:
Projection, Reverse Psychology, Silent Treatment, Deflection, Sarcasm, Subtle Or Sneaky Insults, Doesn't Effectively Communicate Needs, Deflection, Mockery, Bitterness
Aggressive Behavior:
What It Looks Like:
Easily Frustrated, Very Loud, Intimidating, Condescending, Uses Harsh Criticism, Name Calling, Labeling, Interrupts, Doesn't Listen, Unwilling To Compromise, Mockery, Hostility
Author's Remarks: Thank you for stopping by!!!!!! Please use the helpful references 👇👇👇👇 To help aid you in your journey to be assertive with the company you keep. I hope you learned something new and that you will understand yourself and others better. Most people are not aware of their body language and actions. They will mistake assertiveness with one of the other behaviors listed above. You may actually be too passive or too aggressive. Which is why I highly recommend the DEESC Script. If you don't know what that is please review the MyTake mentioned in the introduction 👆👆👆👆 That's all I Have.
This is a NEGATIVE FREE ZONE!!!! So be kind to one another and spread joy. If you have personal questions or off topic questions please direct message them. I will not be answering them on public posts. Thanks for understanding and respecting my privacy!!!!! Disclaimer: I do not own any parts of, or profit from any of the Illustrations used on my posts. Any awards from GAG have not been claimed after being accepted. If they have been claimed then I have contacted the artist directly and have permission to post. These artists deserve recognition so make sure you like/follow their pages and show your support. Hopefully you will find my content fun and helpful.
Yours Truly: Secret6620
Here's Something Sweet For Stopping By:
References:
https://www.dreamstime.com/stock-illustration-behavior-types-different-kind-human-passive-passive-aggressive-aggressive-assertive-image61553265
https://www.victoriamilan.com/blog/metro-masculine/
https://www.therapistaid.com/therapy-worksheet/passive-aggressive-and-assertive-communication
https://www.google.com/search?q=assertive+passive+aggressive&client=ms-android-samsung-ss&prmd=inv&source=lnms&tbm=isch&sa=X&ved=2ahUKEwiaqYfQx6vjAhUCbc0KHZQZApoQ_AUoAXoECBEQAQ&biw=360&bih=564#imgrc=MT9tajsnY40F_M&imgdii=JWtVg7iJGCXRRM
https://www.slideteam.net/assertive-passive-aggressive-behaviour-table-form.html
Have A Wonderful COLORFUL Day