Whether it is a girl's night out or a Friday night date with our hubby,
the "getting ready" clock starts ticking the minute we get home from work.
Wax, manicure, pedicure, teeth whitening gel stuff, shower, shave, brush, floss, foundation, eye-shadow, eye-liner, mascara, lipstick, blush, dry hair, apply gloss/mousse/hairspray - and poof! Done! Except for...and here's where the time consumption really begins..., "What should I wear?"
Sometimes we have to change up to a dozen times to find the perfect ensemble. Perhaps I'll start out with the crisp white blouse with several buttons left open, I thought to myself. The gold necklace and new jeans were a perfect compliment to the blouse - but the black belt didn't go with the brown boots.
Then I spotted my favorite black pants in my closet. Off came the jeans and on with the black pants. Problem now - the white shirt wouldn't work because I do not want to look like the restaurant waiter. The red halter was perfect but no earrings to match and the thought crossed my mind "are my arms too fat for this?" or "is my belly too fat for that?" If extra skin hangs over the jeans, either the shirt or pants need to be changed. The low cut baby pink blouse comes to mind next.
After tearing my closet apart looking for it, I realized, it's in the laundry because I wore it last Friday night. The blue tight-ribbed sweater may be perfect but not with the black pants. Guys let me tell you, I have worked up a sweat by now. This is tedious, stressful, I am hurrying, time is ticking and I still have on the same thing as I did 30 minutes ago after the shower - the towel.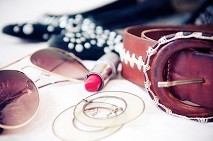 By this time, I'm on the phone with our girlfriends or talking to our roommate and tearing apart her closet too. I describe in detail what didn't work, what did but not with what and you can imagine. The conversation is centered around what I've tried on, what we can't wear and why, etc. More than likely I'm taking my man's interests while preparing for the evening. If the guy likes red, chances are the panties and underwear are the color of ripe strawberries. If he prefers black, the dress will probably take that into consideration. I'm wearing pink tonight.
Forty-five minutes to an hour have passed before I am dressed. Last part. I'm almost ready, only one more thing - the shoes! Should I wear stilettos for a sexy look, or my pointy-toed heels for a classic appearance? This process may take 2-10 minutes, depending on if the shoes of choice are hiding, but relax! Once the shoe situation is taken care of, I am more than ready for dinner, or maybe he wants to skip right to dessert since I now look irresistible.
Finally he arrives and although my ensemble is complete, it's time to find the purse for this evening. Digging among the mess of clothes in the closet (I promise myself I will clean it all up tomorrow) the black purse is found. I dump everything out of my weekday purse onto my bed, creating another Saturday chore for myself, grab my wallet, lipstick and powder and we're heading out the door. Good thing he made the dinner reservations for later than we had planned.
As he opens the car door for me, I stop and fumble for my keys and head back toward the house calling out "Oops! I forgot my cell phone!"
---