(Pictures) Guy's do you think dyed armpit hair look attractive on women? & Ladys would you try this?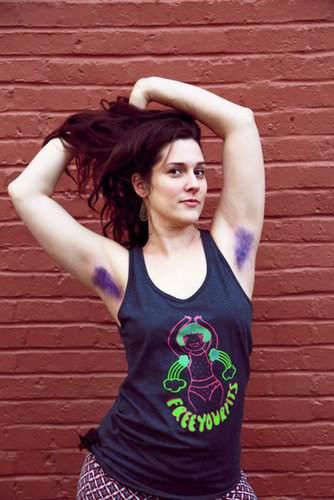 Updates:
---
I'm sure there are people who would find it appealing

I absolutely love it because I will know who the hell to avoid

I don't find it attractive at all. It's specifically done to make it stand out and say "hey look at me I don't shave my armpits!" That's the wrong reason to leave them unshaved.

I dislike it.

But there are pretty weird fetishes...

Let me unsee it.
Please! PLEASE!

I think the purple and pink are kind of hot. Make me think of cotton candy and I want to nibble. But the green and bluish make me think it's moldy under there. And the red looks like the poor girl has blisters. But what do I know, I dye my beard pink (for breast cancer awareness month), purple and blue.

I find it a bit frightening

I didn't think I would like it but it looks ok for all off two minutes if that.
Ok you showed me now let's shave or wax it off.

What would the conversation at the dinner table be? OH I just love your arm pit hair, where did you get it done?

I admire that persons confidence, whoever came up with that... I bet s/he has never felt a moment of self doubt in his/her whole life...

I think it is disgusting, and the motivation behind it is disgusting too.

No , I don't think it's attractive.

Looks totally ridiculous.

Hell fuking no, armpit hair is HUGE turn off

If by attractive you really mean repulsive then sure.

It looks pretty gross to me, but do what you want.

I prefer natural colored armpit hair on a woman.

No, that's very repulsive to me. Too bad the 4th girl is doing that stuff too, she is pretty cute.

Nah they don't. Who created this trend? lol

lol noooooooooooooooooooooooo

i think its hot and i have a major hairy armpit fetish :P do you grow yours out?
Looks ridiculous. Wouldn't try it - mostly because I can't live with hairy armpits.

WAY too much effort. You'd have to bleach them first and then dye them. And I work at a thrift store where i check every shirt, and we occassionally get shirts with Pink armpits stains ;) and i dont plan on ruining my shirts, my hair on my head does that enough let alone have a whole new spot to stain haha

Its a hidious trend and i will not be allowing any of the girls working in my salon to do this for clients

Armpit hair just doesn't look attractive on anyone. Let alone drawing attention to it.

No, I find it repulsive as fuck.

All these girls look like tumblr SJWs.

no that's the ugliest thing out.

All these hoes look like they smell. So grungy and dirty.

Nooo... its awful in my opinion. .. not attractive at all.. i would never try this.

Hell no!

Dirty looking hippies/10

Ew. Go shave or wax it off, for goodness's sake!

Umm yeah I don't even have a comment. I would never.

I think that's a dumb thing to do, but each to their own.

The 3rd one looks moldy 😖
& this looks really digusting & very unattractive👎

If my armpit hair grew out that much - perhaps. But I shave them every single day aha.
Click "Show More" for your mentions
Select as Most Helpful Opinion?
You cannot undo this action. The opinion owner is going to be notified and earn 7 XPER points.