In the past two my takes in this series,we visited The Carolinas and Tennessee . In this installment it's time to head on down the Mississippi River and into Cajun Counrry of Louisiana!
Cajun Sausage,Chicken,and Shrimp skillet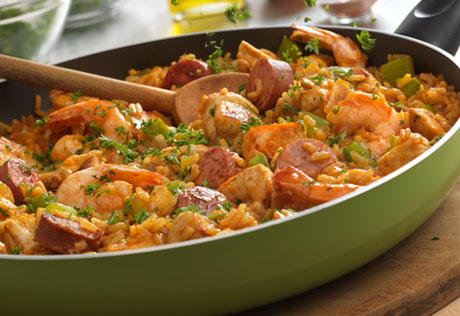 1 tablespoon olive oil
12 ounces skinless, boneless chicken breast halves, cut into 1-inch pieces
2 ounces smoked turkey sausage, cut into 1/2-inch slices
2 stalks celery, chopped (about 1 cup)
1 large green pepper, chopped (about 1 cup)
1 large onion, chopped (about 1 cup)
2 cloves garlic, chopped
1 cup uncooked whole grain parboiled brown rice
1/2 teaspoon dried thyme, crushed
1/8 teaspoon cayenne pepper (or to taste)
1 can (10 3/4 ounces) Condensed Tomato Soup
1 1/2 cups water
2 ounces uncooked shrimp (31-40 count per pound), peeled and deveined
2 tablespoons chopped fresh parsley
How to Make It
1
Heat the oil in a 12-inch skillet over medium-high heat. Add the chicken and sausage and cook until browned, stirring often. Remove the chicken and sausage from the skillet. Pour off any fat.
2
Add the celery, pepper, onion and garlic to the skillet and cook for 7 minutes or until the vegetables are tender, stirring occasionally.
3
Add the rice, thyme and cayenne pepper to the skillet and cook and stir for 1 minute. Stir in the soup and water and heat to a boil. Return the chicken and sausage to the skillet. Reduce the heat to low. Cover and cook for 15 minutes. Stir in the shrimp. Cover and cook for 10 minutes or until the chicken and shrimp are cooked through and the rice is tender. Sprinkle with the parsley, if desired.
Crawfish Etioufee
1 stick butter
2 cups chopped onions
1 cup chopped celery
1/2 cup chopped green bell peppers
1 pound peeled crawfish tails
2 teaspoons minced garlic
2 bay leaves
1 tablespoon flour
1 cup water
1 teaspoon salt
Pinch of cayenne
2 tablespoons finely chopped parsley
3 tablespoons chopped green onions
n a large saute pan over medium high heat, melt the butter. Add the onions, celery, and bell peppers and saute until the vegetables are wilted, about 10 to 12 minutes. Add the crawfish, garlic, and bay leaves and reduce the heat to medium. Cook the crawfish for 10 to 12 minutes, stirring occasionally. Dissolve the flour in the water. Add the crawfish mixture. Season with salt and cayenne. Stir until the mixture thickens, about 4 minutes. Stir in the parsley and green onions and continue cooking for 2 minutes. Serve over steamed rice.
Bananas Foster
1 stick salted butter
1 cup packed dark brown sugar
1/2 cup heavy cream
2 bananas
1/2 cup chopped walnuts or pecans
1/2 cup dark rum
Dash cinnamon
Vanilla Ice Cream, for serving
Melt the butter in a heavy skillet over a medium-high heat. Add the brown sugar. Stir together and cook for a minute or two. Pour in the cream and stir it around to combine.
Peel the bananas and slice them on the bias inside the peel. Drop the slices into the pan. Next, add the chopped nuts and stir them into the sauce. Then - and this is where you need to be a little careful - stir in the rum. Let it start to bubble, and then carefully use a long lighter to ignite it. (Be sure to have a lid handy in case you need to extinguish the flame.) Let the fire burn and go out (it'll only take about 30 seconds or so), and then stir in the cinnamon at the end. You may also cook the mixture without flambeing it.
Spoon it over a couple of scoops of vanilla ice cream and enjoy immediately.
Spoon bananas Foster over French toast, waffles or crepes. Substitute peaches, pears or cherries for the bananas. Of course, then it probably wouldn't be considered bananas Foster.
Beginets
1 1/2 cups lukewarm water
1/2 cup granulated sugar
1 envelope active dry yeast
2 eggs, slightly beaten
1 1/4 teaspoons salt
1 cup evaporated milk
7 cups bread flour
1/4 cup shortening
Nonstick spray
Oil, for deep-frying
3 cups confectioners' sugar
Directions
Mix water, sugar, and yeast in a large bowl and let sit for 10 minutes.
In another bowl, beat the eggs, salt and evaporated milk together. Mix egg mixture to the yeast mixture. In a separate bowl, measure out the bread flour. Add 3 cups of the flour to the yeast mixture and stir to combine. Add the shortening and continue to stir while adding the remaining flour. Remove dough from the bowl, place onto a lightly floured surface and knead until smooth. Spray a large bowl with nonstick spray. Put dough into the bowl and cover with plastic wrap or a towel. Let rise in a warm place for at least 2 hours.
Preheat oil in a deep-fryer to 350 degrees F.
Add the confectioners' sugar to a paper or plastic bag and set aside.
Roll the dough out to about 1/4-inch thickness and cut into 1-inch squares. Deep-fry, flipping constantly, until they become a golden color. After beignets are fried, drain them for a few seconds on paper towels, and then toss them into the bag of confectioners' sugar. Hold bag closed and shake to coat evenly
I hope you enjoy this and all of the past food mytakes I have done. I truly feel this is one of my best topics here on GAG. Next time in the series I will be doing recipes from Georgia. I hope y'all will enjoy that too.
---