In my last mytake I posted some ideas for mixed drinks based off cartoons and video games. Well I found some more to share. I hope you enjoy these!
Articuno (Pokemon)
2 oz. Hpnotiq
0.75 oz. Gin
0.25 oz Lime Juice
Club Soda to fill
Gotta catch a buzz! Who doesn't love Hpnotiq? Check out this legendary mixed drink next time you are in the mood to kick back. But don't drink and drive…if you get pulled over you might have to say all 151
Penelope Pitstop (Wacky Racers)
1.5 oz Light Rum
1 oz. Amaretto
0.5 oz Cream de Noyaux (or Grenadine)
0.5 oz Goldschlager
2 oz. Pineapple Juice
2 oz. Pina Colada Mix
Whipped Cream
Red Sparkles (found in cake decorating aisle)
Cherry
Wacky Races was arguably one of the best Hanna Barbera shows of the late 1960s and early 1970s, and now there is a drink to honor one of the prime icons of the television series, Penelope Pitstop. Just because the show is about racing doesn't mean you have to race to finish the drink, but that sounds like fun as well.
Oogie Boogie (Nightmare Before Christmas)
Citron Absolute
Midori
Mt. Dew
Gummy Worms
Capri Sunburn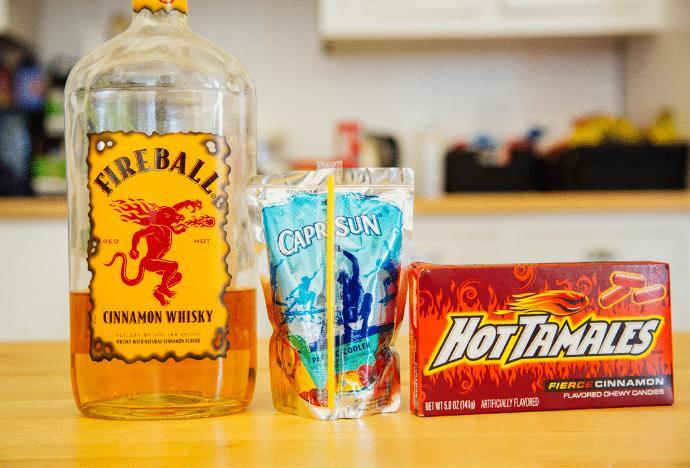 1 Capri Sun
1 Hot Tamale
pour to fill Fireball
I know, I know, it isn't a cartoon. But I thought it was still fun to include
Metroid
1/2 shot Bacardi Big Apple Rum
1/2 shot Coconut Rum
1/2 glass Kiwi Strawberry Minute Maid (or Kool-aid)
a little less than 1/2 glass Sprite
3 Strawberries
If you enjoyed killing these things when you were a kid, then you will love killing a glass or two of them now.

SpongeBob
1 oz Hpnotiq
1 oz Peach Schnapps
3 oz Pineapple Juice
Mix hpnotiq, peach schnapps and pineapple juice together in a shaker then pour into a collins glass. Garnish with a cherry.
Warmfront (Anna from Frozen)
Coldfront (Elsa)
Bayou Beauty (Tiana)
Lily of the Sun (Rapunzel)
Mother Knows Best
Hakuna Matata
Ohana Colada
Try one of these weekend! If you do try one yourself feel free to share your experience. I'm sure there is something here for everyone!
---