Internet friends, a good idea or not? If you ask me, I wouldn't hesitate in saying yes. it's easy to bond and make connections with people on the Internet. These people, who are more than a few states away or even countries away, can become a very important part of your life. Internet friends are just as good to have as a real friend, and they have their own perks with it as well. Here are 5 reasons why having internet friends is amazing:
1. They get your obsessions
Let's be honest, you probably met your internet friends by bonding over something that is your secret love. When everyone else doesn't care that your favorite YouTuber put out a new video, or what happened in the latest episode of your favorite show, or when your favorite singer has new music; they pretty much get you. They're there to cry and freak out and yell about it with you, and that feels awesome.
2. Great moral support
This is my favorite thing about having internet friends. Internet friends care about you and accept you the way you are. They're always there for you to make your days brighter. You can expect text messages from them, full of bright emojis and smileys to make you feel better and smile. You can always count on feeling better after talking to them.
3. You can tell them everything
Sometimes there are things that you just cannot tell your closest real life friends because you fear they'll judge you or tell other people in your life. This is a different thing when it comes to Internet friends. They are your own personal human diary, they understand you because they might be dealing with the same issues you're dealing with.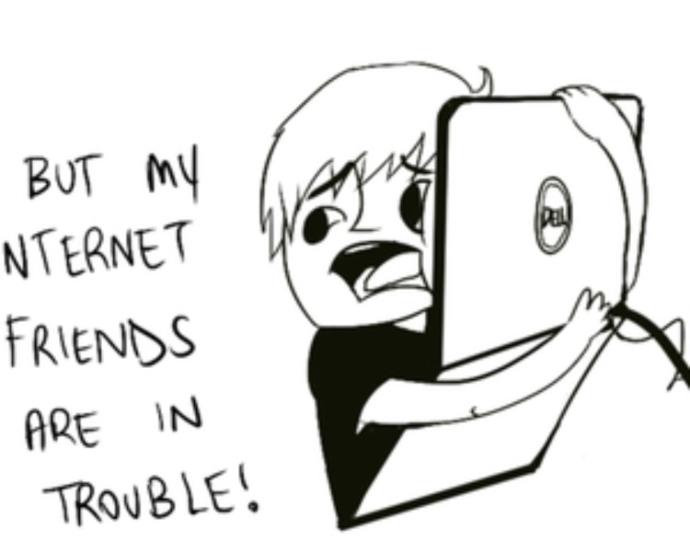 4. You can talk to them when no one else is up
Time zones are the worst! I absolutely hate time zones! Yes, they can be a pain sometimes, but sometimes they play to your strengths. When you're the one ahead, and you're having a sleepless night, they're available. And if you got up too early, they'll be up waiting to hear from you. They will be zombies with you, that's for sure!
5. You have a dream of meeting them
It is only fair that after all the shared stories and long Skype calls, you want to meet them in person. You just cannot wait to hug them and tell them how awesome they are for being your friends.
----------------------------------------------------------------------
So there you have it! These are only 5 short reasons why it is amazing to have internet friends. I hope you enjoyed reading this!

* I want to dedicate this myTake to a special group of people I've met here on GAG. They've been with me through sad and happy moments. I want to take a minute thank them for dealing with my crazy self! They know know who they are no need to tag them. I love you guys! 😘
Do you have internet friends? Have you met them in person?
---