Do you ever scroll through the g@g feed and just think; Ugh, not this question again? There are some questions that seem to make their way to the feed time and time again, although asking them seems futile. At least to me, that is.
A person looked at me for an x amount of time, what does this mean?
There are a lot of smart and helpful people on g@g with excellent insight to human behavior. They aren't mind readers, though. Just looking at a person for a certain amount of time means absolutely nothing. Furthermore, only getting the asker's own perception of what happened makes it impossible to objectively examine the situation. Most of these questions are worded in a way that suggest what kind of answer they want to get. They want people to tell them that the person in question likes them. Looking at someone doesn't automatically mean that, though. Maybe there was something stuck to your face. Maybe something interesting was happening behind you. Maybe they looked at you for a split second but in your head, it felt like fifteen minutes because oh my lord they finally looked at you. We don't know. Only the person looking at you knows.
Does this person like me?
You probably know what I'm going to say if you read the paragraph before this. None of us are mind readers. I understand why people ask this question, though. They want some kind of confirmation that the person in question might like them before they go ahead and make themselves vulnerable by asking the person straight up. However, a bunch of strangers speculating your situation with only your side of the story to go off from isn't going to do you any good. If you want to know whether someone likes you, ask them. I know it's easier said than done but it's the only way to know for sure.
How do I look?
Don't get me wrong, if you really want to know what other people think about you, ask away. Just be prepared that not everyone is going to be nice. What I don't understand is people asking this same question over and over again like peoples' opinions would change. If you need that confidence boost every day, you might want to ask yourself why you need the validation of strangers so badly, and so frequently.
Which gender is more x?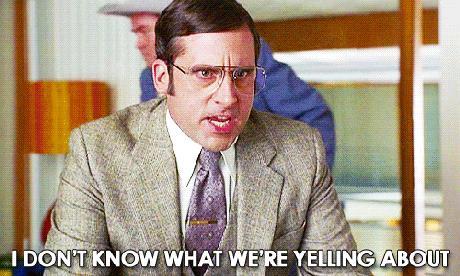 Questions pitting genders against each other always get a ton of replies. Mainly because people are arguing like crazy over which gender is better. It's the age-old question. If you're doing it for the exper points, knock yourself out. However, questions like this are futile. More often than not whatever the question is asking depends on someone's personality rather than their gender. We don't achieve anything by making blanket statements like that. There will be people who fit the stereotype and there will be people who don't.
Does size matter?/Is my penis big enough?
Stop being so worried about the size of your genitals. There will always be yes and no answers to this question. Some people think it matters a great deal and some people think it doesn't. It's not like you can do something about the size (except get surgery, which I personally think is idiotic). If you want your partner to care about the size, find someone who does. If you don't want them to care about it, find someone who doesn't. There's no unified opinion on this because people are different, and they care about different things.
Is it normal to be a virgin at age x?
Yes. The answer is yes. If you want to wait until marriage, that's great. If you don't want to wait, that's great, too. People should be able to decide when they're ready to start having sex (not that you can snap your fingers and decide it's happening now), and it shouldn't matter what age they are when that happens. People have different views of sex and that's okay. You can't push your views on other people. It's their body and they are allowed to decide when they're ready for other people to be touching it. Even if you would have been ready ages ago, it doesn't mean that you're going to instantly find the right person to have sex with. It takes time. Don't put yourself in an uncomfortable position (pun intended) just because you think you shouldn't be a virgin at your age.
Do men/women like x?
I get that you're just trying to figure out what the gender you're interested in would like the most. But isn't it pointless to ask what the majority likes? It doesn't guarantee that the person you happen to have your eyes on is going to agree with the majority. People have very different tastes when it comes to appearance, and as cliché as it sounds, attractiveness is subjective. Stop trying to fit in a mold shaped by the majority's opinion. Just be you and find a person who finds that attractive.
These are the questions I wish people would stop asking. What are some questions you find annoyingly pointless?
---