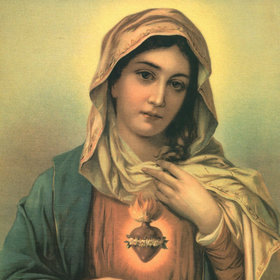 u
Relationship: Married
Works in: Other
October, the Month of Mary, Queen of the Holy Rosary
"Love the Madonna and pray the Rosary, for her Rosary is the weapon against the evils of the world today. All graces given by God pass through the Blessed Mother." - St. Padre Pio

"The Rosary is the most excellent form of prayer and the most efficacious means of attaining eternal life. It is the remedy for all our evils, the root of all our blessings. There is no more excellent way of praying." - Pope Leo XIII

"The Rosary is the scourge of the Devil." - Pope Adrian VI

I AM AN UBER MODERATOR AND I'M HERE TO HELP!
*************************
If you believe someone has violated community guidelines, please send me a link to the question. If the problem is with a specific opinion or reply, please provide a word or phrase so that it's easier to find, or identify the user if they're not anonymous. Or if it's something as simple as needing your question moved to a different category. You may tag me in a comment or send me a private message.

I can also freeze accounts, so if there is a frequent violator or if you are being harassed, provide the screen name and some evidence.

Lastly, I'm a practicing Catholic. If you have a person or situation which you would like me to remember in prayer, you may DM them to me.

ABOUT ME
*************************
I am a traditional Catholic man. I love the Traditional Latin Mass, the Rosary, and Adoration of Our Lord. No meat on Fridays!

I am a husband and a father.

I like movies, working out, smoking good cigars, drinking good beer, grilling, writing, and playing computer games.

I currently work for an industrial coating manufacturer. I am also a consecrated Marian Catechist. I hope to write and publish some novels some day.
Influencer Questions
Xper Points 73,961
Moderation Success Rate
No. Superb Opinion