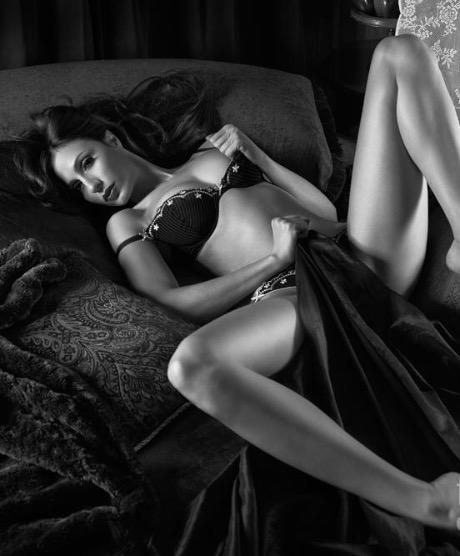 Recently my husband and I celebrated our anniversary, and for his gift I decided to secretly pose for a boudoir photo shoot. Now I did not arrive at this decision lightly mind you. Allowing strangers to witness me in lingerie, and better yet practically nude, just to give my husband a gift was something I questioned multiple times. I discussed it with many of my friends who all encouraged me to do it; their thinking I'm sure was better ME than them.
After finding the courage to go through with my idea, I had to locate the right photographer. This took weeks of research online, phone calls, pouring through reviews and testimonials. It wasn't as easy as picking a wedding photographer, I can assure you of that! Finally, after much debate, I made up my mind on Tim (not his real name) at Tim's Studio (not the name of the studio either). It was an hour away from my home, but he was highly recommended and his work was exceptional. Plus, all comments read made sure to mention how easy he was to work with. That was important to me. If I'm going to try to look sexy I need to be comfortable, otherwise I'll come across looking like a clown.
The next issue was price. Tim's Studio offered several packages, ranging in price. The cheapest was $300, which was WAY more than what we would ideally spend for an anniversary gift towards each other. But I didn't come here to be cheap...I upgraded to (gulp) the $500 package, which was three outfits not two. That third outfit was important to me, and would be important to HIM, too--which I'll explain in a minute.
When the day arrives, I drag my best friend Molly along with me for support. I've thanked her for being there soooo many times since. I was such a nervous wreck I seriously don't think I could have done this without her.
My appointment was at 10AM, and i was right on time. I was greeted with a mimosa, which I was encouraged to "sip, not gulp". They had a nice fruit tray and a bagel and cream cheese offering as well, along with a few pastries. I nibbled on a strawberry or two but I was too nervous to eat. I love mimosa but didn't indulge as much as I wanted to. I've learned over the years when I'm this nervous my stomach does crazy things, and putting more than the smallest amounts of food and drink in it will make me nauseous.
Tim pulled me aside after twenty minutes or so to go over details again. They offer their own lingerie - which I was told is dry cleaned in case you get an EWWW like I did when I heard it - but I chose to bring my own, along with a dress. I told him I wanted to do the dress first, then go from there. Tim looked at my wardrobe, seemed to make a mental note--imagining how he was going to shoot me I suppose--then told me to disrobe and called the makeup crew over while he set up.
I spoke to Miss Ruby and her assistant about what look I wanted - classic 60s Playboy Playmate. I even had the name - Dolly Read - because I share similar features with the former Playmate (I said similar people we aren't twins ok???). I had told Tim this on the phone a few weeks ago but I think they wanted the final specifics since this was go time. They Googled her while I slipped into the dressing room, changed into my first set of bra and panties, then finally a large, warm robe.
As I walked out, they whisked me away to Ruby's station, who began to do my makeup, while her assistant began to tease my hair. Before long I looked like a pin-up version of me! I then retreated back once again into the dressing room, CAREFULLY put my dress and heels on.
Regarding the dress - it is a short sleeve, button-up, just above the knee number that I wore the first night I had sex with my husband. It has sentimental value to him more than me honestly, but he adores it and any posing will need to include it. Satisfied , I emerged - with all eyes on me and scared out of my freakin mind!
They turn on music, classical to fit my tastes. Again, to put me at ease. Then Tim starts asking me to do a variety of poses. It starts out very easy--hands on hips, smile, tilt your head, look at the camera like it's your hubby and you want to seduce him, that sort of thing. All with my dress on, except the top few buttons were undone for more than a hint of cleavage. It was all very easy and my butterflies start to back off; however, it's when Tim asks me to start unbuttoning my dress and begin to be more flexible with my poses that I have issues.
Ironically I had no problem exposing my bra and panties. In my mind, right or wrong, I knew I showed off just as much at the beach. Being seen in my underwear didn't phase me.
The hard part was bending my body the way he wanted me to. Like, um, I'm a fit girl and all but I don't think what you are asking me to do is humanly possible. I started to feel the butterflies really hit me hard.
Thankfully the studio had helpers, for lack of a better word, to show me HOW to get into the pose. I don't know if that was because I paid more for my package or if everyone enjoyed that benefit , but let me tell you that was a life saver! Without her I probably would have injured myself LOL
I had confided in Tim that my husband was a leg man, so many pics and poses were made that accentuated my legs. It was getting to be fun prancing around posing in my lacy things with my open dress flowing around me like a cape. I was Super Lingerie Woman!
Then the moment of truth came. Time for the bra to drop. My husband may be a leg man but he's still a MAN which means he LOVES breasts, so I knew I wanted to take several pics topless. I actually wrestled with this decision up until the day before, even thinking of posing in a sheer bra. But I eventually decided for the money I was spending, I better go the distance. I didn't want to look back on it and wish I hadn't been frozen by fear.
So, with all eyes on me, the bra comes off. And...nothing happens.
Well, Tim takes pictures. He asks me to pose slightly different. That sort of thing happens.
But no one gasps. No one freaks out. No one even says "Hey nice rack!" No one reacts to my topless figure standing in front of them in the middle of the room. I mean they all LOOK, which felt a bit surreal to know that my boobs were on unfiltered display for all eyes in the room. But everything just kept going along normally. THAT helped and I cannot overstate how much. The fact that everyone treated my topless pictures as I was wearing clothing was huge.
After we are done with round one, I'm given my robe which I throw on quickly. I know it's the nerves but I'm freezing! I receive a round of applause - which causes me to blush - and I'm given a glass of champagne. My nerves are more settled now so it's safe to drink.
We all gather around a laptop with numerous images of me. Did he really take that many pictures of me? There are like a LOT! We start to review them. My initial reaction is to dislike them but Molly is gushing : "I love your hair in this picture!" and "Ohhh you look so beautiful in this one!" or "Your husband will never stop looking at this pic it's so sexy!"
I have two more sets to do, and after you've gone topless once it's much easier. The next two sets are straight lingerie, and move to different areas of the studio so the props aren't always the same for each group of pictures. I won't go into detail since it's all more of the same essentially.

After it was over I felt so wonderful! And tired! The posing, the modeling, and most of all the stress really wear you out!
But I'm glad I did it. It's a once in a lifetime experience. And my husband was also happy I did it. Like, over the top happy LOL.
All in all, a very rewarding anniversary gift for both of us!
---