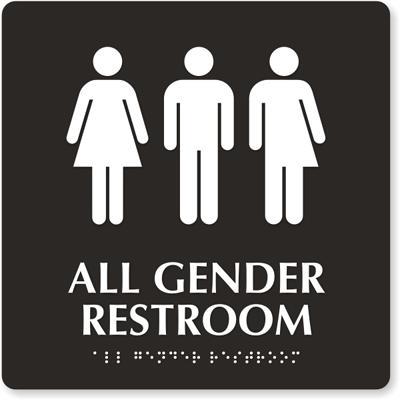 In recent years a few bills have been introduced, and mostly vetoed, that would allow those who identify as transgender to use the bathroom associated with their new identity/gender as opposed to the one they were born with. Some of the bills along with organizations like OSHA, suggest rather then allowing transgendered individuals to use the women's or men's restrooms, the institution of a gender neutral restroom which would simply allow individuals, regardless of their sex or the sex they identify with, to use said bathroom.
The arguments against allowing transgender individuals using traditioanlly male and female only restrooms mainly seem to call into question safety concerns of the occupants, particularly that of women. Many women feel like not only will their safety be called into question, but the safety of children whom they must frequently escort to the bathroom. If for example, a man identifies as a woman, but has had no surgery, no outward change in appearance, and goes into the bathroom or the reverse, a woman identifying as a man, how are the occupants to know if this is just some person trying to gain access to their bathroom to do harm or someone who truly identifies as their gender. Many of both genders allege that they want to feel safe in the bathroom related to their birth sex, and they feel as though if anything, transgender individuals should have a gender neutral bathroom for use or a single occupancy bathroom. There is also the argument that having to create a new bathroom or let their current one be used is giving special or preferrential treatment were none is due. They claim, this is not a race issue (as in Jim Crow laws), this is not a disability issue where an indivudual would need a particular accomodation because of a disability they cannot change, in their minds, transgender individuals have chosen to change their gender, and therefore, essentially must deal with it and go to the bathroom of their birth sex or use their bathrooms at home or single occupancy bathrooms if available.
The arguments for allowing transgender individuals to use the bathroom of their gender choice often cite that having to or being made to use a gender neutral/single occupancy bathroom is not in league with their new identity. They shouldn't have to use an "other bathroom" which might indeed make them a target for ridicule, harrassment, and violence from the public or from co-workers. The same, they believe, is even more true of being forced to use the bathroom related to their birth sex. Walking into their birth gender bathroom whilst they look like their new sex is awkward, and they face the same problems a born male man might walking into a female restroom or a born female walking into a male restroom. In particular transgender P.O.C (people of color) are far more likely to be verbally harrassed and physically assaulted in such scenarios. In response to the idea of pedophilia somehow running rampant, many make the argument that pedophiles in their born sex identity have and will continue to be pedophiles whether transgender individuals use the identifed gender bathroom or not, because actual pedophiles have always existed and confusing or labeling pedophiles and transgendered individuals as the same thing is complete ignorance. Studies have also been done to document such claims and no evidence has been found that pedophilia has increased due to transgendered individuals being able to use their gender identified bathrooms.
_____________________________________________________________________________
So what do you think?
Are you against transgender individuals being able to use the bathroom of their new gender identity?
Do you think transgender individuals should have access to a gender neutral/single occupancy bathroom only?
Do you think transgender individuals should have to use the bathroom of their birth gender?
or do you think transgender individuals should be allowed access to the bathroom they identify with?
---