There (should) come a time in every fully grown adults life, where they say f-it, throw up their hands, and just decide to revert to their childhoods for just a moment. Life is hard, you're stressed about everything, you've got no time for anything, and you've got bills. We know this. We all know what the realities of being an adult are, but somtimes you just need to break away and have some fun that doesn't revolve around you going to Ikea to get a new duvet cover. Close your eyes and think back to the happiest moments of your childhood. Can you picture that greatest day, that vacation, doing something crazy with your siblings? Sure, most of us were free from any real hard life responsibilities back then, but there is nothing that says that everything about your childhood had to end just because you started paying your taxes. I invite you to just let it all go, and forget your troubles for a while and take a trip back to being young again with just a few ideas.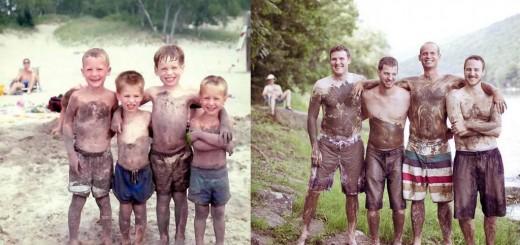 1. Re-create a childhood photo
Dig through your files, or gasp!, your hard copy pictures to find a childhood picture of yourself. Try your best to re-create the picture so you can have a side by side comparison from then until now. If there is more than one person in the picture, like a sibling, try to get them involved too. You can even make it a yearly activity to show the progression in time.
2. Set aside a day to eat like you always wanted to as a kid (or as an adult)
Donuts and waffles and icecream with gummy worms for breakfast, why not? Elbow sized burrito for lunch, but of course! A quarter pounder with cheese and curly fries, don't mind if I do. Truly indulge in all the treats you wish you could have eaten as a kid any time you wanted or wish you could eat like everyday. Give yourself one day to break with your diet, to stop thinking about every single calorie, to not have to cook a thing, to eat out of plastic wrappers and cardboard containers. Just enjoy the moment.
3. Take an actual bubble bath
Not too many adults take baths, what with all the water bills and clean up, and time consumption, but bubbles were fun as a kid. Give yourself a moment to linger in the tub until your fingers turn pruney. Put the bubbles in your hair and make a mohawk. Make a bubble snow man. No one can see or judge what you do in that tub!
4. Go to a theme park and ride ALL the rides
Take a friend or sibling whom you once went to these things with and make the effort to ride all, as many of the rides as possible, or maybe just your favorites. Be sure and pick up some cotton candy, or funnel cakes for good measure.
5. Have a costume party (not on Halloween)
Maybe use your birthday as an excuse or just have a random costume party that celebrates nothing in particular. Invite all your friends and tell them, they have to dress up. Most parties are all the same, but make yours unique, and extra themey, and serve all the crazy food you want.
6. Have a kid themed adult camping trip in your own backyard
Re-discover your old scouting days. You and a few friends dust off your old camping gear or simply construct a simple tarp to sleep under and bring sleeping bags, or just pillows and blankets, and create fun, crazy, or just plain stupid activities that you and your friends can do to earn badges. Be as creative as possible.
7. Do your favorite childhood art activities (that will of course go on your fridge)
Make a macaroni picture, a hand print turkey, a costume vest out of a grocery bag, a hat out of newspaper, color a picture of your family and pets, make some string art. Make sure you either put it on your fridge, or make an even bigger deal out of it by having it framed and hillariously signing your name and current age to it.
8. Go out in the rain or play in the sprinklers
Remember mud pies? Those gloriously messy creations that would have you tracking mud all over the house. Get out there in the rain or just after, and create some in the mud. Decorate them with leaves and sticks or other objects or for less mess, go play in your sprinkler or create your own slip and slide. Stop worry about your hair, clothes, and/or make-up and just have fun.
9. Go on a Scavenger Hunt
Go online and look up a photo scavenger hunt, grab your camera or cell phone, and get going. You can also try geo caching. https://www.geocaching.com/play
10. Build a Fort
Last but not least, and my favorite, is to build a fort. When you were a kid, you were often limited by your parents, lack of supplies, safety concerns, and your height for reaching and building the fort of your dreams, but as an adult, you have access to ladders, ropes, clips, tons of sheets, decorative items, electronics, and cushions and chairs, that you wont' get yelled at for using or for making a mess. Sketch out a design. Move the furniture around, think big, and then think bigger then that. Create rooms in your fort, like faux bathroom, dining room/kitchen, movie watching room, magazine room, art room, video game room. Let your imagination run wild with it and see just how crazy you can make it.
---