Or, otherwise known as, in a non-failed attempt at a play on words: Pure Michigan.
The hand shaped state. The fly-over state. The "butt buddies with Canada" state (literally probably nobody else refers to it like this, but I'm inserting it anyways). The state packed full to the brim with Polaks. The state that holds my home, Beer City USA.
It's no secret that I do not like living here. I'm not a fan of the almost permanent winter we experience, I'm not a fan of how we don't get as many events happening in our state as a lot of others do. I'm not a fan of how I feel stifled growth-wise. But I can't deny that Michigan is a pretty good state, even with all of the negatives I personally feel towards it.
Sure, we have Detroit and Flint.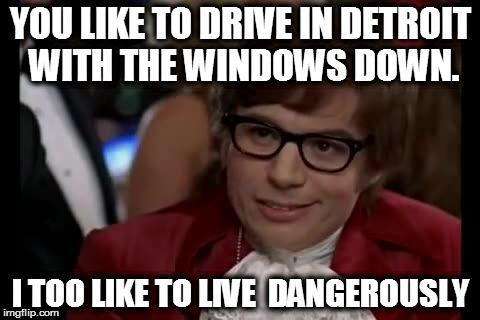 Seriously, I wish that was an exaggeration. Last time I went to Detroit (en route to Canada), I was taking pictures of old burned builidngs and the like. Was only outside of my car for maybe two minutes before someone was approaching me, shouting words I couldn't even understand and making me feel straight up threatened. Back into the car I went.
But then...we also have Grand Rapids
In short, it's full of breweries. It's where we hold the biggest art festival that this state has ever had: Art Prize. It's home to Van Andel Arena, and every summer Blues on the Mall gets put on. Downtown we have Rosa Parks Circle - a place where concerts take place, we drop a ball during New Years, and many Rob Bliss events have happened.
It's the city I call home, finding comfort in the West Side and old bars like 6th Street Hall and The Casino Club. But it's not the only city I know well in this winter apparalled state of mine.
We have beaches, in Grand Haven / Muskegon
THE place to go when you want to go to the beach. You head to Grand Haven and, when you see how packed it is (duh, it's the place to go), you head to Ludington or find a small beach in Muskegon. But like Grand Rapids, Grand Haven is full of festivals and carnivals and little events that make it a lively place in the summer.
You have Coast Guard, for example. The little city becomes packed. You can't breathe without directly inhaling someone else's just released exhale. You have Boobs and Tubes (which has relocated, so no longer in Muskegon) - where you tube down the river with buddies and you get wasted on craft beer, basically.
It also makes my little photographer heart soar with glee, because everything from the city to Lake Michigan is beautiful and full of photo opoortunities. I've yet to see a sunset at the Pier, but one of these days.
For lengths sake, I'll keep it t the three areas I've highlighted. I could go on more about Traverse City, Ann Arbor and Kalamazoo. But I think I've covered the ones I know best. I know the day I leave Michigan will be bittersweet. I'll be leaving behind everything I've ever known - the comfort of family and big cities, the knowledge of where to go and what place will bring me happiness in times of stress. Having the ability to go from city to country in 20 minutes flat.
But I'll be glad to be moving forward, and forging a life for myself elsewhere. Michigan is a great city to visit and for some, to live. I won't deny you that. But it just isn't for this wanderer.
---
* This MyTake was inspired by @charismatic110 's Take 75: An Ode to Philadelphia
---