Would you feel upset? Is it crossing a line? Have you ever had a work spouse yourself?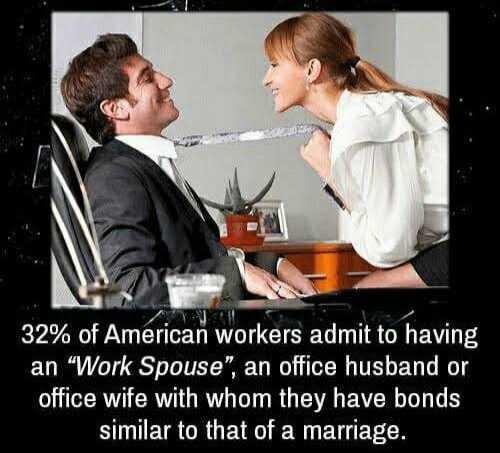 Updates:
---
Most Helpful Guys
It you are married it's disrespectful considering you are only. really. thinking of ypurself. and not thinking how. your partner would. feel about it , your partner might say they are. ok with it but deep down they aren't but they dont. want. to sound like. they dont trust you so they tell you what you want. to hear , this type of thing can cause conflicts in relationships , i have seen this happen and it usually ends in disaster cuz the work spouse starts getting to comfortable and in most cases will. try to make a move , it's ok to have work friends but always best to not get. too close if. you respect. your partner and love your partner out of. respect you shouldn't allow this. to happen.
I always had one. Just happened. She aswell. Don't see a problem with it. Not like one go to bed with them, kiss etc.

Closest to date is usaly a meal together in the kantina, or pizza when working overtime.
Nothing romantic with it.
Most Helpful Girls
I personally have a "work husband" and he is literally just a good work friend. We vent to each other about shit happening in our lives and we take turns bringing each other lunches. We are CNAs and work 12-16 hour shifts at a time and he's just that person that I talk to at work because I spend so much time with him. But there's nothing romantic whatsoever and me and him both have normal relationships outside of work and have even all hung out together with our partners. There shouldn't be anything wrong with it as long as it is strictly friends.
I mean as long as they're not affectionate on that level and I come before her then I don't care.