Here is a list of people I'd rather see President, living or dead, real or fictional. Here we go:
1. Billy the Kid
Suave, became an outlaw because he fought for justice, and died for it and handy with a .45 and a rifle to boot. I'd vote for him.
2. Blackbeard
Because Pirates are cool and Badass and people would FEAR OUR PRESIDENT WITH THE FLAMING BEARD. I WANT A PRESIDENT WHO HAS A FLAMING BEARD.
3. Aragorn
Do I need to say any more than this. ITS FUCKING ARAGORN.
4. Captain America
The Superhero who embodies what is best about humanity and ALSO PUNCHED HITLER IN THE GODDAMN FACE.
5. The Joker
Because at least the End of the World would be AWESOME. He is going to make this planet Disappear.
6. Emperor Palpatine
At least he showed he is capable of running a country.
7. Neil Degrasse Tyson
Fuck it just vote the smart guy in.
8. Freddie Mercury
I don't know I just have a good feeling about him.
9. John Dillinger
Put your goddamn wallet away cause he isn't here for your money he is here for the Banks Money.
10. This specific Hobo
Because this man clearly understands that most Americans have to deal with the constant fear of roving packs of ninjas kidnapping your family.
11. Dr. Kreiger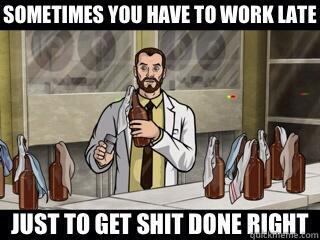 Because he understand how to do all sorts of advanced science and hard work even if he is completely batshit.
Just stop voting for the two parties people.