Disclaimer
I would like to say off the bat that if you're a person to use "white privilege" as a demonizing term. Don't. It's not really an insult. White privilege and male privilege are an actual thing. They may not be strictly enforced as law, but they are indeed a product of society as we are still slowly regressing from discrimination towards the minority.
My reasons from writing this myTake.
I've noticed at lot of people annoyed by the term "white privilege", saying it doesn't exist , saying that mentioning it is discrimination, or that it's a product of fake liberal news outlets, etc.
It's really annoying to see other white people get so angry at the mention of it, even though it's a product of socioeconomics.
So here are 5 reasons why I believe the phrase 'white privilege" shouldn't offend you that much.
1.) It's not even that offensive...
"That phrase is discriminatory!"
Look, white privilege is the least offensive term against white people, it's a punch up term. Anyone can be super privileged, but I hate to break it to you, this is not the majority oppressing you, it's factors of society attributed to you, which is honestly not the worst thing you'll hear.
There are not a lot of racist and demeaning terms of white people besides honkey or cracker. Many communities of a certain race as a majority may call you these things, but they could also just follow you home and kill you. Personally I'd be a little more offended if someone was racist towards me and used it as a way to invoke physical violence.
2.) If you're white and poor, you're in the minority.
"You don't know what it's like to be white and poor!"
If I you're white and grew up in a poor neighborhood, you're part of the 20% of white people who have, versus the 43% of black people in the same unfortunate situation, and that only counts those who have grown up poor and remained that way.
White privilege is not the implication that if you're born white you're born rich, it's the evaluation that most white families live in a safe or valued area, that provides properly funded education, a relatively low crime rate, and high income housing.
3.) White privilege exists, and here's why.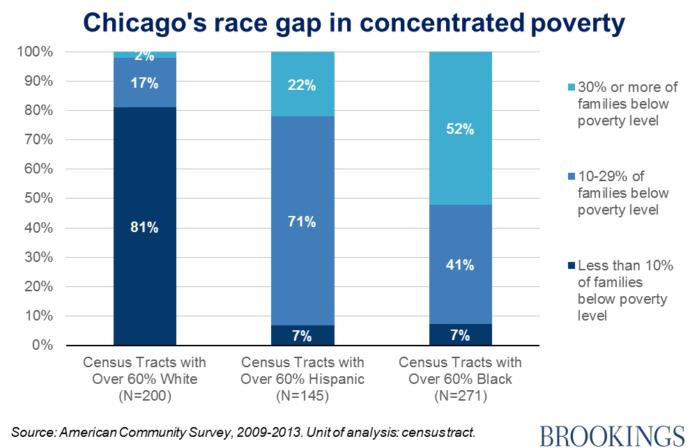 I hate to break it to you, but the model white collar worker in the eyes of America, is a white man (or a white woman if we're being generous.) And a blue collar worker is a Latino or Black man. We see types of people as labor workers, and others as symbols of success.
Look , there's not a lot I can say about the discrimination part, and there are different ways a person can grow up in poverty. They can be black, white, Asian, Hispanic, Latino, first nation, Middle Eastern , etc. However, with the previous generations segregating neighborhoods based on race in it the 1920's-40's when people were still migrating, it definitely gives Caucasians a leg up.
Using tactics known as block busting and red lining, the past generations of those who have lived in cheap housing that's extremely unlikely to rise in any value based on its location. Exploiting deep racism to segregate cities like Chicago or Baltimore.
It's why most neighborhoods in the west and south side of Chicago are predominantly black or Hispanic, due to blockbusting, (the method of getting white families to move out of certain neighborhoods by tricking them into believing their property value is going down, or telling them that they're going to have black neighbors, then filling the low income housing that remained with black or Hispanic families in their place)
and red lining (selectively raising or lowering prices/market value to residents of certain areas based on the racial or ethnic composition of those areas.)
*zoomed in on the south side*
This puts future generations of those who have lived in America since, in a segregated environment of which they can rarely escape.
4.) Denying its existence doesn't make you look very smart.
I've seen many try to claim that poverty is a choice, and race doesn't have a hand in your economic situation. Or that there's no proof of actual segregation in history. Or my personal favorite, when people try to claim that it's an attack on white people, that the facts and history behind it don't matter.
Please do us all a favor and stop embarrassing yourself.
The facts are in front of you and are not fabricated. Acting as if it's some sort of conspiracy is as relevant as believing the earth is flat.
5.) You're white, accept it.
People bring up something they call "white guilt" This term is often used when claiming that our future generations are going to be brainwashed into believing all white people are devils, or that white people are becoming submissive because they're guilty of being white.
Grow up.
Nobody is threatening your white pride by putting socioeconomics in front of you. Nobody is going to make being white into the lesser race. Nobody is threatening the existence of your race, as you are still going to be the majority for decades to come.
Wrapping up.
I feel I do not have much to say as a Puerto Rican Irishman, but there are many things that I hate about in groups like these who get offended by the implications of society favoring them, yet choose to believe that all data collected about it is either irrelevant or fabricated.
So kindly do me a favor and take a look in the mirror once in a while, or better yet, a book about these sort of demographics.
Have a nice day!