What is Area 51?
Area 51 is just the sort of bureaucratic military jargon that sounds like the basis for a vast conspiracy. Where, after all, are Areas 1 through 50? In fact, the name comes from designations on Nevada Test Site maps from the 1950s.

Area 51 is part of the Nevada Test Site (now known as the Nevada National Security Site), a remote area of desert 65 miles (105 kilometers) north of Las Vegas.
It was the Nevada Test Site that hosted hundreds of nuclear weapons tests starting in the 1950s, almost 100 of which were above ground.
Area 51 has been a constant source of conspiracy theories since the 1950s, especially since no one actually knows what goes on behind this heavily guarded area of land except the people who work there. Speculation is rife with theories covering everything from unidentified flying objects (UFOs) to secret government aircraft manufacturing. It is located in a remote region of the Nevada desert, north of Las Vegas.
(camo dude as shown with a K9 Military Dog)
Who are the Camo Dudes?
Camo dudes are Not military police, they are Private Contractors that are known as KBR and EG&G, they are only Permimeter Security of the Airforce installation, they are armed and they will follow you around the permiter, they drive White trucks like Ford raptors and Dodge rams, they will observe you, and they will detain you if you cross the line of any border.
They are no longer Deputized like they were back in the 1980s and 1990s, so they do need to call in The local sheriff in order to either arrest you or fine you or both if you do decide to cross the line. (don't be stupid)
The security at the actual facility of Area 51 is much more than these guys, they are more than likely airforce/army/navy Special forces and Military police.
additionally they will dispatch a black hawk security helicopter /fighter jet out to the borders if you stay to long near the main gates or near the borders. All for intimidation purposes.
The official explanation of Area 51
Area 51 has been a constant source of conspiracy theories since the 1950s, especially since no one actually knows what goes on behind this heavily guarded area of land except the people who work there. Speculation is rife with theories covering everything from unidentified flying objects (UFOs) to secret government aircraft manufacturing. It is located in a remote region of the Nevada desert, north of Las Vegas.
How Large is Area 51/ The NTTR?

The restricted airspace around Area 51 covers a rectangle of 23 x 25 miles, with Groom Lake in its center. That is an area of 575 square miles, commonly referred to as the Box or the Container by military pilots. Not even they are allowed to enter that air space. The coordinates of the no-fly zone are:
NW Corner
37-28-00N / 116-00-03W
NE Corner
37-28-00N / 115-35-03W
SE Corner
37-06-00N / 115-35-03W
SW Corner
37-06-00N / 116-00-03W

The entire Nevada Test and Training Range (NTTR), including Area 51, the Tonopah Test Range (TTR), the Nevada National Security Site (NNSS) and the bombing and gunnery ranges covers an area of 5,200 square miles north of Las Vegas. The NNSS alone covers about 1,600 square miles, partially contaminated with radiation from nuclear tests.
What we know about Area 51
Well we don't know much about the base its self, however from a public point of view we have seen declassifed projects such as Project Oxcart/U2 projects/ and other stealth plane projects.
The Groom Lake facility was also used for development of the U-2 spy plane's successors, including the Lockheed A-12 Oxcart and the D-21 Tagboard. In 1959 the CIA selected Lockheed's A-12 over a Convair proposal called KINGFISH. On 26 January 1960, the CIA ordered 12 A-12 aircraft. After selection by the CIA, further design and production of the A-12 took place under the code-name OXCART at Area 51.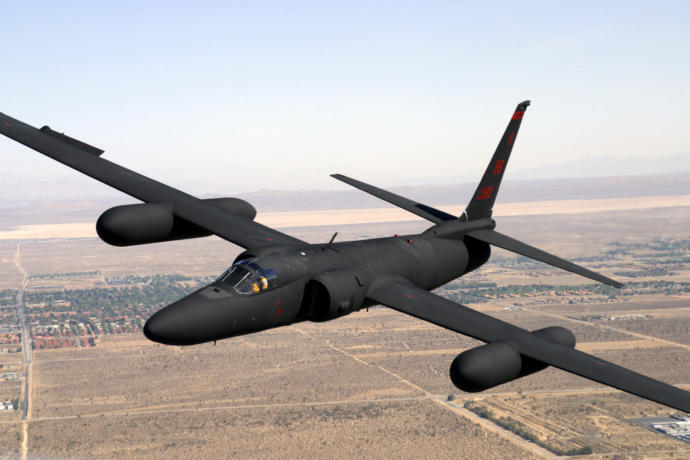 The first U-2 test flight took place at Area 51 on Aug. 4, 1955, and over the years that followed, the site was used for training U-2 pilots.
Later on, Area 51 served as a test site for the F-117 stealth fighter. To this day, the area surrounding the facility has been closely guarded, and the airspace is off-limits to civilian air traffic.
Osama Bin Laden Raid
Area 51 is also said to have played a role in the development of the modified MH-60 Black Hawk stealth helicopters that figured in the 2011 raid on al Qaeda leader Osama bin Laden's hideout.
One of the scenes in the Oscar-winning movie "Zero Dark Thirty" plays out at a fictional version of Area 51.
How are planes transported to Area 51?
The United States Air Force Plant 42 is a classified United States Government aircraft manufacturing plant, used by the United States Air Force. It is also used by the National Aeronautics and Space Administration. Any stealth planes that are built will eventually be tested for radar capabilities at Lockheed Martins RCS test facility in Helendale CA
Lockheed Martins RCS test facility
Of all the radar cross section test facilities (aside from the DYCOMS system at Area 51 and the flying NT-43A RAT bird), one of the most elaborate is Lockheed Martin's Helendale RCS measurement facility.
Conveniently located in the Mojave Desert, just 45 miles east of Lockheed's Skunk Works headquarters at Plant 42 in Palmdale, California, the installation sits where the old World War II era Helendale Airport once was, on approximately ten square miles of land. In fact, one of the airport's old runways is still in operation for smaller aircraft, like Lockheed's company operated PC-12s that ferry personnel to clandestine sites around the American Southwest, and is lit for nighttime operations. But to be clear, that airstrip is anything but public.
Tonapah Test Range
The Tonopah Test Range is a restricted military installation located about 30 miles southeast of Tonopah, Nevada. It is part of the northern fringe of the Nellis Range, measuring 625 sq mi. Tonopah Test Range is located about 70 miles northwest of Groom Dry Lake, the home of the Area 51 facility.
They more than likely transport the planes from helendale Too The Tonopah Test Range (TTR) for weapons testings and Some test flights/low flying (to avoid radar). where they are eventually flown or transported by other means to Area 51 for other testing's.
Area 6
The Area 6 runway stretches for about 5000 feet in this remote location of the Nevada National Security Site
Built in 2005, the runway covers a dirt landing strip from the 1950s, when the wide, flat valley was used for atomic bomb test shots. A small complex of buildings dominated by a large hangar with unusual clamshell doors dominates the southern end of the asphalt strip.
The complex has no official name. Not many people even know it's there.
As secret airbases go, the single runway in the test site's Area 6 is easily overshadowed by the world's most famous secret military base, Area 51, a dozen miles northeast.
What is Area 6's purpose?
"The purpose of this facility is to construct, operate, and test a variety of unmanned aerial vehicles. Tests include, but are not limited to, airframe modifications, sensor operation, and onboard computer development. A small, manned chase plane is used to track the unmanned aerial vehicles," reads the report Energy Department contractor Bechtel SAIC prepared in 2008 for the Yucca Mountain repository license application.
The National Nuclear Security Administration is a semi-autonomous branch of the Energy Department. Its Nevada field office, based in North Las Vegas, runs the security site.
What it costs to operate Area 6 is difficult to determine. Funding is buried in the Nevada field office's Strategic Partnership Program, which was part of the $84 million budgeted for the entire security site in fiscal year 2015. Program funding was about 13.5 percent of the field office's $622 million total budget that year.
Groom Lake Mine

The Historic Groom Mine & Residence has been owned and operated by us, the Sheahan family, since 1889. Rich in several precious metals including lead and silver, we diligently mined the land, paving our way in Nevada mining history. In time, the Groom Mine became our foundation, livelihood and home.

In the 1950s, the U.S. Government set its sights on southern Nevada for an aircraft testing facility. Slowly, the U.S. Government drove every miner in the vicinity out- except for our family, who held and continues to hold six patented mining claims dating back to 1864 and 15 unpatented claims.

Our White Lake and Conception Patents were signed by Ulysses S. Grant and granted us the "exclusive right to enjoyment of all the lands within the boundaries, forever." Therefore, our family was able to remain living on and continue mining our land, despite the Government's efforts to run all the miners off.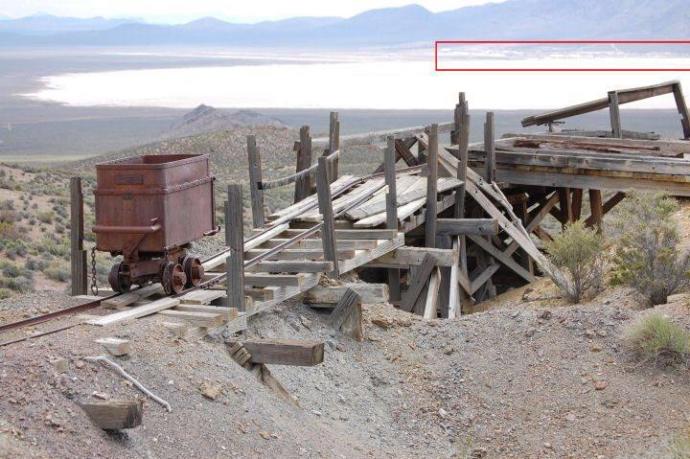 On June 23, 1954 at approximately 12 p.m., the heart and soul of our mining operation, the mill, was bombed. The destruction was devastating, as we watched decades of hard work, dedication and history burst into flames. The wreckage forced us to uproot our home, relocate and re-start our careers elsewhere.

Less than a year later, on the land just south of the Groom Mine, the Government, be it the CIA or the Air Force, started construction on an air base. This air base today is known as Area 51. Despite the construction of Area 51 the Air Force swore to Congress that it would take nothing from our property and the Air Force "guaranteed" that we would maintain full ownership of the Groom Mine Property without fear of restricted access.

We've faced many challenges in trying to work with the USAF and other government entities. Such challenges can only be described as criminal acts by our government including:

• The bombing of the Groom Mine mill site.
• Shooting of the Groom Mine campsite by airplanes.
• Holding family members at gunpoint on numerous occasions. Family members have experienced fear and mental anguish from this.
• Nuclear fallout from the aboveground nuclear tests. These tests caused radiation burns and sickness among some family members.
• Invasion of privacy at Groom Mine and constant monitoring of our activities.
• Threatened use of deadly force by security forces.
• Causing lost opportunities for business dealings.
• Illegal and periodic searches of our vehicles and persons.
• Coerced signings of Inadvertent Disclosure Statements.
(groom mine property from above)

On August 14, 2015, the family received correspondence from the USAF, giving us an ultimatum: Sell our land to the U.S. Government for $5.2 million, an offer that doesn't even cover the mineral rights to the land, or they will seize it through condemnation. In other terms, the United States Government is going to seize our land with utter disregard for our private property we have had in our family for over 130 years- and without just compensation. With that, they will also take a history that cannot be replaced or replicated.

The Sheahan family consists of ardent patriots. Several of us have served in various branches of the U.S. Military, fighting for the rights and liberties we believe in. As Americans, we strongly support and believe the mission of our government is to protect its citizens and uphold the United States Constitution. By condemning our land and denying us just compensation, the USAF is disregarding our inherent rights defined in the Fifth Amendment, which states, "nor be deprived of life, liberty, or property, without due process of law; nor shall private property be taken for public use, without just compensation."

Our family are patriots. In return, we have received nothing but threats and indignant acts by our own government. The acts of the USAF are an abomination of the ideals on which this country was built: that every American has certain inalienable rights to life, liberty and the pursuit of happiness and, "That to secure these rights, Governments are instituted among Men, deriving their just powers from the consent of the governed." It's time that the USAF upheld this notion.
On Sept. 10, 2015, a federal district court judge ruled the government could seize the property.
Remains of PATRICK SHEAHAN still remain on the seized property.