Gabi Garcia is a physically imposing female BJJ practitioner and MMA fighter. Standing 6'2" and alternating her weight between 220lbs and 265lbs, she dwarves all other female combat athletes and also "woman handles" almost all of her female competition by using her tremendous strength and weight advantage. Her few losses hither to 2021 were based on technicalities. Even high tier female BJJ competitors like Mackenzie Dern had trouble beating her.
However about a month ago in September 2021, Gabi Garcia lost in a definitive manner to a much smaller female BJJ practitioner named Amanda Leve who is 5'6" and weighs around 155lbs. Amanda Leve dominated most of the bout and ended the bout strongly by putting the much larger Gabi Garcia in a rear naked hold to which Gabi Garcia could not break, resulting in the much smaller Amanda Leve being declared the winner.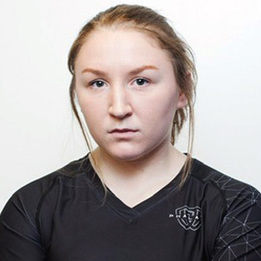 In my opinion, I knew it was only a matter of time before Gabi Garcia would face someone that could out grapple her. Because every Goliath eventually meets a David.